Centre assures SC of implementing amended NEET syllabus next year
Assurance given by additional solicitor-general in the backdrop of the dressing down the govt received from the top court during the last few days on the issue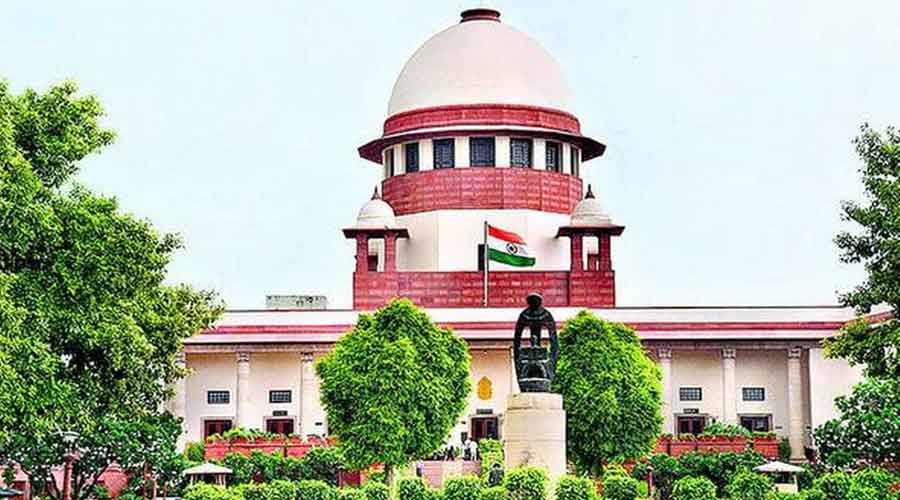 Supreme Court of India
File picture
---
New Delhi
|
Published 07.10.21, 02:04 AM
|
---
The Centre on Wednesday assured the Supreme Court that the amended syllabus pattern for the NEET Super Speciality Examination 2021 would be implemented from next year to mitigate the hardship for doctors seeking to study post-graduate courses.
The assurance was given by additional solicitor-general Aishwarya Bhati in the backdrop of the dressing down the Centre received from the top court during the last few days on the issue. Bhati assured a bench of Justices D.Y. Chandrachud, Vikram Nath and B.V. Nagarathna that the modified syllabus would not apply for this year's examination scheduled for next month.
The bench then passed the following order: "Aishwarya Bhati, additional solicitor-general appearing on behalf of the Union of India in the ministry of health and family welfare, states that having regard to the interest of the body of students who would have commenced preparations for the ensuing NEET-SS examination before the change in the pattern was notified, a decision has been taken by the Union government in consultation with the National Medical Commission and the National Board of Examinations to the effect that the modified pattern shall be given effect to only from the academic year 2022-2023.
"Since the Union government and the expert bodies have taken a decision to hold the ensuing NEET–SS examinations for 2021-2022 on the basis of the pattern which held the field until academic year 2020-2021, it is not necessary for this Court to adjudicate upon the validity of the modified pattern proposed for 2022-2023. That issue is kept open. In the circumstances, the petitions under Article 32 of the Constitution are disposed of. Pending applications, if any, stand disposed of."
The bench passed the order while dealing with a joint petition filed by 41 doctors challenging the abrupt move of the medical authorities to change this year's entrance examination pattern.
According to the petitioners, the government had suddenly on August 31 issued a notification announcing that all the questions for the exam this year would come from the general medicine stream and not super-speciality courses.
This was contrary to the existing pattern of 60 per cent questions being asked from the super-speciality courses and 40 per cent from general medicine.
The circular was issued despite the earlier examination notification issued in July this year mandating that the exams would be held under the existing pattern.
The petitioners had argued that the rules cannot be changed once the game had commenced.
The bench had on Tuesday observed that doctors can't be treated as "footballs" and the government had apparently made the controversial move to favour private medical colleges.