SC rebukes Centre for abruptly changing NEET syllabus
The apex court observed that it has been done to favour private players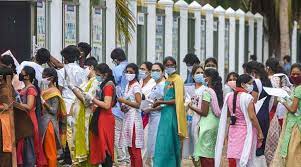 ---
New Delhi
|
Published 06.10.21, 12:14 AM
|
---
The Supreme Court on Tuesday again pulled up the Centre and medical education authorities for abruptly changing the syllabus for the NEET Super Speciality Examination 2021, observing that it has been done to favour private players.
A bench of Justices D.Y. Chandrachud, Vikram Nath and B.V. Nagarathna castigated the government over the sudden change in the syllabus pattern, though the Centre informed the court that it will postpone the exams scheduled in November to January 2022 to mitigate the hardships of the aggrieved doctors.
"Seats which are vacant are never in government colleges. It is always in private. We have a surmise that the seats in government colleges are not lying vacant. It appears that the entire haste is for filling the vacant seats in private colleges.
"The impression we get is that medical education has become a business. That's the tragedy of medical education in this country," Justice Chandrachud, heading the bench, told additional solicitor-general Aishwarya Bhati during the hearing.
The court made the observations after Bhati, in response to a query from the bench, said there are 414 colleges in the country which are offering super-speciality courses, out of which only 114 are run by the government.
"These seats are never vacant in government-run institutions. So the entire aspect looks like it is done to fill up the seats in private colleges.… The interest of students and the medical profession should weigh higher as they will be torch-bearers of this profession," the bench said.
The bench made the oral remarks while dealing with a joint petition filed by over 41 doctors challenging the abrupt move of the authorities to change this year's pattern for the entrance examination.
During the hearing on Tuesday, the bench wondered why the changes had been brought so abruptly, although deciding the pattern and syllabus was in the exclusive domain of the experts concerned.
"Why are these changes brought in a hurry? Please have some concern for the students. You have an exam pattern holding field since 2018, so why now? Logic seems to be to fill the seats," Justice Chandrachud observed.
"Just because you have authority, you will exercise it in this fashion. Would the heavens have fallen if it was done from next year?" the bench asked.
Justice Chandrachud said its true that setting examination patterns are in the domain of experts, but the same cannot be done in such an arbitrary manner.
The arguments would continue on Wednesday.