Centre asks schools to get children to do gallantry project
The Union government prescribes topic for poems, songs and paintings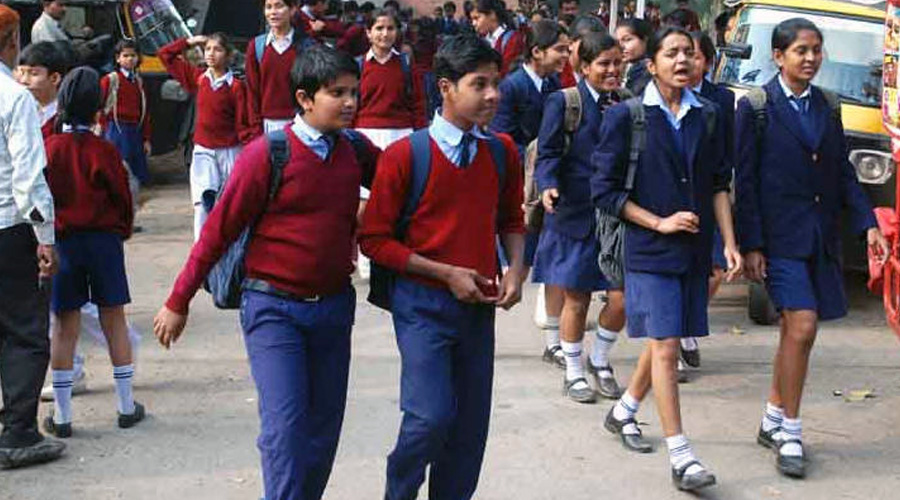 The CBSE has written to all its affiliated schools to get their students to participate in the Veer Gatha programme.
File picture
---
New Delhi
|
Published 24.10.21, 12:20 AM
|
---
The Union government has asked central school boards and state authorities to get schoolchildren to do projects on the country's gallantry award winners under a month-long "Veer Gatha Project".
An education ministry notification on Wednesday said schoolchildren should, between October 21 and November 21, write poems and essays or do paintings that highlight these heroes' bravery and sacrifice.
Academics welcomed the move, saying that doing projects gave children a better idea of a subject — and influenced their lives and personalities — than just reading up about it from a textbook.
School activities and projects on government-prescribed topics have increased in recent years, with national board CBSE having earlier written to schools to have their pupils celebrate Yoga Day, National Integration Day and Swachhata Divas.
Some education activists have suggested that big-picture projects — such as "What is swachhata and how we can practise it" — can help the students more by forcing them to exercise their minds.
The notification said the Veer Gatha programme "shall be open for all schools in all states and Union Territories as well as all schools affiliated to CBSE".
The defence ministry will arrange, through its field organisations or the three services, one-hour programmes for schoolchildren across the country to create awareness about the gallantry award winners. These can be virtual or face-to-face programmes.
Educationist N.K. Ambasht, former chairman of the National Institute of Open Schooling, welcomed the initiative.
"Doing a project helps the student understand the concept and reflect on it. It brings in behavioural changes," Ambasht said.
He suggested that schools prescribe projects on all kinds of topics.
Prince Gajendra Babu, general secretary of the State Platform for Common Schooling System, a civil society watchdog in Tamil Nadu, agreed that having children do projects is a better way of teaching them about a topic.
Babu suggested that the topics for projects be "open-ended", dealing with ideas rather than merely "glorifying" something.
"Having a close-ended topic limits the scope for analysis. School boards should prescribe open-ended topics, whether on contemporary issues or historical ones," he said.
"Students can be asked to write on topics such as the problems facing the country, and suggest solutions."
The CBSE has written to all its affiliated schools to get their students to participate in the Veer Gatha programme.