Sohrab proof punch to CBI
CBI stops short of making any commitment on appealing against Friday's acquittal of the 22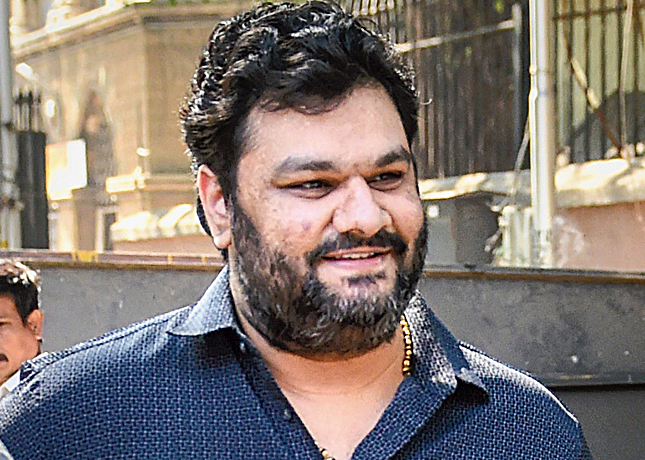 Prithviraj, son of DG Vanzara, leaves the court after his father was acquitted.
(PTI)
---
Mumbai
|
Published 21.12.18, 09:58 PM
|
---
Judge S.J. Sharma, who acquitted all the 22 accused in the Sohrabuddin Sheikh fake encounter case, listed multiple instances where the CBI could not produce evidence to establish its allegations.
"It was said that D.G. Vanzara (the then DIG who was acquitted in 2014) had threatened (Gujarat IPS officer) Ashish Pandya but the prosecution could not produce any evidence," judge Sharma, who retires on December 31, said.
According to the CBI, Vanzara had told Pandya he must join the fake-encounter team that eventually shot Sohrabuddin's aide Tulsiram Prajapati or face the consequences.
"What transpired in the meeting, whether Vanzara spoke to Pandya, could not be established," the judge said.
Likewise, he said, it could not be established whether Abdul Rahman (a sub-inspector from Rajasthan accused of firing at Sohrabuddin) had access to his weapon on the day of the encounter and whether he had indeed fired the shot.
Amit Shah, the current BJP national president, was Gujarat home minister when Sohrabuddin, wife Kauser Bi and Prajapati, travelling from Hyderabad to Sangli in Maharashtra on November 22, 2005, were allegedly kidnapped by a joint team of Gujarat and Rajasthan police.
The cops claimed the trio were terrorists planning to assassinate a VIP, possibly then Gujarat chief minister Narendra Modi.
According to prosecuting agency CBI, the inter-state police team killed Sohrabuddin on November 26, 2005, near Ahmedabad and Kausar Bi three days later. Prajapati, lodged in a Rajasthan jail, was killed on the Gujarat-Rajasthan border on December 27, 2006.
The CBI arrested Shah briefly in 2010 and charged 37 others, including then Rajasthan home minister Gulabchand Kataria and senior Gujarat IPS officers Vanzara and P.C. Pande. They were among 16 accused discharged in December 2014 for want of evidence.
Of the 22 acquitted on Friday, 21 were junior police officers from Gujarat and Rajasthan. The remaining accused was the owner of a farmhouse near Ahmedabad where Sohrabuddin and Kauser Bi were allegedly detained before being killed.
Cautious on appeal
In New Delhi, a CBI spokesperson said on Friday evening the agency was yet to receive a copy of the court order, adds PTI
The spokesperson was economical with words instead of giving the usual response that the CBI would study the order before deciding on an appeal. He said his statement was limited to the sentence that "the CBI is yet to receive the order".
The agency, which had reacted within minutes of the 2G scam verdict stating it would file an appeal against the order, stopped short of making any commitment on appealing against Friday's acquittal of the 22.