Cannot forgive Pragya from my heart, says Narendra Modi
BJP in damage-control overdrive as two more leaders support Pragya on Twitter, then delete tweets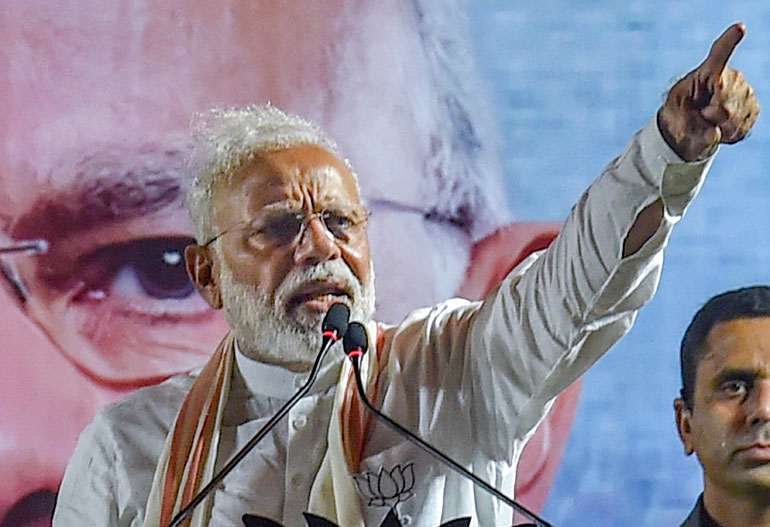 Prime Minister Narendra Modi
PTI file photo
---
New Delhi
|
Published 17.05.19, 10:39 AM
|
---
विगत 2 दिनों में श्री अनंतकुमार हेगड़े, साध्वी प्रज्ञा सिंह ठाकुर और श्री नलीन कटील के जो बयान आये हैं वो उनके निजी बयान हैं, उन बयानों से भारतीय जनता पार्टी का कोई संबंध नहीं है।

— Chowkidar Amit Shah (@AmitShah) May 17, 2019
BJP president Amit Shah today said the party had taken serious note of the leaders' statements, which are against its ideology. He said these were personal comments by the leaders, but at the same time added that the party's disciplinary committee would submit a report on the issue in 10 days for further action.
Shah's attempt to stop more damage from happening came in a series of tweets.
Thakur had on Thursday said Godse was a 'patriot'. Today, Hegde tweeted that he was 'glad' over the debate on Godse, but later claimed that his account had been hacked. 'Am glad that 7 decades later today's generation debates in a changed perceptional environment and gives good scope for the condemned to be heard upon. #NathuramGodse would have finally felt happy with this debate!' Hegde said in a tweet, which has since been deleted. Kateel, a BJP MP from Karnataka, in a tweet compared Godse with Rajiv Gandhi.

Modi, who has never condemned any act of hatred in which the BJP seemed complicit, told the News 24 channel today: 'Main mann se maaf nahin kar paunga (I will not be able to forgive her from my heart).'
Last month, during an interview to Times Now, he was asked about Pragya's candidature after her comment on police officer Hemant Karkare, who was killed by terrorists during the 26/11 Mumbai terror attack.
Defending her, he said: "The Samjhauta Express verdict came. What came out? Without any evidence, a rich civilisation as old as 5,000 years… you called such a civilisation terrorist..... To give a reply to all those people, this (the fielding of Pragya) is a symbol, and this symbol is going to prove costly for the Congress."
When News 24 asked today if the BJP was right to field Pragya, Modi said: 'Whatever has been said about Gandhiji and Godse, it is terrible. Har prakar se ghrina ke layak hain, alochana ke layak hain (it is repulsive. It should be criticised).'
In a civil society 'this kind of language and thinking cannot be allowed', he said. 'Unhone maafi maang li, woh alag baat hai. Main unhein mann se maaf nahin kar paunga.' 
Yesterday, after the BJP distanced itself from Pragya's comments and called for a public apology, the Bhopal candidate first said the party's line is also her line. She did not apologise rightaway.  "Apne sangathan BJP mein nishtha rakhti hoon, uski karyakarta hoon aur party ki line meri line hai (I have faith in my organisation, the BJP. I am its worker, and the party's line is my line,'' Pragya told ANI.
Hours later, in a half-hearted apology, she said: "If it has hurt anybody's feelings then I apologise. What Gandhiji has done for the country cannot be forgotten. I respect him a lot.'
Prime Minister Narendra Modi, who had defended the candidature of Pragya Singh Thakur last month, today told a TV channel that he 'would not be able to forgive her from his heart' for her Nathuram Godse comment.
Modi's statement came on a day the BJP seemed to be on a damage-control overdrive after two party leaders - Union minister Anantkumar Hegde and BJP MP Nalin Kateel - tried to support Pragya on Twitter, but deleted their posts later. Since yesterday, political leaders and ordinary citizens have attempted to link Pragya's politically-loaded comments to Modi's support on her candidature.
Remember, @narendramodi has defended & endorsed Pragya's candidature

This is not a 'lunatic fringe' & is definitely not her "personal opinion", it is the BJP standing by Independent India's first terrorist. In few years, Sri Sri Godse will also be recommended with a Bharat Ratna https://t.co/2VVhc8xhQ3

— Asaduddin Owaisi (@asadowaisi) May 16, 2019
इन लोगों ने अपने बयान वापिस लिए हैं और माफ़ी भी मांगी है। फिर भी सार्वजनिक जीवन तथा भारतीय जनता पार्टी की गरिमा और विचारधारा के विपरीत इन बयानों को पार्टी ने गंभीरता से लेकर तीनों बयानों को अनुशासन समिति को भेजने का निर्णय किया है।

— Chowkidar Amit Shah (@AmitShah) May 17, 2019
अनुशासन समिति तीनों नेताओं से जवाब मांगकर उसकी एक रिपोर्ट 10 दिन के अंदर पार्टी को दे, इस तरह की सूचना दी गयी है।

— Chowkidar Amit Shah (@AmitShah) May 17, 2019