Call to junk anti-defection law following Maharashtra crisis
The Tenth Schedule of the Constitution disqualifies defectors from the membership of legislative bodies, but its Paragraph 4 grants certain exemptions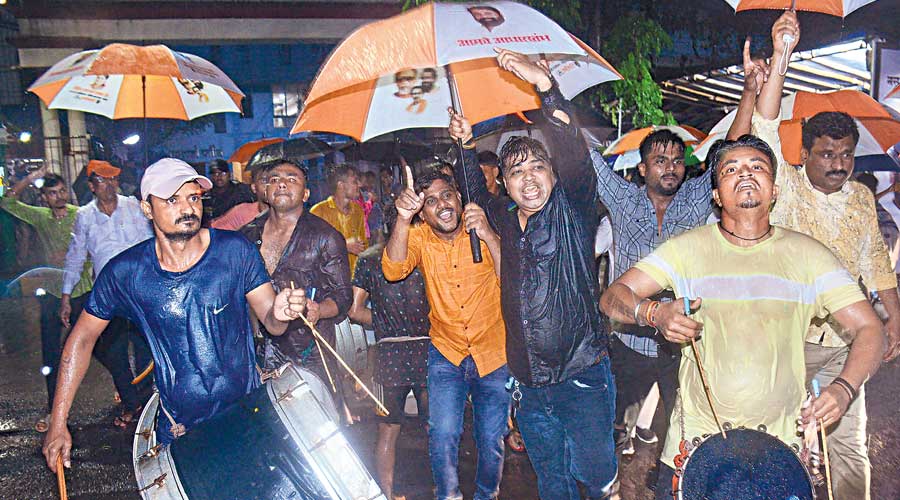 Supporters celebrate outside Eknath Shinde's house in Thane while he takes oath as Maharshtra chief minister on Thursday.
PTI
---
New Delhi
|
Published 05.07.22, 02:35 AM
|
---
Calls have been sounded for junking the anti-defection law and disqualifying all defecting lawmakers following the recent Shiv Sena rebellion that has led to a change of government in Maharashtra.
The Tenth Schedule of the Constitution disqualifies defectors from the membership of legislative bodies, but its Paragraph 4 grants certain exemptions.
Paragraph 4 says: "Disqualification on ground of defection not to apply in case of merger. (1) A member of a House shall not be disqualified… where his original political party merges with another political party and he claims that he and any other members of his original political party: (a) have become members of such other political party or, as the case may be, of a new political party formed by such merger; or (b) have not accepted the merger and opted to function as a separate group….
"(2)… The merger of the original political party of a member of a House shall be deemed to have taken place if, and only if, not less than two-thirds of the members of the legislature party concerned have agreed to such merger."
Sub-section (2) of Paragraph 4 has often been taken to mean that if two-thirds among a party's lawmakers in a particular House defect and join another party, they would escape disqualification.
Such an interpretation -- upheld recently by a high court judgment -- has encouraged defection and "horse-trading", critics of the anti-defection law in its current form say, demanding that all exemptions to defectors from disqualification be scrapped altogether.
"The anti-defection law has become an instrument to destabilise elected governments. By means fair and foul, mostly foul, it is misused to persuade large majorities to break (away)…. It has completely failed in its objective," Rajya Sabha member and former Congress leader Kapil Sibal told The Telegraph.
"Anybody who betrays the mandate under which they are elected by breaking away should not be allowed to contest elections for the next five years. If they repeat this on being elected again, they should not be allowed to become a member of any political party."
Sibal, a senior advocate by profession, represents the Uddhav Thackeray-led Sena faction that has petitioned the Supreme Court to restrain the breakaway faction of Maharashtra chief minister Eknath Shinde from legislative actions, arguing that it falls foul of the anti-defection law.
Shinde's rebels have not merged into the BJP but have formed a government in alliance with the BJP. This appears to place them on the wrong side of a judgment passed earlier this year by the Goa bench of Bombay High Court, which said that if two-thirds of a party's legislators merge with another party, they will not attract disqualification.
This verdict had given judicial sanction to the defection of MLAs from the Congress and Maharashtrawadi Gomantak Party (MGP) to the BJP in Goa in 2019, even though their original parties had not merged into the BJP.
Former All India Congress Committee joint secretary Ruchi Gupta said the Tenth Schedule should be junked altogether.
Her logic was that such a situation would rid party leaderships of the worry of defections, encouraging them to loosen their grip over their lawmakers and actually allow intra-party dissent and debate.
"The anti-defection law (encourages) party leaderships to consolidate intra-party power by imposing a very high cost on deviating representatives. Repealing the law can compel the leadership to look for serious and non-corrupt candidates who wouldn't be so susceptible to jumping ship while opening space for internal dissent and dialogue," Gupta said.
Former Lok Sabha secretary-general P.D.T. Achary, however, disagreed.
"It's all wishful thinking. Politics is a ruthless game; the parties will only put up candidates who have a winning chance, who may be morally corrupt otherwise," he told this newspaper.
However, he argued that the Tenth Schedule itself mandated disqualification for all defectors irrespective of their numbers and allowed only mergers by the original parties, but was persistently misinterpreted because of the "badly drafted" Para 4. He, therefore, disagreed with the interpretation of the Goa bench. 
Achary's interpretation of the law is: "For an MLA or MP to claim exemption from disqualification, two conditions must be fulfilled. One, the respective legislator's party should merge into some other party, or merge with some other party to form a new party. Two, at least two-thirds of the legislature or parliamentary party's members should have agreed to the merger."
"If a group of legislators of the party that is less than one-third of the party's strength in the House does not agree to the merger, it will not attract disqualification, either, and will be recognised as a separate group."
Achary wants Paragraph 4 to be "deleted altogether" or rewritten "in simple language" to preclude misinterpretation and achieve what he believes is the Tenth Schedule's intent -- to prevent mid-term defections under allurement.
"The exemption for mergers has been misused and is not required as major parties will never think of merging," he said.
"You are elected by people on a party ticket. After coming to the House if you are going to leave a party, you are working against the mandate of the people. You have no right to do that. If you want to change, then resign your membership of the House, go back to the people and seek re-election."
As for the Bombay High Court judgment, he said its "decision applies to the whole of Maharashtra (and Goa) but not to any other Assembly. This law has to be clarified by the Supreme Court."