Shashi, prove 'em silly by finishing idli pile. No sambar!
British historian calls idli boring, Tharoor comes to its defence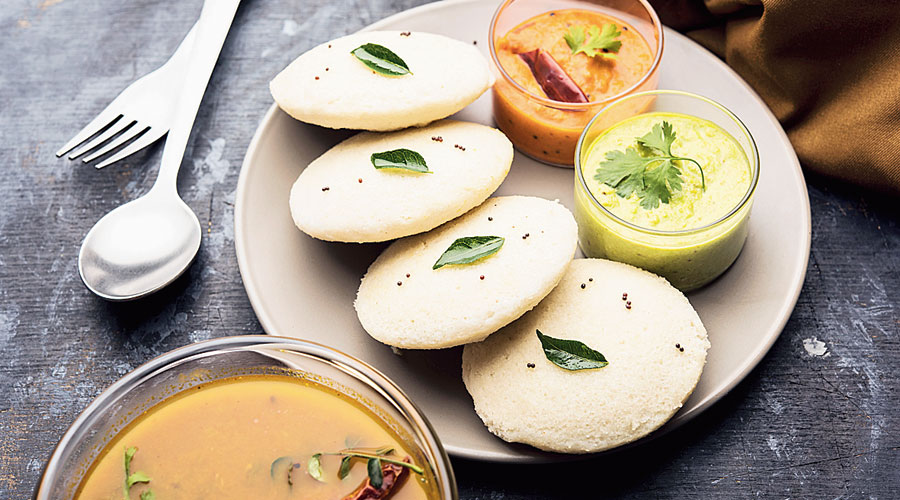 ---
|
London
|
Published 10.10.20, 04:30 AM
---
Edward Anderson, a British historian, has set the pot — and much more — boiling for a few hours by declaring "idli are the most boring things in the world".
Shashi Tharoor's son, Ishaan, a foreign affairs columnist for the New Yorker, was the first to weigh in: "I think I've encountered the most offensive take on Twitter."
He was backed up by his father, the MP of Thiruvananthapuram in Kerala: "Yes, my son, there are some who are truly challenged in this world. Civilisation is hard to acquire: the taste & refinement to appreciate idlis, enjoy cricket, or watch ottamthullal (a dance and poetic performance) is not given to every mortal. Take pity on this poor man, for he may never know what Life can be."
Anderson did add: "P.S. Before the whole of south India attacks me, can I just say that I love dosa and appam and basically all south Indian food. But idli (and puttu for that matter) are insufferable." Puttu is a cylindrical rice cake.
Some largely good-natured ribbing — although not all were amused — followed with many Indians joining in. The "news" made it to the American CNN, too, which opted for British humour by suggesting the historian's idli tweet "did not go down well".
Anderson told BBC that as far as the "fun responses go, some have been brilliant. And a lot of people have made the very valid point that it is a bit rich for a Britisher to criticise Indian food as being bland!"
The Twitter bake-off ended (or took an idli break) with a gracious addition by Anderson: "Fantastic. My stupid idli comment has now been connected — ever so tenuously — to the US election. For the record: I love Indian food... and especially south Indian food! (Just not idlis)."
He was referring to a report that mentioned Kamala Harris, the US Democratic candidate for Vice-President, saying her late mother, Shyamala Gopalan, "always wanted to instil in us, a love of good idli".
Tharoor Senior responded: "At least now, Anderson, you know idlis aren't boring! Would a mere roti have stirred up such a viral row on social media? Let alone a Yorkshire pudding?"
Anderson is no stranger to either India or idlis.
He works on the history and politics of modern and contemporary India and Britain. His research focuses on the Indian diaspora, transnational politics, religious nationalism, and British histories of migration, ethnicity and multiculturalism.
Perhaps most relevant to the debate is his wife's ethnic identity — some would say he speaks from experience.
He told the BBC he had had "many idlis in his life mainly in India — I've spent a lot of time there over the years and my wife is from Kerala. Idlis regularly feature at breakfast with the in-laws."
After the entire idly exchange, one titbit of information did stand out.
Willy nilly, or idly nilly, it came across that like most carbohydrates, the enticement of the dish is greatly enhanced by the accompaniments.
Tharoor himself gave it away in a tweet while cuddling the idli. "Try it with a plate of steaming idlis, accompanied by coconut chutney with a garnish of mustard seeds, a red-chilli-and-onion samandi & some molagapodi w/melted ghee. If the idli batter has been fermented right, it's the closest thing to heaven on this earth!"
Molagapodi is the world-famous "gunpowder" that can go with idli as well as dosa. Many have idlis with sambar, too.
Sriram Aylur, executive chef of Quilon, an upmarket south Indian restaurant in London, told The Telegraph in loving detail about the joys and pitfalls of idli. "Any carbohydrate on its own can be boring — rice can be boring. Idli has to be well made, soft and fluffy. It is meant to enhance taste. It depends where Anderson had his idli."
"Idli is a simple dish but you have to follow certain procedures," he added.
Not that everyone needs accompaniments to demolish mountainous quantities of fluffy idlis. Most idli-eating competitions begin with a round of plain idlis and water with no companion dishes.
Perhaps, the Tharoors should take up such a challenge because as the cliché goes, the proof of the idli is in the eating.
Will it be a cakewalk for the Tharoors, or will Anderson be tucking into the pudding?