BJP workers thrash farm bill protesters
Police were present on the spot but could rescue the Jan Adhikar supporters only after the BJP workers' initial burst had subsided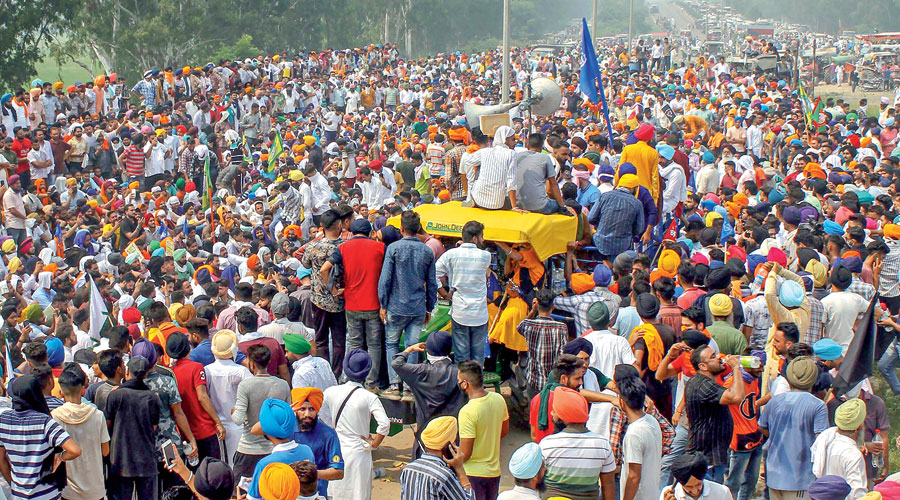 ---
|
Patna
|
Published 26.09.20, 04:19 AM
---
The protest against the new farm bills sparked violence in Patna on Friday with BJP workers attacking agitators from the Jan Adhikar Party of Rajesh Ranjan aka Pappu Yadav with their fists and sticks.
The violence erupted when participants in a Jan Adhikar march of about 400 people, while passing the Bihar BJP headquarters, chanted slogans against the Centre and Prime Minister Narendra Modi.
Some 200 BJP workers, wearing saffron kurtas and waistbands and some of them carrying sticks, rushed out of the party office screaming "Narendra Modi zindabad" and attacked the marchers.
Most of the protesters ran away. Those who could not were beaten up. The BJP workers damaged a vehicle that displayed Jan Adhikar posters and was fitted out with a public address system.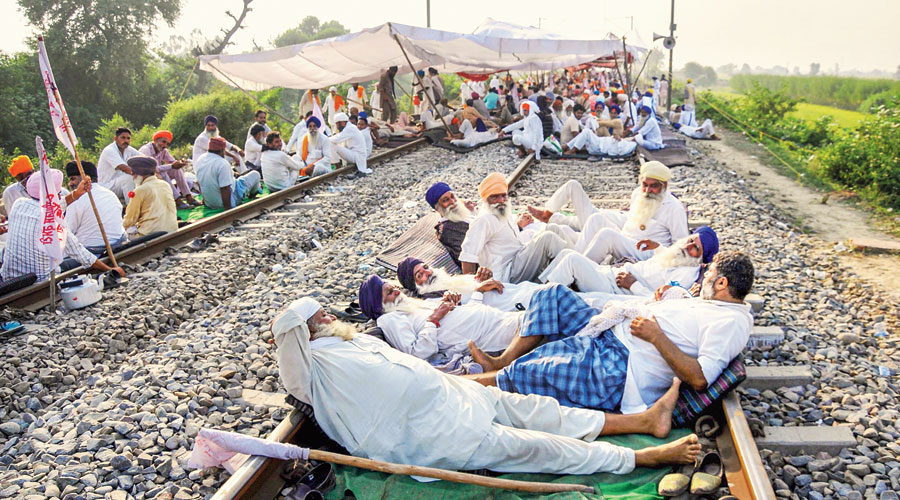 Police were present on the spot but could rescue the Jan Adhikar supporters only after the BJP workers' initial burst had subsided. No FIR had been registered till evening.
"There was a small skirmish outside the BJP office. None of the two parties involved have submitted any complaint, so no FIR has been lodged," Patna additional superintendent of police (law and order) Swarna Prabhat told The Telegraph.
The police could not say how many had to be taken to hospital. There was no statement from the Jan Adhikar Party till evening, and Pappu Yadav's mobile was switched off.
Bihar BJP president Sanjay Kumar Jaiswal alleged the protesters had attacked the party office.
"The attack on the BJP headquarters by parties that have exploited the farmers and their supporters reveals their cowardice," he said.
"Jan Adhikar Party leaders attacked our office at the behest of the Rashtriya Janata Dal (RJD)."
Farmers are protesting the passage of two bills that they say would deprive them of a minimum support price for their crops and allow big companies to dictate terms to them.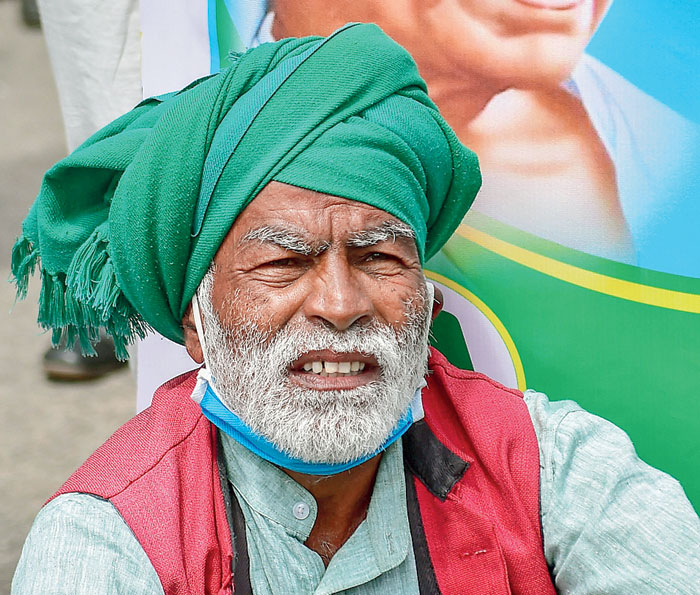 Opposition parties RJD, Congress, CPI, CPIML Liberation and the CPM protested against the farm bills across Bihar.
RJD leader Tejashwi Prasad Yadav led a massive tractor rally in Patna, himself driving one of the vehicles.
"The BJP government plans to turn our food-grain producers into puppets of its fund-givers. The farmers are sad and frustrated. They have lost hope," Tejashwi said.
"They are becoming poorer by the day, and are migrating to become labourers. The BJP is trying to push our entire agriculture sector into the hands of private players. We demand these black bills be withdrawn."
RJD leaders in Darbhanga held a march with tractors and buffaloes. CPIML Liberation general secretary Dipankar Bhattacharya, who led a march in Patna, said: "Company raj is unacceptable to us. The anti-farmer government will have to go."
The Congress has promised a law guaranteeing a minimum support price if it is voted to power in Bihar. Elections have been announced in the state in three phases between October 28 and November 7.