BJP's Ram Madhav gulps Pakistan crow
Backlash forces party's point man for Jammu & Kashmir to try and pass off comment as humour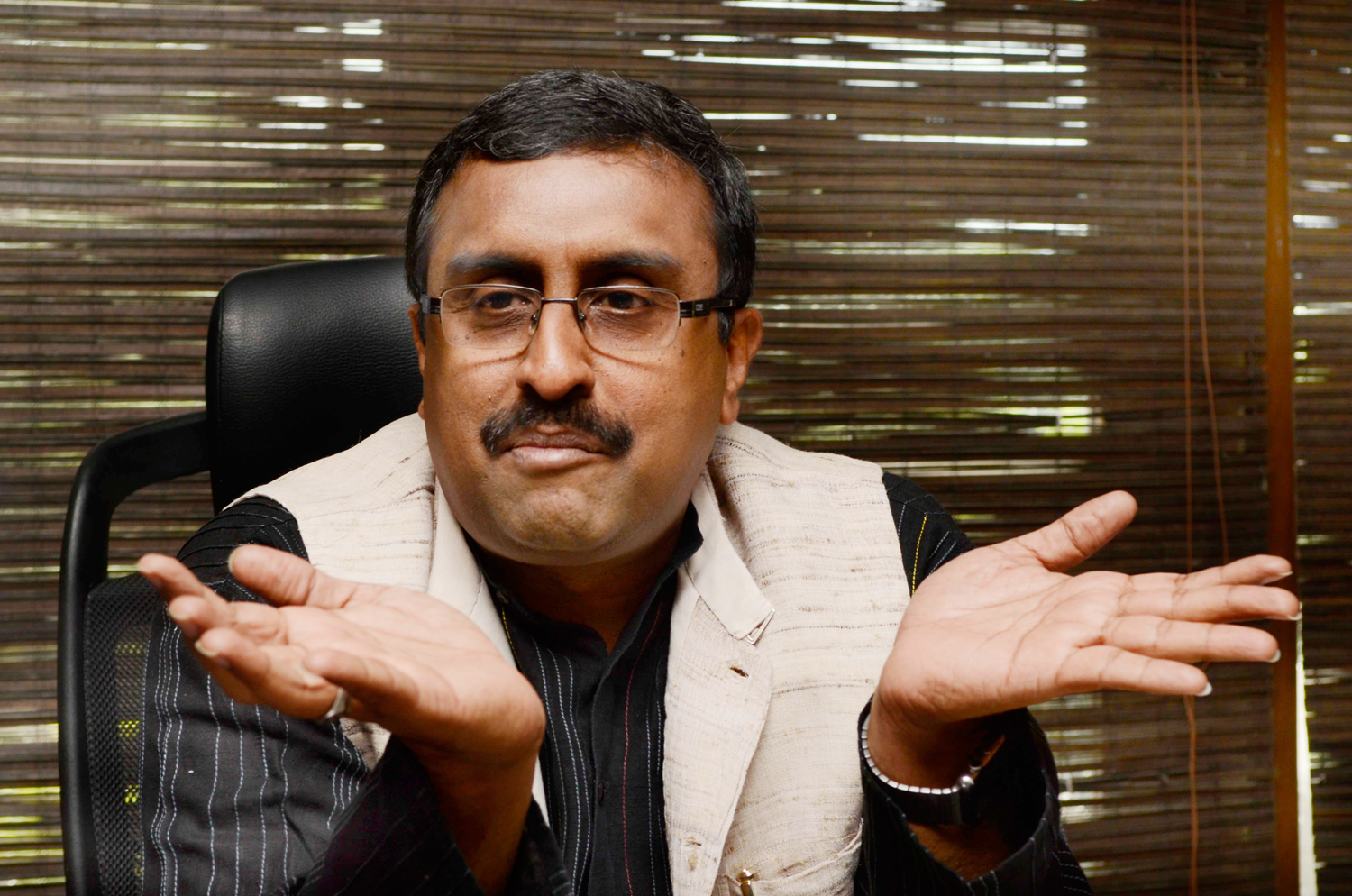 ---
---
The tactic of giving a critic a bad name and hanging him or her backfired badly on a card-carrying member of the nationalism club on Thursday.

Ram Madhav, the BJP's point man in Jammu and Kashmir, was forced to withdraw a comment that insinuated a Pakistan hand had brought together political rivals Omar Abdullah and Mehbooba Mufti 24 hours ago to stake claim to power in the state.
The governor had guillotined the attempt by dissolving the Assembly and igniting a firestorm of questions.
Another flank was opened by Madhav on Thursday when he told the ANI news agency: "PDP (Mehbooba's party) & NC (Omar's party) boycotted local body polls last month because they had instructions from across the border. Probably they had fresh instructions from across the border to come together and form government. What they did prompted the governor to look into the whole issue."
Spying the "Pakistan hand" or calling detractors "anti-national" is a trump card the right-wing ecosystem has been using regularly in its attempt to silence criticism. But this one — coming as it did from the architect of the PDP-BJP alliance that eventually collapsed — raised hackles like never before.
Omar did not take it lying down, insisting that Madhav furnish proof.
"I dare you @rammadhavbjp ji to prove your allegation. You have RAW, NIA & IB at your command (CBI too is your parrot) so have the guts to place evidence in the public domain. Either prove this or be man enough to apologise. Don't practice shoot & scoot politics," the former chief minister tweeted.
Madhav's initial response was to grin and pretend it was an attempt at humour. "Just take it in your stride @OmarAbdullah Not questioning your patriotism at all. But d sudden love between NC n PDP n d hurry to form government leads to many suspicions n political comments. Not to offend u," Madhav tweeted, signing off with an emoji of a grinning face with smiling eyes.
If Madhav's intention was to lighten the mood, the opposite took place.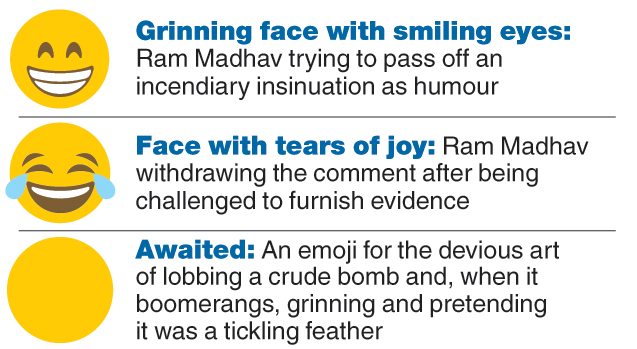 Far from being amused, Omar doubled down: "No, misplaced attempts at humour won't work. You HAVE claimed my party has been acting at the behest of Pakistan. I dare you to prove it! Place the evidence of your allegation of NC boycott of ULB (urban local body) polls at Pak behest in public domain. It's an open challenge to you & your Govt."
Mehbooba too struck with devastating precision, pointing out that both the PDP and the NC had been allies of the BJP at some point and adding: "Strange that our credentials weren't questioned then."
The backlash grew with more parties, including the Congress, joining in.
By then, Madhav had taken off for election-bound Mizoram but could not escape the backwash of the digital backlash in Kashmir and New Delhi.
Choosing to cut his losses, Madhav called a truce, this time adding an emoji of a face shedding tears of joy and eating crow seasoned with a particularly shredded helping of digital English.
"Just landed@Aizawl n saw this. Now tht u deny any external pressure I take back my comment, bt, now tht u proved it ws genuine love btw NC n PDP tht prompted a failed govt formation attempt, u shud fight nxt elections 2gether. Mind u it's pol comnt, not personal."
Omar later put the controversy in perspective, pointing out that what Madhav was driving at was no laughing matter at all but a display of insensitivity.
"You are disrespecting the sacrifices of thousands of my colleagues, almost 3,000 colleagues…. They died because they did not take instructions from Pakistan. More of my workers have died in 30 years than your (BJP) workers have ever died," the former chief minister told reporters.