BJP repeats Gujarat model of fighting incumbency
According to party leaders, replacement of Biplab with Manik Saha as Tripura CM bears an uncanny similarity to what happened in the state last year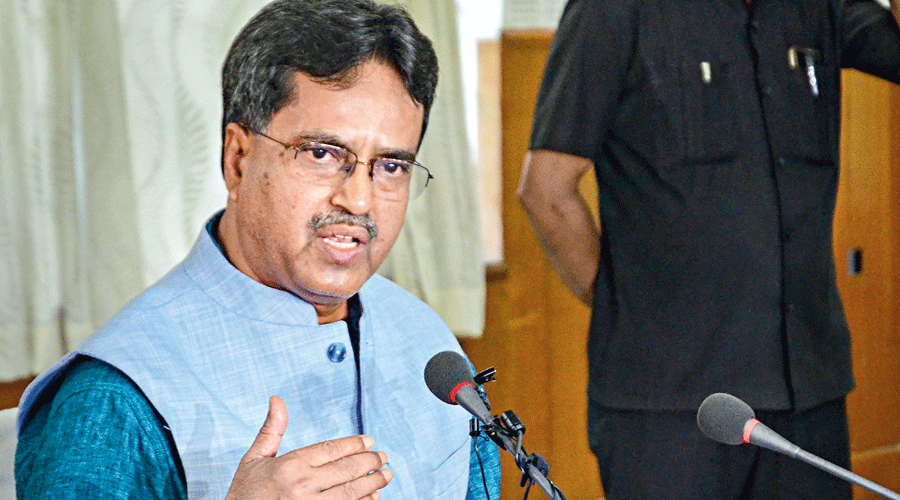 ---
New Delhi
|
Published 16.05.22, 03:04 AM
|
---
The sudden removal of Biplab Kumar Deb as chief minister of Tripura has been viewed in BJP circles as a move to extend the "successful Gujarat model" across other states in a bid to cut anti-incumbency and above all, assert the dominance of the central leadership.
The replacement of Biplab, 50, with 69-year-old Manik Saha as chief minister of Tripura, an ideologically crucial state for the BJP, bore an uncanny similarity to what happened in Gujarat in September last year, party leaders pointed out.
A little over a year ahead of the Gujarat polls, chief minister Vijay Rupani and his cabinet were virtually thrown out one morning and replaced with a new team headed by Bhupendra Patel, a first-time MLA, in the Modi-Shah home turf Gujarat that goes to polls this year-end. This "experiment" passed off without any visible opposition.
Although before this, the BJP central leadership had replaced two chief ministers in the hill state of Uttarakhand, the experiment had started in Gujarat in 2016, two years after Modi moved to Delhi.
Anandiben Patel, who had replaced Modi in Gujarat and was known to be very close to the Prime Minister, was asked to step down a year ahead of the polls as her government looked roiled by the Patidar community agitation.
Rupani, widely seen as an acolyte of then BJP chief and now Union home minister Amit Shah, replaced Anandiben. The experiment paid off in the sense that the BJP managed to retain Gujarat, beating simmering anti-incumbency.
"This successful Gujarat model was implemented in Uttarakhand and it is now being tried out in Tripura," one BJP old-timer said. "This tactic has managed to beat anti-incumbency and internal party problems," the leader added, recalling how the BJP managed to win comfortably in Uttarakhand in March this year, despite predictions of a difficult situation.
Party insiders said replacing Biplab with a new face in Tripura was driven by ground reports of mounting anti-incumbency against the first BJP government in Tripura, in addition to organisational complaints against the outgoing chief minister's alleged "autocratic" style of functioning.
The sources said the party leadership felt that the change would help the party retain Tripura in the polls early next year.
Deb became the fifth chief minister — after B.S. Yeddyurappa in Karnataka, Trivendra Singh Rawat and Tirath Singh Rawat in Uttarakhand and Vijay Rupani in Gujarat – to be changed midstream.  In Assam, the  leadership replaced Sarbanand Sonowal with Himanta Biswa Sarma after the poll victory.
The big exception was Yogi Adityanath in Uttar Pradesh, who was backed by Modi, despite a spirited internal drive to replace him.
"There is no such rule to replace chief ministers before an election. They are replaced based on internal feedback and independent surveys to determine winnability," one BJP general secretary said.
The BJP has learnt a lesson after the loss of Jharkhand in 2019, where the leadership refused to change Raghubar Das as chief minister despite adverse ground reports, party insiders said.
Internally, the BJP leadership has realised that while Modi's popularity is still strong, it is not enough to rescue the party in state elections. So, the Gujarat model will be ruthlessly implemented wherever necessary, the sources said.
BJP chief J.P. Nadda had recently said Gujarat had been BJP's laboratory in matters both organisational and governance-related while asserting that the experiment would be applied to other states as well. Nadda was responding to questions over the surprise change of the chief minister and ministers in Gujarat.
"Gujarat has been a laboratory for organisation and governance. As the national president of the party, it is my duty to take it forward," Nadda had said, adding "which party would dare to do that (to replace the entire government)?"