BJP MLA, 4 guards killed in Dantewada Maoist attack
State director-general of police D.M. Awasthi said a local police officer had called Mandavi and asked him not to take the route, citing security reasons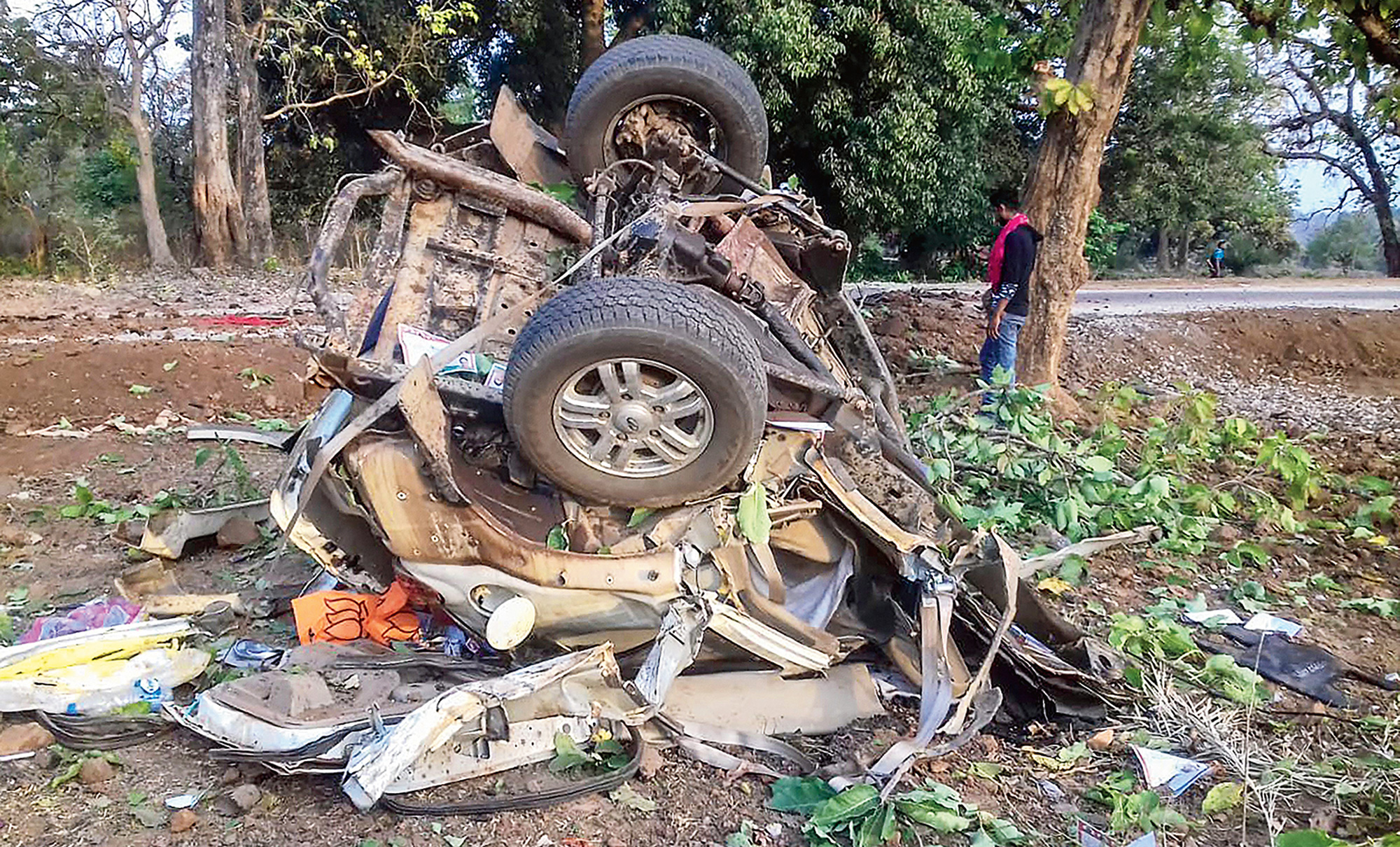 The mangled remains of the vehicle.
PTI
---
Raipur
|
Published 10.04.19, 01:11 AM
|
---
A BJP legislator and four security personnel were killed in Chhattisgarh when suspected Maoists blew up their vehicle on Tuesday, two days before the Lok Sabha elections get off the ground in the state.
BJP MLA Bheema Mandavi and the four others were killed in an attack on a group of BJP leaders travelling in a convoy of three vehicles, including the MLA's bullet-proof one, in Dantewada district, police said.
Polling in Chhattisgarh's Bastar Lok Sabha constituency will be held as scheduled on April 11, Election Commission officials said hours after the attack. Dantewada, where the blast took place, falls in the Bastar seat.
State director-general of police D.M. Awasthi said a local police officer had called Mandavi and asked him not to take the route, citing security reasons.
"On Tuesday, around 9am, Mandavi had left for campaigning…. The MLA's convoy was escorted by additional security of 50 District Reserve Guard men on 25 motorcycles. After completing his campaigning… Mandavi reached the Dantewada party office at around 1am," Awasthi said.
"Mandavi told the DRG security-in charge that he was done with campaigning for Tuesday and the additional security could be withdrawn," Awasthi said.
"After lunch, Mandavi went to a party office from where he headed towards Bacheli. When Bacheli station house officer Shil Aditya Singh came to know that Mandavi was heading towards Kuwakonda, he called him and asked the MLA not to take that route citing security reasons," Awasthi said. Mandavi proceeded on the route and the attack took place about 4km from Kuwakonda, he added. "The MLA was alerted, but he ignored it. If he had not gone through that route, the incident could have been averted," Awasthi added.
The Congress is in power in Chhattisgarh now. BJP leader and former Chhattisgarh chief minister Raman Singh said: "I am in contact with central ministers and spoke to Prime Minister Narendra Modi an hour ago."
The four security personnel were identified as head constables Chhagan Kuldeep and Ramlal Oyami, constable Somdu Kawasi and driver-constable Danteshwar Maurya. Kuldeep, Oyami and Kawasi were personal security officers of Mandavi, police said.
The powerful blast left a big crater in the middle of the road.
Ahead of the Assembly elections in May 2013, as many as 27 people, including senior Congress leader Mahendra Karma and former Union minister V.C. Shukla, were killed in an ambush in the Maoist hotbed of Bastar.