BJP battles Corbett blaze: Modi was not there for photo shoot
Ravi Shankar Prasad snapped when asked about Modi's presence in the park after the Pulwama attack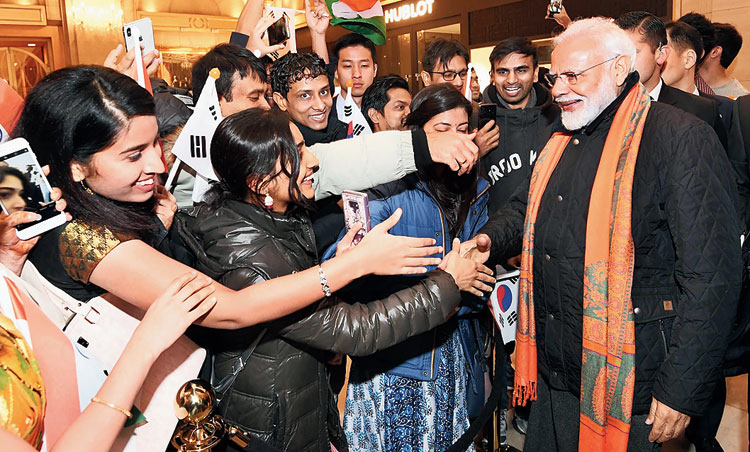 Modi meets Indians in Seoul on Thursday. The Prime Minister arrived in South Korea earlier on Thursday on a two-day state visit.
PTI
---
New Delhi
|
Published 21.02.19, 10:43 PM
|
---
The BJP on Thursday acknowledged that Prime Minister Narendra Modi was in Ramnagar, where Jim Corbett National Park is located, on the day of the Pulwama terror attack but claimed he was there for an official event related to tiger conservation and not to shoot for a film as alleged by the Congress.
Law minister Ravi Shankar Prasad, fielded by the party to rebut the allegations, snapped when he was asked questions about Modi's presence in the park for long after the attack in which 40 CRPF jawans were killed.
"This is a totally baseless charge," he said when a journalist asked if the Prime Minister continued with the film's shooting till the evening, by when everyone knew of the magnitude of the attack. When the journalist continued with his question, a visibly angry Prasad said: "I have answered your question, don't argue with me". He added: "I deny it completely."
Earlier, addressing the media, Prasad said Modi "was in Ramnagar for an official programme related to tiger conservation".
The minister then said: "If the Congress party knew that an attack was going to take place in Pulwama... if their information network is so strong, good. We didn't know." He added that Modi had to drive a long way to catch a flight back to Delhi because of bad weather.
Desh chalna chahiye (the country must go on). The Congress wants the entire country to stop.
- Ravi Shankar Prasad
While Prasad denied that Modi was shooting a promotional film and claimed he was attending an official event, he did not give any details of that programme. He also did not deny that it continued even after news of the terror attack broke.
"Desh chalna chahiye (the country must go on)," Prasad said, adding: "The Congress wants the entire country to stop." He sought to equate the Opposition party with militants, saying they too want India to stop.
"The whole country is united. The morale of the armed forces is soaring sky high. Country after country is standing with India. At this critical juncture the Congress party is exposing its true colours," he said, accusing the Congress of weakening the "resolve of the country" and the "morale of the armed forces".
Asked about the Congress's charge that Modi, then Gujarat chief minister, had tried to politicise the 26/11 Mumbai terror attack by reaching the spot of the strike and holding a news conference, Prasad said Modi had gone to meet the families of the victims and answered questions that journalists asked him.
To questions about how the Pulwama attack had taken place despite the government's claim that demonetisation would break the back of terrorism, Prasad said no big terror attack had taken place in the rest of the country.