BJP ally in Rajasthan quits NDA over farm laws
'I am not stuck with Fevicol to them'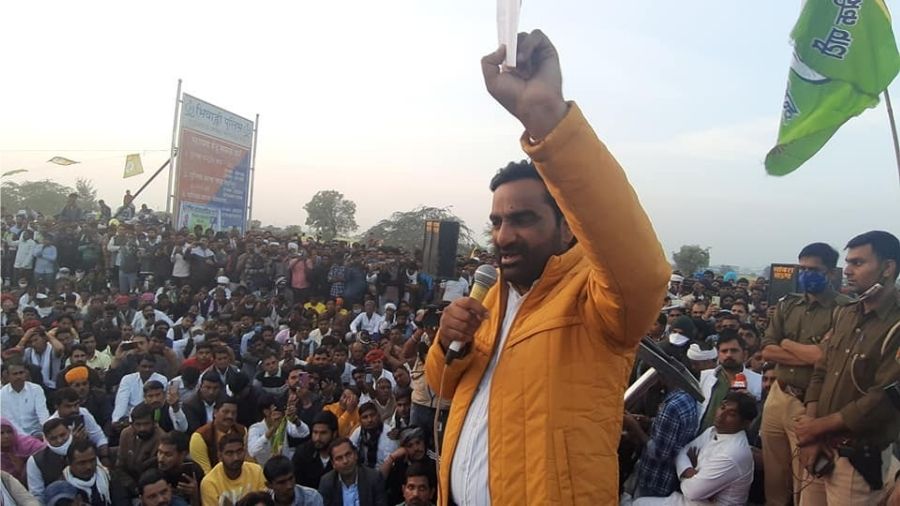 ---
---
Rashtriya Loktantrik Party (RLP) convenor and Nagaur MP Hanuman Beniwal on Saturday said that he was quitting from the BJP-led National Democratic Alliance (NDA), citing the Centre's three new contentious farm laws.
"I am not stuck with Fevicol with the NDA. Today, I separate myself from the NDA," Beniwal said while addressing a farmers' rally in Shahjahanpur in Alwar district.
The RLP chief had on Friday announced a march to Delhi on Friday  in support of farmers organisations holding a protest against the contentious laws.
"I was stopped from entering the Lok Sabha with a fudged Covid report. Had I been there, I would have thrown away the copy of the farm bills in the house," Beniwal, 48, said at the rally.
He had earlier said that the RLP will "think about continuing" its alliance with the NDA if the 'black laws' are not repealed.
The RLP is the latest high-profile political party to quit the NDA this year amid a backlash over the three agri-marketing laws. Earlier this year, the Shiromani Akali Dal (SAD) had split from the alliance over the same legislations. 
Farmers from Rajasthan have been protesting in Shahjahanpur near the Rajasthan-Haryana border on the Jaipur-Delhi highway for 14 days.
Meanwhile, farmers' unions on Saturday accepted the Centre's offer to hold a dialogue and end the deadlock over the issue.
In a letter to Joint Secretary in the Ministry of Agriculture and Farmers' Welfare Vivek Aggarwal, the Morcha said, "We propose that the next meeting between the farmers' representatives and the Government of India be held on December 29 2020 at 11 am."