Bindu's voice: Sabarimala and a devotee's right to pray
The law teacher said she wanted to enter Sabarimala "to establish my fundamental right"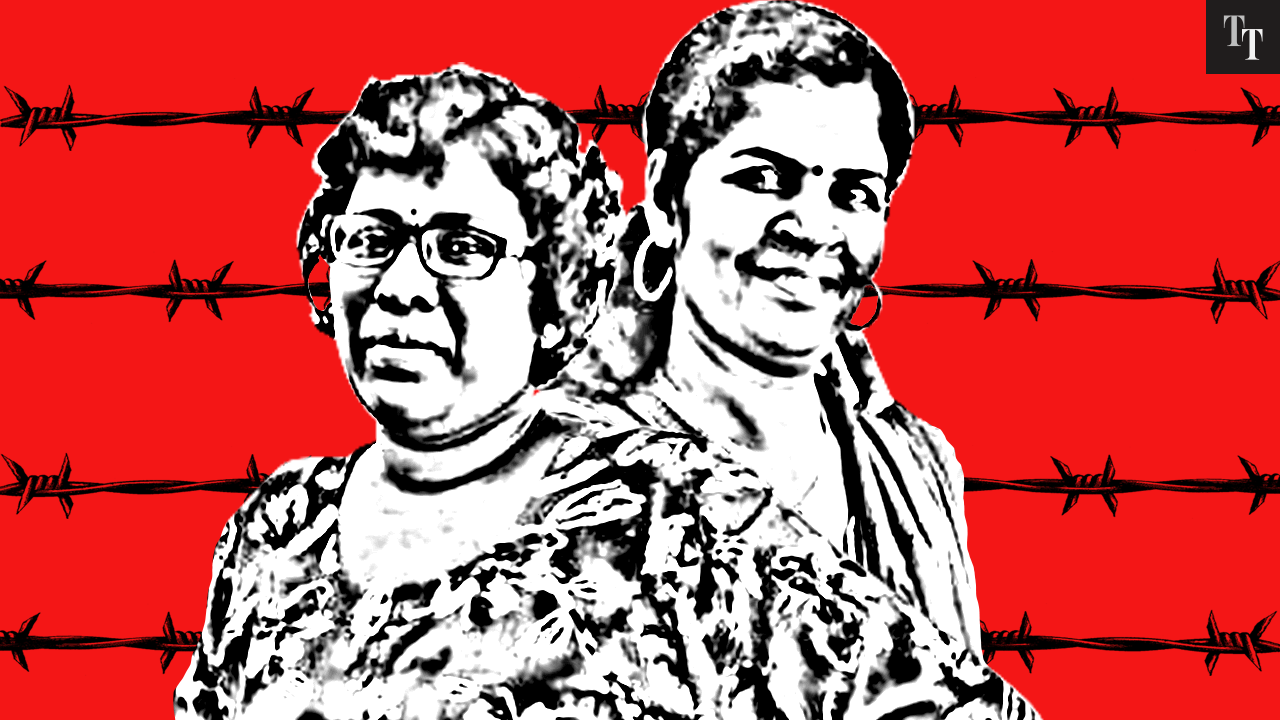 On January 2, Bindu and Kanakadurga started the trek from Pamba to Sabarimala around 1.30 am. They reached around 3.45 am
Illustration by Rahul Awasthi
---
New Delhi
|
Published 20.01.19, 11:54 AM
|
---
On Christmas eve, Ammini Bindu, 42, and Kanakadurga, 44, tried to trek to the Sabarimala temple. They got on a bus with other devotees and reached Pamba, the base camp from where the hill shrine trek begins.
Bindu said the policemen in Pamba could tell that both she and Kanakadurga didn't look older than 50 and asked for their ID documents - women between 10 and 50 who are assumed to be menstruating were not allowed inside the Sabarimala shrine. The policemen were right.
After much cajoling, police officers agreed to accompany them on their trek to Sabarimala. But agitators, protesting the Supreme Court order allowing women of menstruating age to enter the shrine, stopped them on the way.
As the protests around them grew louder, the policemen feared losing control of the situation and forced the women to return to Pamba.
But Bindu and Kanakadurga were not done. On January 2, they set out again. Bindu later said that she wanted to enter Sabarimala "to establish my fundamental right".
On January 2, the two started the trek from Pamba around 1.30 am. They were accompanied by two friends and three or four policemen.
"On our way up, other devotees offered us water and juice. No one raised a voice or protested. The interesting thing was that the protesters were not there at the time. The premises of Sabarimala only had devotees," Bindu said.
Last October, BJP president Amit Shah, while supporting the protests against women entering Sabarimala, had told a meeting in Kerala that "the government and the court should pass orders that can be carried out. They shouldn't pass orders that hit people's faith."
But Bindu, recalling the conduct of the devotees, said it was an easy and peaceful walk uphill. At 3.45 am, the women reached the shrine for darshan, offered prayers and recorded a video that went viral.
At that time, Bindu and Kanakadurga's visit was believed to be the first instance of women entering the shrine after the Supreme Court verdict. On Saturday, the Kerala government told the apex court that 51 women had successfully gone for darshan.
As it became clear that two women had indeed entered the shrine on January 2, protests in Kerala intensified.
Bindu and Kanakadurga went into hiding twice. They later approached the Supreme Court seeking round-the-clock protection. There were reports that Kanakadurga was assaulted by her mother-in-law when she returned home on January 14. "Kanakadurga has been injured and is admitted in Kozhikode Medical College. I've no fear about my safety, but my colleagues and companions are facing some problems from their families and also from society," Bindu said. 
She said that the two have got threats on Facebook and Whatsapp.
Born in Pathanamthitta in southern Kerala, Bindu studied law in Kerala University. After a brief practice stint in district courts, Bindu moved to teaching as a guest lecturer. She is now an assistant professor at the school of legal studies in the department of law of Kannur University.
Kanakadurga is an assistant manager in a grocery store run by the Kerala State Civil Supplies Corporation at Angadippuram. 
"I'm very pained by the discrimination in society. I'm pained that devotees (like me) are removed from the temple. I just wanted to establish my fundamental right and implement the Supreme Court judgment," Bindu said.
The two women had connected online first. "There's a Facebook group with many women from different parts of Kerala who have expressed their desire to go to Sabarimala. I was one of them," Bindu said. The page, called Navodhana Keralam Sabarimalayilekk (roughly translates to Kerala Renaissance enters Sabarimala), brought these women together and kept them updated on news and development around the issue.
After their conversations online, they met in Thrissur on December 22.
After they entered Sabarimala, they were labelled Leftist, Maoists and politically motivated. Bindu said it was all lies. "I've no connection with any of the political organisations. Some of the political parties said I'm a Maoist and I have some connection with these groups. I think the Maoist groups might be laughing (laughs)," she said over the phone.
Bindu was the member of the CPI(ML) and had joined the party through its students' wing, the Kerala Vidyarthi Sangathana. She said she quit in 2009-10.
The questions raised about her political affiliation were done with the objective of diverting attention from the fact that a woman could enter the shrine, Bindu said. "I am a Hindu and at the same time I'm a Dalit. I don't know how people can ask me if I'm a devotee or not. It is about establishing my right as a woman." 
She said Kanakadurga did not tell her family about her plan to go to Sabarimala, but Bindu was supported by her husband and daughter.
"My family has always supported me. My daughter is 12 and is proud of what I did," she said.