Bihar: Woman MLA accuses Nitish Kumar of sexism
Nikki Hembrom has complained to her party's leadership against his comments, requesting them to take action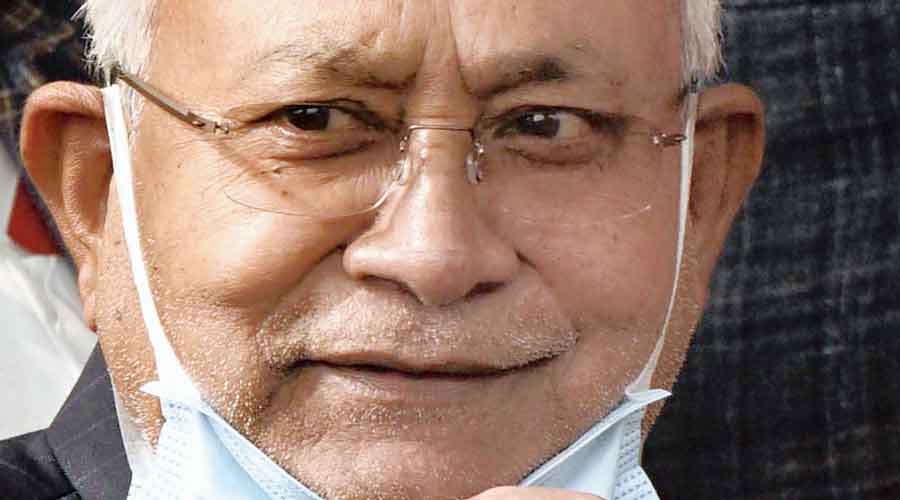 ---
Patna
|
Published 04.12.21, 01:11 AM
|
---
A woman MLA in Bihar has called out as "objectionable" Bihar chief minister Nitish Kumar's misogynistic reference in public to her appearance and intellect.
Nikki Hembrom, the BJP legislator of the state's only Assembly constituency reserved for the Scheduled Tribes, quoted Nitish as saying at an NDA legislature party meeting in front of over 100 men: "You are so good looking but your thoughts are completely opposite. Do you know the things I have done for the Scheduled Tribes? You do not visit your constituency."
The trigger: Hembrom had urged the chief minister to either lift the ban on the collection and storing of mahua flowers or find some other source of livelihood for the impoverished tribals who depend on them.
As Nitish uttered the words, the others in the room during the November 29 meeting broke into laughter, which only caused more embarrassment to Hembrom, 44.
Hembrom, the Katoria MLA, has complained to her party's leadership against Nitish's comments, requesting them to take action.
Nitish has received the support of a woman minister from his party. Lehsi Singh said: "The woman MLA of the BJP seems to be in some kind of confusion. The chief minister did not intend to insult her. He respects and honours women."
Legislators from Nitish's JDU, the BJP, Hindustani Awam Morcha (Secular) and the Vikassheel Insan Party (VIP) were present at the November 29 NDA meeting chaired by the chief minister. They aired various issues, grievances and demands as the winter session of the Assembly began.
Hembrom raised the issue of the STs in her constituency and demanded that the state government either allow them to collect and store mahua or make alternative income arrangements.
Hembrom said Nitish's reaction left her numb and she took several minutes to regain composure. "I was just expressing my concern about the livelihood of the tribal people. Mahua is a part of their life and livelihood. It is also used in making medicines and sweets, not just liquor. They also store it to be used during financial emergencies. The government has banned the collection and storage of mahua and I was asking the chief minister to either allow it or make alternative arrangements, else the people will die of poverty and hunger," Hembrom told The Telegraph on Friday.
"However, Nitishji's objectionable comments left me shocked. Maybe he did not understand my concern, but such words put a woman in the dock. We consider him the state's chief and our guardian, but his words were not proper. They made me an object of fun and ridicule. People were laughing at me. This is a man's world and a woman has to always strive and stay cautious to keep her dignity and family's prestige intact," Hembrom added.
She said she had complained to the top state leadership of the BJP, including the party's state organisational general secretary Bhikhubhai Dalsaniya, during a meeting on November 30.
"I have left the issue to the top leaders of my party and am waiting for their response. I will think about my next step after I come to know what remedial action has been taken," Hembrom said.
Hembrom, an associate professor of history at Ranchi University who is currently on leave without pay, had been a member of the Bihar women's commission from 2017 to 2020. 
Mahua flowers have been an integral part of tribal life in states such as Bihar, Jharkhand, Bengal, Odisha, Madhya Pradesh, Chhattisgarh and Maharashtra, and are used to make liquor, medicines, sweets, oil and fertilisers.
However, the Bihar government has banned the collection and storage of mahua as part of its prohibition policy that was implemented in April 2016. This has triggered a financial crisis among the tribals and there have been reports of their harassment at the hands of the enforcement agencies.