Bihar: Cops seize tanker carrying 35,000 litres of illicit ethyl alcohol
The spirit was allegedly being smuggled from Bhutan through Assam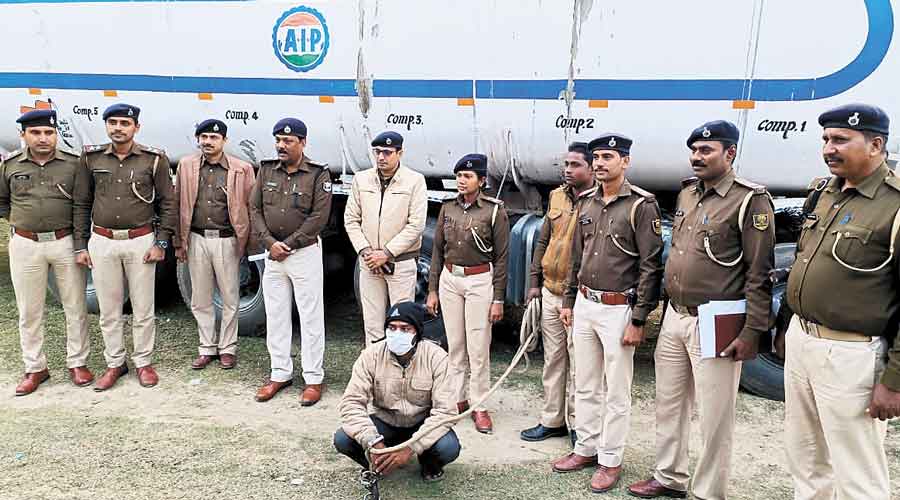 The police team that seized 35,000 litres of spirit in Kishanganj on Friday.
Sanjay Choudhary
---
Patna
|
Published 26.02.22, 01:08 AM
|
---
Bihar police seized a tanker carrying 35,000 litres of illicit ethyl alcohol in Kishanganj district on Friday.
Ethyl alcohol is used in alcoholic beverages as a solvent.
It is the biggest seizure in the state since Prohibition was clamped in April 2016.
The spirit was allegedly being smuggled from Bhutan through Assam. The seizure could unravel an international smuggling racket of spirit.
A police team led by Kishanganj sub-divisional officer Anwar Javed Ansari carried out the seizure on the basis of intelligence inputs about the movement of the illicit consignment.
 "Our team started checking the vehicles plying on the NH 31. The team spotted a tanker bearing Nagaland registration number and stopped it. It was carrying around 35,000 litres of spirit. The driver, identified as Nagina Mahto of Vaishali district, has been taken into custody and is being interrogated," Ansari said.
Mahto was not carrying the e-way bill, which is generated by GSTN (Goods and Services Tax Network), and is mandatory for inter-state and intra-state transfer of goods worth above Rs 50,000. It contains the details of the consignment.
Mahto showed documents with information that the tanker was carrying the consignment from Assam to a company – Deccan Bottling and Distilling Industries – located in Aurangabad district of Maharashtra.
The policemen contacted the general manager of the company but the latter denied having ordered any such consignment and also pointed out that no company would purchase spirits from so far away because it would be uneconomical.
When the police questioned Mahto strictly he spilled the beans. He had been transporting spirits to Bihar for the last two years.
 "What surprised us was that there is a huge smuggling racket going on. It is being brought illegally from Bhutan because it is much cheaper there in comparison to its price in our own country that is almost twice as much. Such consignments are stored illegally at places in Assam and dispatched to different parts of the country," Ansari said.
 "We have informed the customs office in our district. It will pursue the case further," the officer added.
The police also contacted the excise officials who tested and confirmed that the seized spirit was ethyl alcohol or ethanol. In a diluted form, it could be used to make liquor.