Janata Dal United MLA from Bihar creates ruckus on train
According to fellow passenger, Prahlad Paswan moved around in undergarments in the Tejas Rajdhani Express on Thursday evening, to which they objected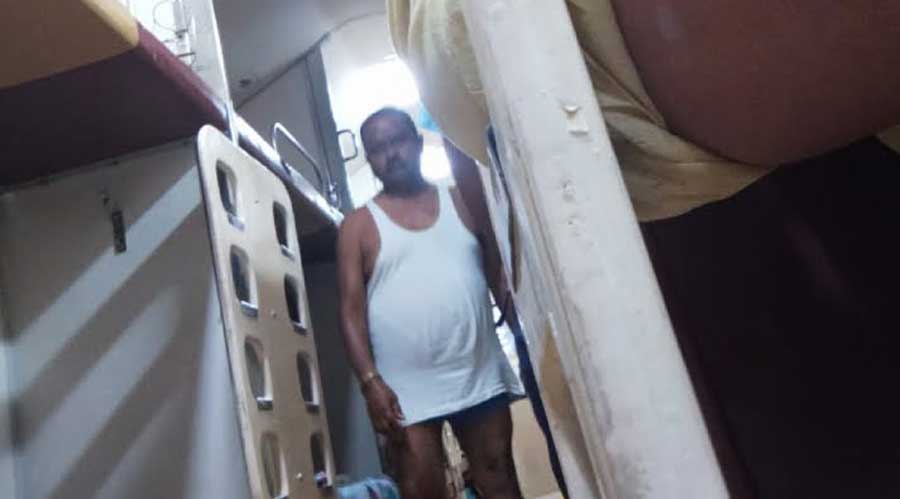 ---
Patna
|
Published 04.09.21, 02:05 AM
|
---
An MLA of Bihar chief minister Nitish Kumar's Janata Dal United moved around in his undergarments in the Patna-New Delhi Tejas Rajdhani Express on Thursday evening and created a ruckus when other passengers objected to his behaviour.
A fellow passenger, Prahlad Paswan of Jehanabad, who lost his gold chain and rings in the fracas, submitted a written complaint to the Government Railway Police (GRP) against MLA Gopal Mandal in New Delhi railway station on Friday. Paswan requested that an FIR be registered against the legislator and his associates for allegedly hurling abuses, forcing him to drink dirty water and for snatching a gold chain and two rings from him.
Narendra Kumar Neeraj alias Gopal Mandal, a four-term MLA from Gopalpur constituency in Bhagalpur district, boarded the A-1 coach of the train from Patna Junction on Thursday evening.
A couple of hours later as the train crossed Bihiya in Bhojpur district, fellow passengers were shocked to see Mandal roaming around in his vest and underpants.
A purported photograph of Mandal walking around in this manner in the compartment has been widely shared on social media.
 The co-passengers strongly objected to Mandal's actions since women and children were also travelling in the compartment. It resulted in an altercation in which the legislator allegedly showered expletives, manhandled and threatened to shoot them.
"The legislator was not even willing to understand. He instead tried to cow us down by flaunting his position, all the while showering filthy gaalis (expletives) at us. He started misbehaving and forcibly poured dirty water in my mouth. He also abused me on caste lines in front of the passengers," Paswan told The Telegraph over the phone.
"Mandal and his three associates snatched my gold chain and two rings. They were around 30 grams in weight and must be worth a few lakhs of rupees. I have submitted a complaint to the GRP at New Delhi railway station and expect them to register an FIR," Paswan said.
Paswan said other passengers saved him and wondered "how voters elected people like Mandal as MLAs". He also alleged that Mandal was inebriated.
Mandal admitted he had moved in the train in his undergarments.Mandal said: "I was suffering from loose motion, and had to run in my undergarments to the toilet in the train. A passenger caught hold of my hand after which we exchanged words. I did not assault or abuse anybody. The passengers were saying women were travelling in the train, but there were no women in that coach." Mandal told reporters.Asked about the incident, East Central Railway chief public relations officer Rajesh Kumar told this newspaper that an incident was reported in the 02309 Tejas Rajdhani Express on Thursday._
"An altercation was reported among some of the passengers regarding the dress of one particular passenger travelling in the Patna-New Delhi Tejas Rajdhani Express on Thursday. The train superintendent immediately intervened in the matter," Kumar said.
New Delhi GRP station house officer (SHO) Ajeet Kumar told this newspaper that the complaint against Mandal has been "forwarded to the GRP at Patna because the incident occurred under its jurisdiction. The FIR could be registered there".
Mandal is known for being a loudmouth and creating controversies with his words and actions. Sources in the JDU said that he has become an embarrassment for the state government.
The legislator has been involved in brawls, dancing with girls, alleged land grabbing, threatening MLAs from his neighbouring constituencies irrespective of their parties, and proclaiming that Rashtriya Janata Dal (RJD) leader Tejashwi Prasad Yadav will soon become the chief minister.
Mandal recently alleged that deputy chief minister and senior BJP leader Tarkishore Prasad was extorting money from businessmen and officials in Bhagalpur. He backtracked a couple of days later when the BJP raised a hue and cry.
A senior JDU leader said on the condition of anonymity that Nitish was "giving a long rope to Mandal because he hails from the Extremely Backward Castes being wooed at present by all political parties. Moreover the JDU has just 43 MLAs and he (Nitish) cannot afford to lose an MLA at this juncture".