Bihar governor nominates 12 MLCs
Nominations show that JDU has managed to wrest an equal number of seats compared to the BJP despite being a junior partner in the current NDA govt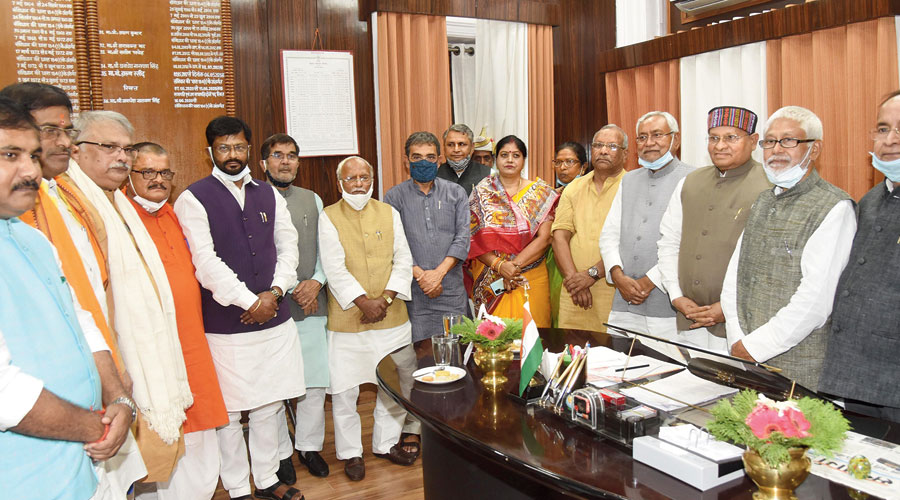 ---
Published 18.03.21, 05:18 AM
|
---
Bihar governor Phagu Chauhan on Wednesday nominated 12 MLCs — six each from the Janata Dal United and the BJP. They all took oath in the Legislative Council later in the day.
Building construction department minister Ashok Choudhary, Upendra Kushwaha, Sanjay Singh, Lalan Kumar Saraf, Sanjay Kumar Singh and Ram Vachan Rai were nominated from the JDU.
On the other hand, mines and geology minister Janak Ram, Rajendra Prasad Gupta, Devesh Kumar, Pramod Kumar, Ghanshyam Thakur and Nivedita Singh from the BJP were present in the list of nominated MLCs released by the governor's office.
Kushwaha's name was unexpected and sources said that the move indicated chief minister Nitish Kumar's plan to induct him as a minister in his cabinet.
These 12 seats in the Legislative Council were vacant since May last year. The nominations show that Nitish's JDU has managed to wrest an equal number of seats compared to the BJP despite being a junior partner in the current National Democratic Alliance (NDA) government.
The JDU had managed to win just 43 seats in the Assembly elections held in October–November last year while ally BJP won 74 seats. The JDU's tally has gone up to 44 since then as the lone Bahujan Samaj Party legislator joined it.
The 12 members the governor nominates, usually eminent people from the field of art, science, literature and social service on the recommendation of the state cabinet, were a bone of contention between the JDU and the BJP. While the former wanted to divide them equally, the BJP wanted to get a larger slice.
Sources said Nitish moved to get the nominations accepted at a time the BJP is busy preparing for elections in Bengal, Assam, Kerala, Tamil Nadu and Puducherry. The BJP also decided to play safe at this juncture and let Nitish have his say in the matter.