Bihar flood victims turn to rats
Nitish should feel ashamed: Rabri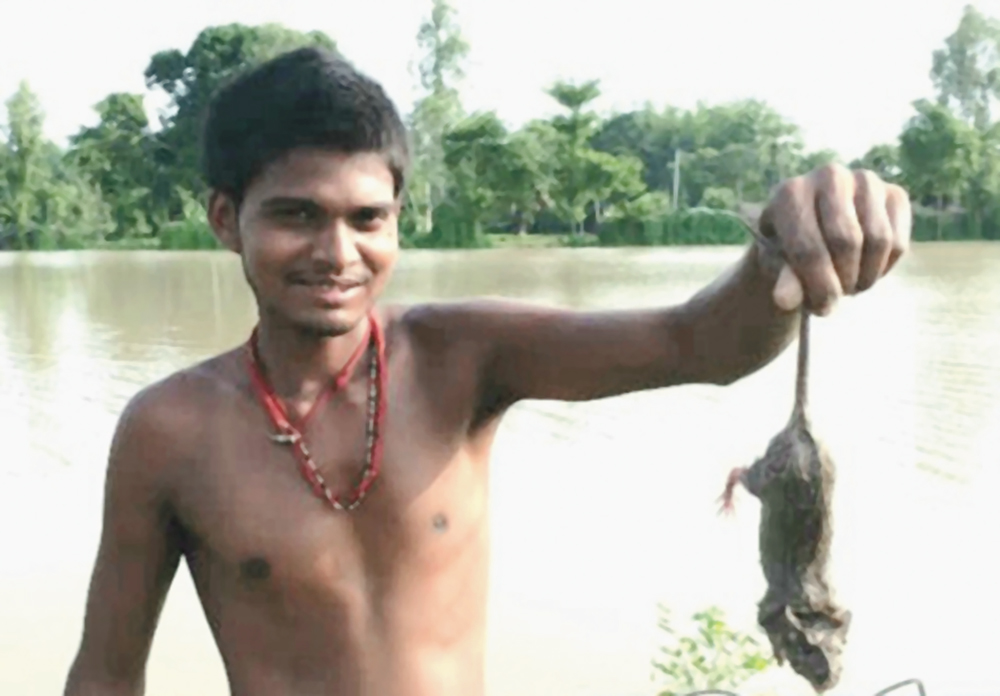 A villager holds a rat in Katihar district
Picture by Sanjay Choudhary
---
Patna
|
Published 17.07.19, 08:06 PM
|
---
The Bihar flood death toll rose to 86 on Wednesday as more areas in the 12 affected districts got inundated, impacting 4.68 lakh people and forcing many marooned residents to hunt rats for food.
As the situation worsened with the government struggling to provide relief, around 300 families in Kadwa block of Katihar district who lost their food grain to swirling waters are catching rats for food.
These families are trapped on higher ground and embankments, where the rats too are flocking to save their lives.
"We have lost all our stored grains to the floods. We went hungry for two days, drinking muddy water. We are yet to get flattened rice and jaggery from the government. So we started catching and eating rats," Vijendra Murmu, a youth of Dangi Tola village in Katihar, said over phone.
Dangi Tola is mostly inhabited by Scheduled Castes, particularly Musahars (a rat-catching community), and Scheduled Tribes.
They are cooking the rats by lighting a fire with twigs and matchsticks and lighters that they could save from the rising water.
Government officials, including Kadwa block development officer Rakesh Kumar Gupta, said he had no knowledge of people having to survive on rats.
Katihar district magistrate Punam denied that such a situation had arisen.
"We are running a community kitchen in the area and people are eating there. Nothing of this sort (people eating rats) has happened. Vested interests are creating such an impression. A stalwart politician from the area has incited the people to tarnish the image of the government," Punam said.
Kadwa MLA and Congress leader Shakeel Ahmad Khan hit out at the district administration for failing to prepare for the floods. He said what his area was facing was a shame for humanity. Khan added that he had written to chief minister Nitish Kumar, requesting assistance.
RJD leader Rabri Devi, a former chief minister, targeted Nitish.
"Nitishji, don't preach us about nature being the culprit. You had blamed nature for the heatstroke, drought and Acute Encephalitis Syndrome deaths. If nature has to carry out rescue and relief work too, then are you and your minister there to do bhajan kirtan? People have been forced to eat rats because of the government's inefficiency. You should feel ashamed," Rabri said.
Deaths have been reported from Sitamarhi, Araria, Madhubani, Sheohar, Purnea, Darbhanga, Kishanganj, Supaul.
With a let-up in rainfall in Nepal, the focus will now be more on containing the outbreak of infectious diseases through effective distribution of medical aid, an official said.