BJP eyes Bihar ministry pie
The power scales have tipped with the JDU becoming the junior partner with 43 seats and the JP Nadda-led party emerging the biggest NDA player with 74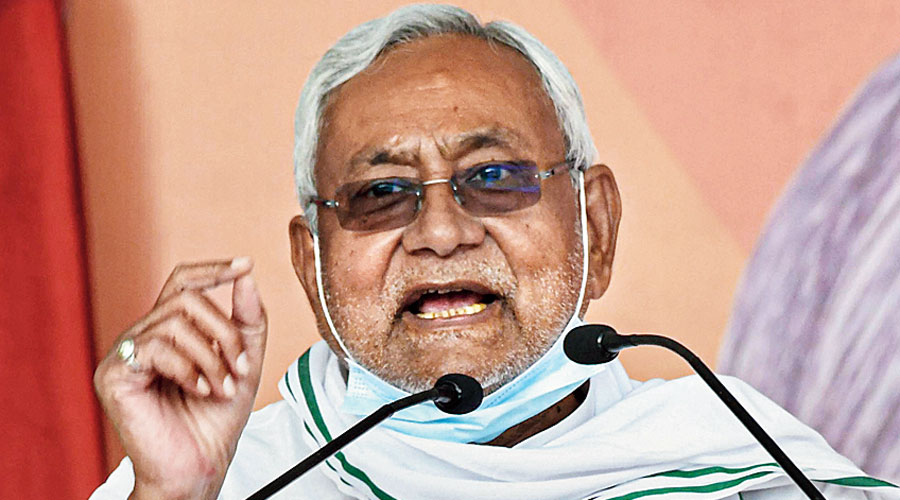 Nitish Kumar
File picture
---
Patna
|
Published 14.11.20, 02:49 AM
|
---
The BJP and Nitish Kumar's JDU are said to be bargaining hard with each other over a power-sharing deal in Bihar.
The power scales have tipped with the JDU becoming the junior partner with 43 seats and the BJP emerging the biggest NDA player with 74. However, Prime Minister Narendra Modi has announced that Nitish would remain chief minister.
The NDA's tally of 125 includes four seats each of Jitan Ram Manjhi's HAMS and Bollywood set designer Mukesh Sahni's VIP. They will also have to be accommodated.
The most important issue is the division of cabinet berths and government departments. The Bihar cabinet can have 36 ministers, including the chief minister. The JDU and the BJP have been following a formula of one minister for every four MLAs. The outgoing cabinet had 33 ministers — 19 from the JDU, including Nitish, and 14 from the BJP, including deputy chief minister Sushil Kumar Modi.
"This situation is going to turn around this time. Our party will have 18 or 19 ministers, while the JDU will have 13 or 14 ministers. One each from HAMS and VIP will be incorporated," a senior BJP leader told The Telegraph.
BJP leader and road construction minister Nand Kishore Yadav said: "Only a few people will be sworn in at the beginning. The expansion of the cabinet and the redistribution of government departments will happen in due course."
The BJP is said to be eyeing home and education, now with the JDU.
"We would definitely want the education department. Our party, the RSS and the ABVP have always resented not being able to run education in the state as per our policies…. The education department is coming to us. We are trying to get the home department also," a BJP leader said.
Sources in the BJP said that the party also wanted the health and urban development departments, whose work directly affects the public.
The BJP is also keen on having the Assembly Speaker from the party. But Nitish is said to be keen on retaining Vijay Kumar Choudhary.
The BJP is also gunning for important positions in the government boards, corporations, commissions and 20-point programme implementation and monitoring, the sources said.
Senior NDA leaders met Nitish at his 1 Aney Marg residence on Friday to chalk out the government formation schedule. BJP state president Sanjay Jaiswal, Sushil, Manjhi and Sahni were present.
"We decided that the NDA legislature party would meet on Sunday afternoon. Members of all the four constituent parties will attend it. Everything related to staking claim to form the government and other issues will be decided there," Nitish told journalists.