Bhasha Utsav salute to Subramania Bharati
Idea for the celebration on Tamil poet's birthday came from the Bharatiya Bhasha Samiti, an expert panel on Indian languages under the education ministry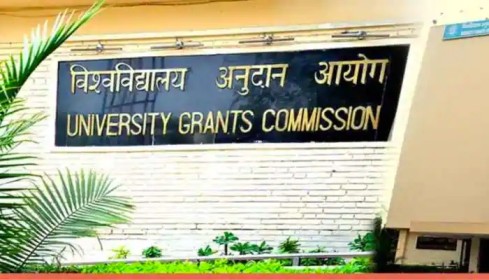 The University Grants Commission has written to all the universities and colleges to organise speeches and singing, writing and acting programmes.
File Photo
---
New Delhi
|
Published 01.12.22, 04:23 AM
|
---
The Centre will commemorate the birth anniversary of Tamil poet and social reformer Subramania Bharati on December 11 as National Bhasha Utsav, projected as a celebration of India's linguistic and cultural diversity.
Activists and academics were divided over the government's sincerity, with some sniffing a BJP bid to make political inroads into Tamil Nadu and highlighting the focus on Sanskrit and Hindi in the government's New Education Policy (NEP).
Others welcomed the move as a genuine attempt to promote different Indian languages. Charges of insincerity and political motives have been levelled also against a Kashi-Tamil Sangamam the Centre is currently organising to showcase the links between Tamil and Varanasi.
The University Grants Commission has written to all the universities and colleges to organise speeches and singing, writing and acting programmes in various languages on the day and felicitate students familiar with multiple Indian languages and scripts.
The idea for the Utsav on Bharati's birthday came from the Bharatiya Bhasha Samiti (BBS), an expert panel on Indian languages under the education ministry.
"There is a need to create 'language harmony', to develop conducive environment for learning more and more Indian languages apart from mastering one's own mother tongue, and an attitude and aptitude to love and enjoy the 'neighbouring language'," the concept note prepared by the BBS says.
The note says the celebrations will give students information on various Indian languages, encourage people to learn a few more Indian languages, celebrate the diversity in the country's culture and arts, and get people to experience India's unity, harmony and integrity.
Education activist Prince Gajendra Babu said he doubted how sincere the Centre was about promoting all Indian languages. He accused the government of looking to impose Hindi and Sanskrit through the NEP. The NEP recommends that every Indian student participate in a fun project or activity on "the languages of India" and learn, among other things, their common grammatical structures, and their origins and sources of vocabulary from Sanskrit and other classical languages.
The NEP describes Sanskrit as a repository of literature that is greater in volume than those of Latin and Greek put together. "Sanskrit will thus be offered at all levels of school and higher education as an important, enriching option for students, including as an option in the three-language formula," the NEP says. Babu said the NEP plays politics with language by giving a special place to Sanskrit.
"The NEP says that Sanskrit contributed much to the growth of all Indian languages and cultures and, hence, Sanskrit should be taught at all levels of education. It sees Hindi as a language to unify India. Thus equal status is not given to all languages," Babu said.
The Tamil Nadu government has rejected the NEP and set up its own committee to frame a "State Education Policy". "Bharati was a strong proponent of multi-culturalism and diversity.
On his birth anniversary, the government should discuss his ideals. The BJP is trying to make political inroads into Tamil Nadu with these initiatives," Babu said. D. Gnanasundaram, former vice-chairman of the Central Institute of Classical Tamil, said the Centre was sincerely trying to promote harmony among Indians who speak different languages.
"The political parties of Tamil Nadu raise the issue of imposition of Hindi. I do not see any evidence of such a thing. The Centre wants to promote Tamil and other (Indian) languages too. They are sincere," he said.