Bhagwat tune: Talk temple and nothing else
RSS chief cancels reviews of Sangh workers, tells them to focus on Ayodhya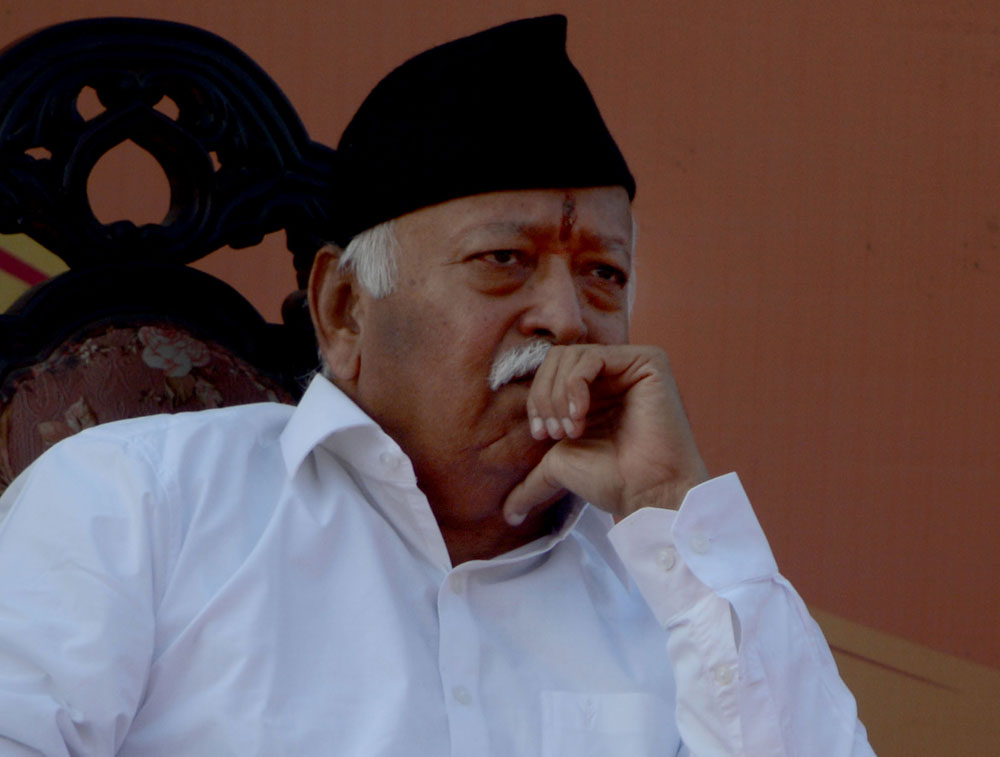 ---
|
Lucknow
|
Published 12.11.18, 09:35 PM
---
RSS chief Mohan Bhagwat has asked the organisation's pracharaks to build up a head of steam in favour of a Ram temple in Ayodhya by talking of "nothing else" till the general election, Sangh sources have said.
"Bhagwat has cancelled all the programmes of the pracharaks (whole-timers) and asked them to talk about the Ram temple and nothing else till the Lok Sabha elections," an RSS official in Ayodhya, who didn't want to be named, said.
"He has asked them to create an atmosphere for the construction of the Ram temple without mentioning the role of the Narendra Modi government."
Sangh parivar outfits had been clamouring for a law to pave the way for the Ram temple since end-October after the apex court said the Ayodhya dispute was not a "priority" and declined an early hearing.
But parivar leaders seem to have realised the perils of the Centre trying to bypass the apex court before a verdict, and now appear anxious to play down any government role in the matter.
When reporters asked Champat Rai, national VHP vice-president, in Ayodhya on Monday about the demand for a pro-temple law, he made a dismissive gesture with his right hand suggesting he didn't want to comment on the subject.
Bhagwat's November 11-16 trip to Varanasi, the Prime Minister's constituency, coincides with Modi's visit on Monday to inaugurate several projects and lay the foundation stones for some others.
"Soon after reaching Varanasi on Sunday evening, Bhagwat cancelled all reviews of Sangh workers' performances and said his six days in the city would be dedicated exclusively to discussions on the Ram temple," the RSS official in Ayodhya said.
"He said Sangh members have to help the VHP organise the sadhus' rallies in Ayodhya, Bangalore and Nagpur at the end of this month."
A two-day meeting of sadhus in Delhi early this month had decided to start a pro-temple movement across the country by holding dharm sabhas (religious meetings) in Ayodhya, Nagpur and Bangalore on November 25 and in Delhi on December 9.
Rai told reporters in Ayodhya that after the November 25 rallies, "we will hold public meetings at 500 places across the country and finally assemble in Delhi on December 9 to tell the world we are not sleeping".
Rai, who has been the VHP's point man on Ayodhya since the late 1980s, said: "We are hurt by the Supreme Court's observation that the Ram temple case is not a priority. (Hindu) society needs to think about it."
On Sunday evening, Iqbal Ansari, a plaintiff in the Ayodhya case who is supporting the Sunni Central Waqf Board's claim to the plot, met Dharam Das, another minor party, at Ansari's Ayodhya home.