Bangalore flood: Tractors keep flood-hit tech capital moving
Gated communities and IT parks built on wetlands and encroached-on lakes were submerged along with middle-class and poor neighbourhoods in low-lying parts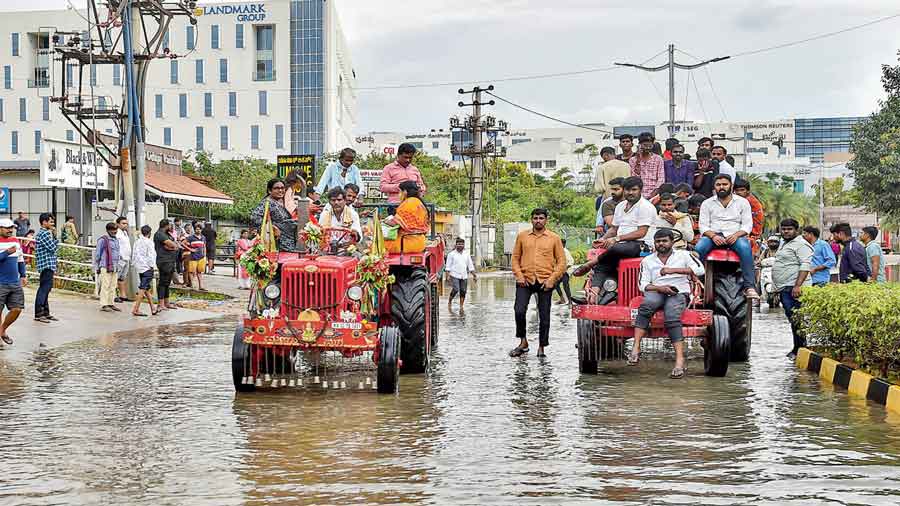 Stranded residents being evacuated by a tractor from waterlogged Yemalur in Bangalore on Tuesday.
PTI
---
Bangalore
|
Published 07.09.22, 03:56 AM
|
---
Commuters hired tractor or boat rides to office and families stocked up on drinking water as swathes of India's IT capital remained under water for the second consecutive day with the rain refusing to let up.
Gated communities and IT parks built on wetlands and encroached-on lakes were submerged along with middle-class and poor neighbourhoods in low-lying parts of Bangalore's outer areas, especially in the east.
Many of the slums, middle-class enclaves and posh colonies in the inner localities that have been free of flooding, at least for now, too suffered without power or water. Power lines to several areas have been switched off to prevent human tragedy.
A 23-year-old woman was electrocuted on Monday after her moped skidded on a waterlogged road and she tried to grab an electrical pole for support. Taps ran dry in central Bangalore neighbourhoods because the T.K. Halli pump-house in neighbouring Mandya district, which pumps the Cauvery's waters to the city, has got inundated.
The weather office reported 40mm rain between Monday and Tuesday mornings and forecast rain for the next four days.More than 4,000 homes — from tenements to flats in high-rises — had been vacated by the occupants by Tuesday noon because of flooding. Residents of lower floors in apartment complexes were asked to move to higher floors.
Satish D, an entrepreneur who lives in eastern Bangalore, told The New York Times that his building was completely marooned and withoutpower, and that residents were running out of food and water.He said dozens of families in his neighbourhood, called Villas, were stranded, with some forced to hire tractors to evacuate after their appeals to local government officials went unanswered."Everyone is stranded inside their homes, and tractors can't go everywhere," he said.
"We need a boat to rescue people, but we don't have them."As fancy cars lay half-submerged in muddy floodwaters in most of the upscale neighbourhoods, tractors brought in from outlying villages helped evacuate residents and ferry many to office against hefty charges.
IT-poor divide
"While (the ordeal faced by) the IT companies hogs the limelight, the sufferings of the poor who have lost everything in these floods have gone unnoticed," eminent environmentalist Leo Saldanha of the Bangalore-based Environment Support Group said.
"We need to remember that the IT companies are all insured and their losses are at times notional, while the losses of the poor living in slums and low-income-group areas are real."Saldanha blamed the deluge on the "unbridled construction" over the past few decades — during which both the Congress and the BJP have been in power in the state — that coincided with Bangalore's rise as the country's IT hub."Unbridled construction on wetlands and encroached lakes has contributed to this mess," he said, alleging that official corruption and apathy had allowed this to happen.
Saldanha also criticised the BJP government's ongoing concretisation of storm water drains, which he said had sped up the draining of the rainwater into surrounding lakes, causing them to breach their banks and flood the city."The government is adamant on pouring concrete worth Rs 1,500 crore into canals and kaluve (traditional storm water drains). Concreting these waterways have turned a bad problem devastating, since water now rushes in contrast to the smooth flow of the old drains, with weeds and shrubs acting as speed-breakers," Saldanha told The Telegraph.
He cited how the Varthur and Bellandur lakes had breached their banks, flooding large swathes of residential areas and IT corridors. At least four other lakes were overflowing on Tuesday.
Calcuttans' view
Sriparna Ray, a Calcuttan who lives in Bangalore, has yet to experience the flooding firsthand because she lives in Malleshwaram in the old city."I have only seen pictures of flooding in other parts of the city. But I have seen streets get flooded with just a little rain in south Calcutta, where I lived. Here, I haven't seen anything like that yet," she said.
Robin Mazumdar, who made Bangalore his home in the late 1960s and is a former general secretary of the Bengali Association, felt the main difference was the time taken for rainwater to recede."Water remains in Calcutta for a longer duration — in Bangalore, I feel, it traditionally receded quickly. But the recent floods have been pretty bad here," he said.
Posh neighbourhoods built on wetlands in Yemalur near the old HAL Airport, Bellandur, Varthur and several parts of Marathahalli — one of the tech corridors — remained under thigh-deep water for the second day. Educational institutions in the flooded areas switched to online classes, while many IT companies asked their employees to work from home. Among the flooded low-lying areas are the slums of Munnekollala, a short drive from Marathahalli where hundreds of workers and their families live. Flooding is not new to these outer Bangalore areas, though. A week ago, more than 400 cars parked in the basements of apartments in Nallurahalli, a new neighbourhood in the Whitefield tech corridor near Marathahalli, got submerged as the nearby lake burst its banks.
Rain blamed
Chief minister Basavaraj Bommai has announced a Rs 300-crore package towards flood relief and the maintenance of basic amenities. He has announced another Rs 9.5 crore for the State Disaster Response Force to buy equipment such as pumps, water tankers and dinghies.Bommai blamed the heavy rainfall. "Some areas of the city received 150 per cent more than normal rain between September 1 and 5," he said."Mahadevpura, Bommanahalli and K.R. Puram received 307 per cent excess rain."The heavy rainfall Bangalore has received this week is part of a broader trend of climate havoc across South Asia, The NYT reported.
It said that relentless heat in northern India and Pakistan this spring, with temperatures of 40°C or higher for days, killed dozens of people, led to flooding from glacial melt in the Himalaya, and caused crop failures, contributing to global food shortages.
Shivangi Sharma Sasi, a Bangalore resident, told The NYT that she and others had begun stocking up on bottled water."There is panic and fear among people," she said. "And people have started hoarding food items."
Additional reporting from New York Times News Service