Azadi or Zabardasti? People react to journalist Prashant Kanojia's bail
Right to liberty non-negotiable, says bench, but adds that the relief does not mean the court approves of his tweet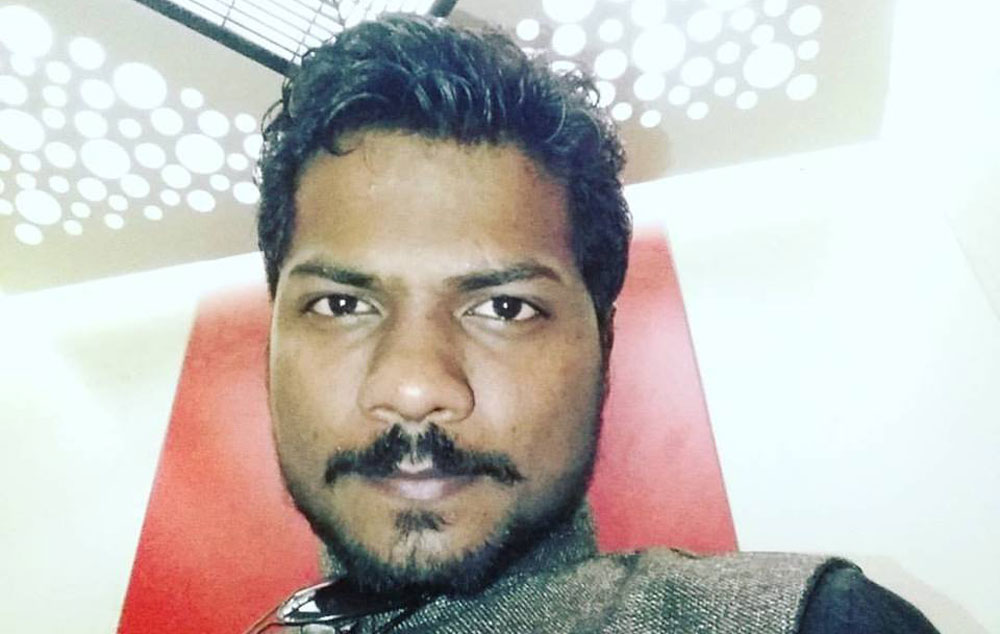 ---
---
Journalist Prashant Kanojia, who was arrested for posting 'objectionable comments' on Uttar Pradesh chief minister Yogi Adityanath on Twitter, was granted bail on Tuesday.
The vacation bench of Justices Indira Banerjee and Ajay Rastogi said right to liberty, a fundamental right, is non-negotiable but added that the bail does not mean that the court approves of the journalist's tweet.
Kanojia had allegedly shared a video on Twitter and Facebook where a woman is seen speaking to reporters outside the Uttar Pradesh chief minister's office in Lucknow claiming she had sent a marriage proposal to Adityanath.
Kanojia's wife Jagisha Arora had said the arrest was 'illegal' and 'unconstitutional' and filed a habeas corpus petition. She demanded that Uttar Pradesh Police release Kanojia without delay.
In the petition, Arora also sought action against the policemen for arresting Kanojia from Delhi for 'bailable offences'. She also sought 'exemplary damages' for his 'illegal arrest'.
After he was granted bail, this is what members of the Twitterati had to say:
The Congress chief used a similar style of sarcasm, for which the journalist was arrested, to imply that the UP chief minister needed to stop 'behaving foolishly' and release the arrested scribes.
If every journalist who files a false report or peddles fake, vicious RSS/BJP sponsored propaganda about me is put in jail, most newspapers/ news channels would face a severe staff shortage.

The UP CM is behaving foolishly & needs to release the arrested journalists. https://t.co/KtHXUXbgKS

— Rahul Gandhi (@RahulGandhi) June 11, 2019
A BJP supporter felt that the decision was unjust and called Kanojia 'a serial offender'.
Unable to understand why supreme court asked Priyanka Sharma to appologise to Mamta Banerjee just for sharing a meme and not using similar yardstick to #PrashantKanojia while granting him bail... He is a serial offender.#PrashantKanojiaCase

— khemchand sharma (@SharmaKhemchand) June 11, 2019
Another netizen 'welcomed' the judgment while drawing a connection with the arrest of Abhijit Iyer-Mitra, who was held for derogatory remarks about the Konark Sun Temple in September last year.
While the SC's decision on Prashant Kanojia should be welcomed; how could it have just a few months ago allowed @Iyervval to go to jail on roughly similar grounds? pic.twitter.com/cPZi3uc8uV

— Kushan Mitra (@kushanmitra) June 11, 2019
Someone also claimed that Kanojia was suspended for castiest abuse to his IIMC faculty, and called him a 'low life'.
Low life #PrashantKanojia didn't even spare his Almamater (IIMC) head @kg_suresh, Photoshopping his personal photo to make a fake news. He was also suspended for castiest abuse to his faculty.

Supreme court judgment set wrong precedence. https://t.co/P1Zx4hfqI9

— Vikrant (@vikrantkumar) June 11, 2019
One of the members of Twitterati pointed out the dichotomy in the Supreme Court's judgments.
The same #SupremeCourt judge wanted Priyanka Sharma to apologise before being granted bail. That is, admission of guilt without trial. Order was amended to apology after bail.
In one case, #FreeSpeech is negotiable. In another, it's non-negotiable. Worrying times. #India https://t.co/5snYGPfzJS

— Kanchan Gupta (@KanchanGupta) June 11, 2019
The word 'endorsement' has been one of the highlights of this judgment: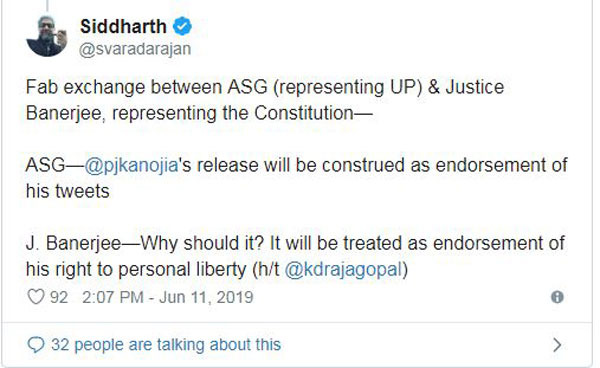 The Left wing activist and former JNU student congratulated the journalist on getting bail and implied the old saying from The Three Musketeers: One For All And All For One!
"Liberty of citizen is sacrosanct & non-negotiable", says SC ordering immediate release of journalist #PrashantKanojia

Congrats @jagishaarora & all who raised their voice. By standing up for Prashant, we were standing up for our own rights. Hope other journos are released soon!

— Umar Khalid (@UmarKhalidJNU) June 11, 2019
Journalists across the country continue to face heat from political parties. Let's see which scribe comes under the scanner next?