Award for understanding of galaxy, statute
14th edition of Infosys Prize awarded to six persons who each will get a gold medal, a citation, and a cash award of $100,000 or its rupee equivalent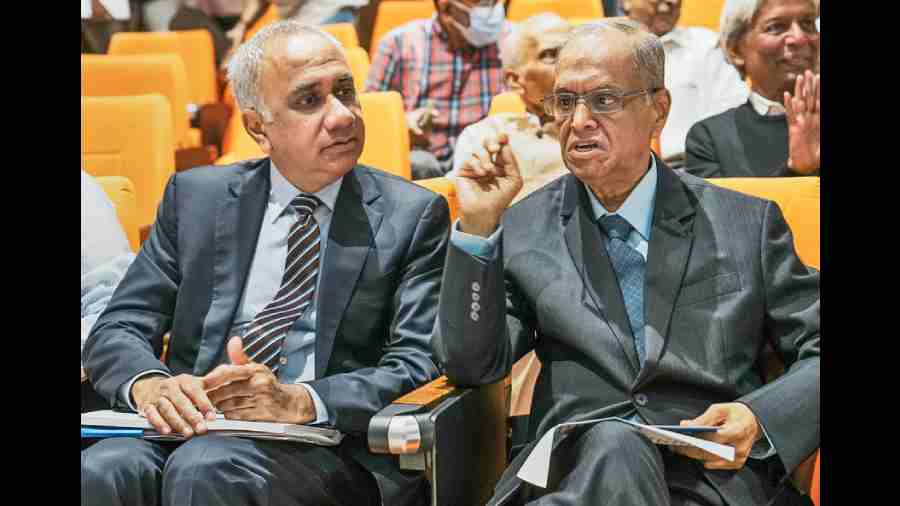 Infosys Science Foundation trustee Narayana Murthy (right) with Infosys CEO Salil Parekh at the news meet to announce the winners of Infosys Prize 2022 in Bangalore on Tuesday.
PTI
---
New Delhi
|
Published 16.11.22, 03:25 AM
|
---
An astronomer who resolved a critical gap in understanding galaxy formation, a biologist probing brain circuitry underlying emotions, and an engineer who designed a torch-like device for oral cancer diagnosis are among six winners of the Infosys Prize for 2022.
The Infosys Science Foundation on Tuesday announced the winners who include a mathematician tackling challenges in a field sometimes called "the queen of mathematics", an economist working on governance and accountability, and a law school professor and expert on the Indian Constitution.
The winners are Suman Chakraborty at the Indian Institute of Technology, Kharagpur, for engineering and computer science; Sudhir Krishnaswamy the vice-chancellor at the National Law School of India University, Bangalore, for humanities; Vidita Vaidya at the Tata Institute of Fundamental Research, Mumbai, for life sciences; Mahesh Kakade at the Indian Institute of Science, Bangalore, for mathematical sciences; Nissim Kanekar at the National Centre for Radio Astronomy, Pune, for physical sciences; and Rohini Pande at Yale University in the US for social sciences, the foundation said.
This is the 14th edition of Infosys Prize. The prize for each category includes a gold medal, a citation, and a cash award of $100,000 or its rupee equivalent.
Chakraborty has studied how fluids behave in tiny channels to design novel medical devices, including low-cost tools, to detect infectious diseases and a hand-held torchlike device for early diagnosis of oral cancer.
The technology has drawn commercial interest within and outside India. Krishnaswamy was awarded the prize for "his insightful understanding of the Indian Constitution, especially his carefully argued account of the importance of the landmark 'basic structure doctrine' adopted by the Supreme Court in 1973 that guides and constrains efforts to amend it, while also ensuring its stability in the face of executive and legislative outcomes," the foundation said.
Vaidya has contributed to understanding the brain mechanisms that underlie mood disorders such as anxiety and depression, including the role of a neurotransmitter called serotonin in causing persistent changes in behaviour induced by early life stress.
The foundation said Kakde has made "outstanding contributions" to algebraic number theory, often called the queen of mathematics that has practical applications in areas such as cryptography or secret communications.
"But I don't do things with any applications in mind," Kakde said on Tuesday. His work has yielded proofs for several key conjectures at the heart of modern numbertheory. The conjectures serve as tools to address hard math problems involving so-called polynomial equations.
Kanekar has received the award for his study of star formation in galaxies eight billion years ago and especially for his work on elusive signatures of atomic hydrogen in distant galaxies that has resolved along-standing astronomical puzzle — why have star births in galaxies declined over time?
Pande's research on governance, accountability, women's empowerment, the environment, and the role of credit in the lives of the poor "offer major promise and potential for policy design in emerging economies", the foundation said.