Asom Songrami Mancha seeks safeguards
The regional political party made it clear that it will move court to challenge the attempt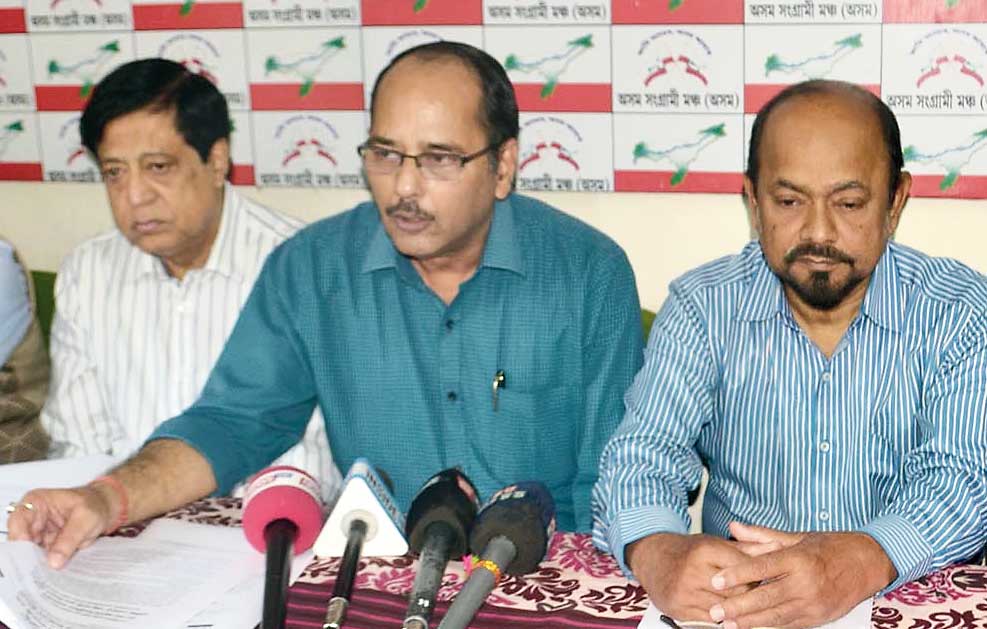 ---
|
Guwahati
|
Published 03.03.20, 08:44 PM
---
The Asom Songrami Mancha on Tuesday demanded the state government not reorganise the Assembly constituencies before safeguarding the political rights of the indigenous people of Assam under Clause 6 of the Assam Accord.
Casting doubts over the state government's intention to reorganise the constituencies before the elections in 2021, Mancha working president Adip Kumar Phukan said, "Reorganisation of the Assembly constituencies before the next census is anti-constitutional."
Phukan alleged that the Centre and the state government have been attempting to provide voting rights to thousands of illegal foreign nationals settled in the state by reorganising the Assembly constituencies. "It will override the rights and privileges of the indigenous people of Assam," he said.
The working president claimed that the BJP's objective is to assert its party ideology by reorganising the Assembly constituencies along religious lines before the state elections in 2021.
"The decision had been made to reorganise the parliamentary as well as Assembly constituencies across the country based on the current demography by 2026. Bringing it forward to 2021 in case of Assam indicates the BJP's ill intention. We strongly condemn such a whimsical move," Phukan said.
The regional political party made it clear that it will move court to challenge the attempt.
"We will also submit a memorandum with the President and the Election Commission if the reorganisation of the Assembly constituency is brought ahead from 2026 to 2021," Phukan added.
"According to Article 82 of the Constitution, reorganisation of constituencies was implemented following the census report conducted in the previous years. However, the government is attempting to reorganise Assembly constituencies of Assam at a time when the scheduled census of 2021 is in progress," Phukan added.
The Mancha asked Dispur not to reorganise the Assembly constituencies unless a lasting solution on the illegal foreigners issue is chalked out. The party also demanded repeal of the Citizenship Amendment Act (CAA) before reorganising the Assembly constituencies. "We appeal to every ethnic organisation of the state to oppose the move," the Mancha leader added.