Art on CAA detainee gets whitewashed in BJP-ruled Assam
The group of 4 artists and a student leader had been told by the police that they could not draw anything on govt property, especially of arrested people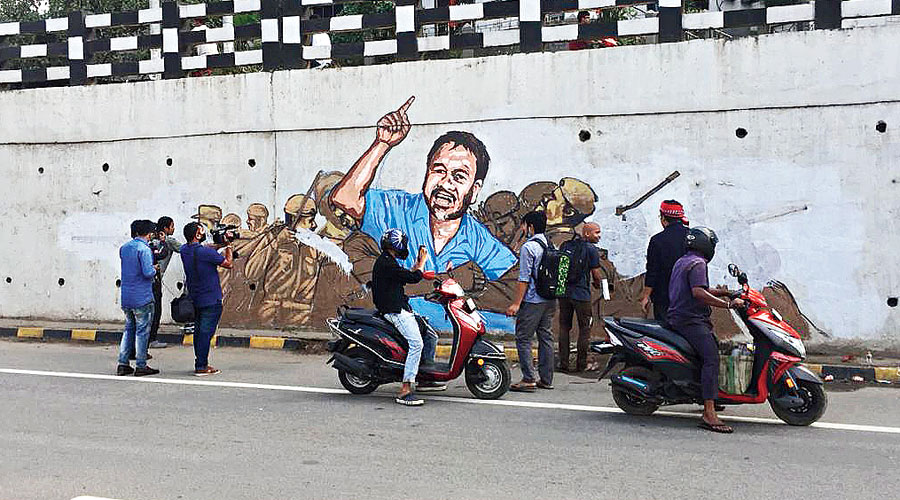 ---
Guwahati
|
Published 20.11.20, 05:17 AM
|
---
Four artists and a student leader were picked up in BJP-ruled Assam for painting graffiti featuring a peasants' organisation leader who has been in jail for almost a year for protesting against the Citizenship Amendment Act (CAA).
Police released the five after four hours but made them remove the public art by whitewashing the guard wall along National Highway 37 in Guwahati.
The Krishak Mukti Sangram Samiti (KMSS) and its students' front, the Satra Mukti Sangram Samiti (SMSS), which espouse the cause of Assam and are against the CAA, said the police's action did not augur well for democracy.
Pranjal Kalita, assistant general secretary of the SMSS who was picked up along with the four artists, said the group had been told by the police that they could not draw anything on government property, especially images of arrested people.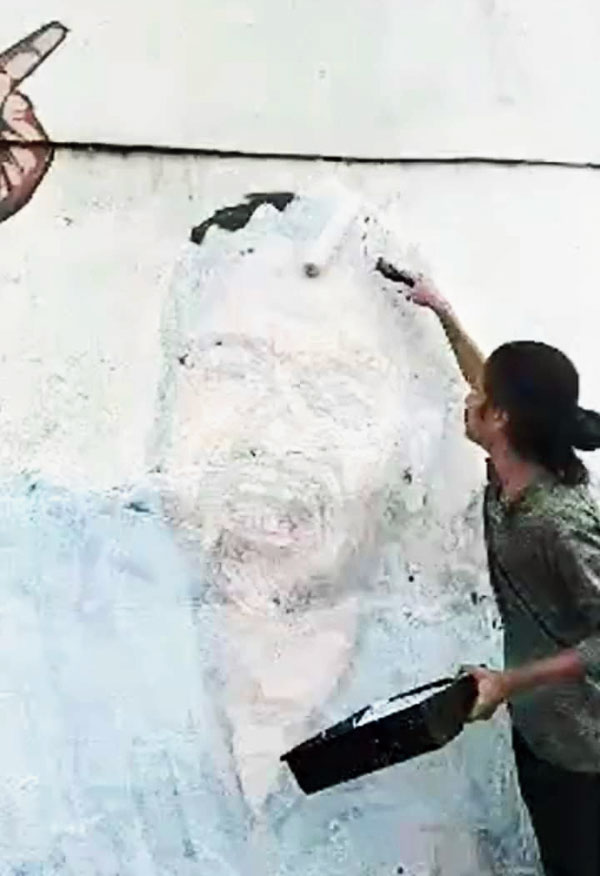 The mural had depicted Akhil Gogoi, the chief adviser of the KMSS, with his right hand raised in protest while being arrested by policemen.
Gogoi was arrested on December 12 at the peak of the anti-CAA agitation in Assam. He is still in jail.
The contentious CAA, which eases the rules for acquiring citizenship for non-Muslims from Pakistan, Bangladesh and Afghanistan, is seen by many in Assam as a threat to their identity and culture. Five people had lost their lives in the state during the unrest.
The mural had been painted by the Anga Art Collective, a voluntary organisation.
"This wall painting was done to highlight our demand for the release of Akhilda. The police told us we didn't have permission for the painting. We were released after about three hours but were told to remove the wall painting," Kalita told The Telegraph.
"This shows there is no freedom of expression. This is not a good sign for democracy."
Dhrubajit Sarma, 32, of the Anga Art Collective told this newspaper that the group had to whitewash the graffiti twice in the presence of police personnel. It had taken them six hours to complete the graffiti but only about five minutes to erase it, he said.
The artists had chosen to draw Gogoi because he is a symbol of resistance, Sarma said.
"We were not highlighting the person but what Akhil Gogoi symbolises. We do public art, among other things, to communicate with the public and talk about the reality of our times," he said.
"We were told we should not paint on government property without permission or we might land in trouble. We can do paintings of singers Bhupen Hazarika or Zubeen Garg or of the Saraighat bridge but not of arrested people," Sarma, an assistant professor at the College of Arts in Delhi, said.
Basistha police station officer-in-charge P.P. Gogoi said: "We brought them for questioning and let them off. We told them they cannot draw paintings on government property without permission."