Veterans move Supreme Court on genocide calls against Muslims
Petitioners say that if left unchecked, such hate-mongering could affect the morale of the Indian Army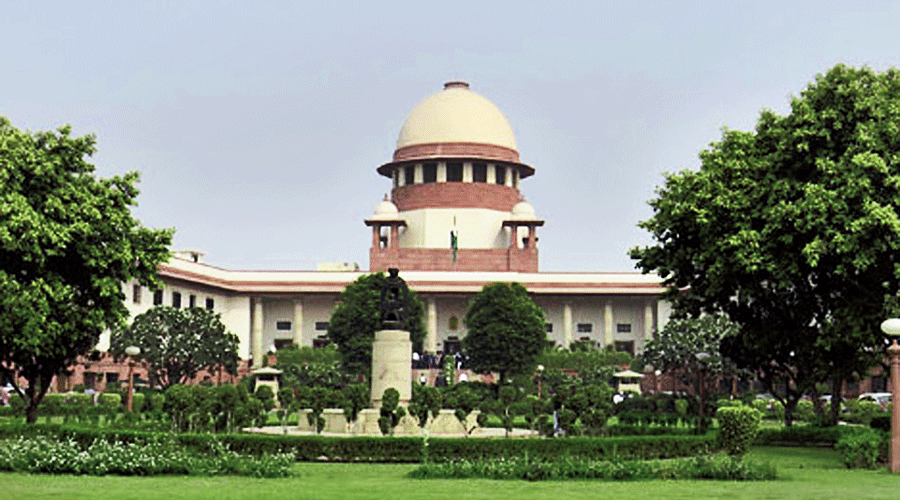 Supreme Court.
File photo
---
New Delhi
|
Published 23.04.22, 03:32 AM
|
---
The Supreme Court on Friday agreed to examine a plea filed by a group of army veterans seeking a court-monitored probe by a special investigation team into the alleged calls for genocide against Muslims.
The petitioners said that if left unchecked, such hate mongering could affect the morale of the Indian Army and its battle preparedness as the force draws soldiers from different communities, including Muslims, Sikhs and Christians.
"The petitioners, who are retired officers of the armed forces, are specifically concerned that such incidents, if gone unchecked, can have a serious impact on the morale and integration of the soldiers in the armed forces who come from diverse communities and religions," senior advocate Shyam Divan told the bench of Justices A.M. Khanwilkar and A.S. Oka.
Divan made the submission while seeking to intervene in a pending PIL filed jointly by journalist Qurban Ali and former Allahabad High Court judge Anjana Prakash seeking action against those who delivered hate speeches against Muslims in Delhi and Haridwar last December.
Justice Khanwilkar told Divan that the court would hear the plea on May 9 but said no notice would be issued. In the meantime, he said, the petitioners could go through the affidavits filed by the Uttarakhand government and Delhi police and see if these addressed the issues they had raised.
The court directed the Uttarakhand government and the Delhi police to make copies of their affidavits available to the army veterans.
The Delhi police had last week told the Supreme Court that the allegation that calls for genocide against Muslims had been sounded at a "Hindu Vahini" event in December had been found "incorrect and absurd" and the matter had been "closed".
The Uttarakhand government had sought time to file a status report on the action taken over the Haridwar event.
Friday's petition was filed jointly by retired army officers Major General S.G. Vombatkere, Colonel P.K. Nair and Major Priyadarshi Chowdhury.
According to the petition, filed through advocate Senthil Jagadeesan, several self-proclaimed sadhus had delivered inflammatory speeches, ostensibly targeting the minorities, at the December 17-19 Dharma Sansad in Haridwar.
"In the videos circulating on social media, one can see blatant calls for genocide against minority communities. One of the speeches specifically calls upon the police and the army to pick up arms against the minorities," the petition said.
The veterans said that from their personal experience, "it is felt that such hate speeches can even affect the battle efficiency of our armed forces and in turn compromise national security. In view of the gravity of the situation and the public importance involved, it is prayed that this hon'ble court take cognisance of the events that took place at Haridwar and Delhi and constitute a new special investigating team that functions under its (court's) supervision."