'Anyone here who's patriotic and doesn't use Chinese?'
Can India and Indians afford to boycott Chinese goods? Or is it a slogan ringing hollow around those screaming it?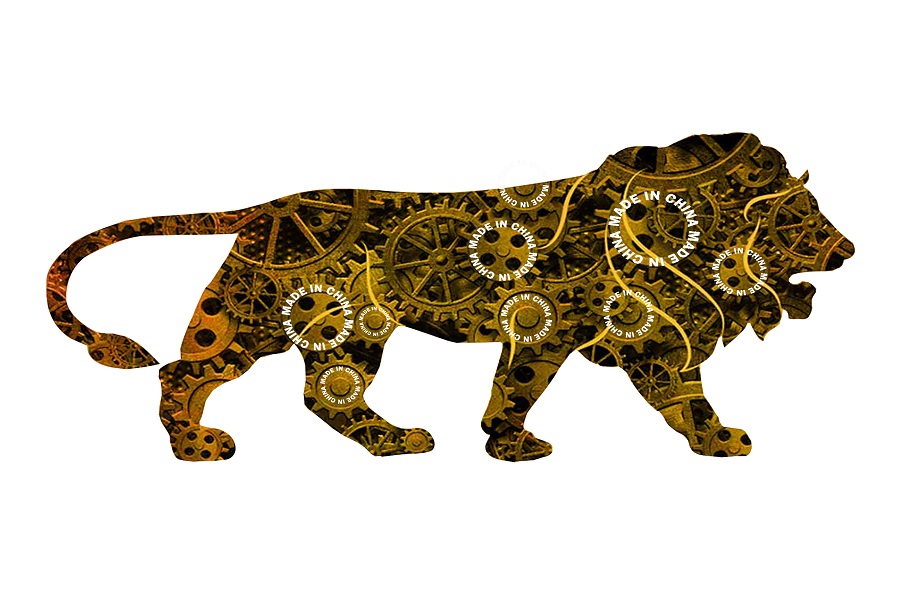 Over the last three decades, India's imports from China have expanded exponentially
Imaging by Sabyasachi Kundu
---
Published 19.07.20, 12:57 AM
|
---
The unbridled cascade of Chinese goods into India is neither new nor news; it has happened for years now. A source in the customs department tells The Telegraph this year has been no exception. Even amidst the raucous economic hypernationalism of "boycott China" following the military incursions at several points in eastern Ladakh and the killing of 20 Indian soldiers in the Galwan Valley, containers from Shanghai were offloaded at the Syama Prasad Mookerjee Port in Calcutta last week.
Over the last three decades, India's imports from China have expanded exponentially. From safety pins to toothbrushes, scissors to wristwatch dials, needles to cycle chains, and pen nibs to items we recognise as obviously Made in China, such as plastic containers, soft toys, board games, mobile phones and solar panels. What was worth $55 billion in 2014 stood at $68 billion in 2019. Last year, 72 per cent of India's smartphone market belonged to Chinese brands. The façade of the 597-foot statue of Sardar Vallabhbhai Patel in Gujarat is made of bronze panels from China. Even the Lakshmi-Ganesha idols one bows before on Dhanteras and Diwali come from factory floors in China. In 2016-17, illegal imports worth $11 million were seized.
The imports, legal and contraband, come by air, across waters and through entry points on land. The bulk of smartphones and electrical appliances are offloaded in Mumbai. Chennai port is where telecommunications equipment and automobile parts arrive from Shanghai. Bengal is the landing ground for the lion's share of illegal Chinese imports; hereon, they are pumped to other parts of India.  
A senior official in the customs department, who does not wish to be named, says, "This is largely because of Bengal's strategic geography." The source lists eight entry points across five states through which Chinese goods pour into the state — Sherathang in Sikkim; Pashupati Gate, Sukhiapokhri and Panitanki in North Bengal; Moreh in Manipur; Zorinpui in Mizoram; Raxaul and Jogbani in Bihar.  
The Sherathang-Siliguri route is legal. In 1991, an MoU on expanding border trade was signed to the effect between India and China. But the agreement came with the clause that Chinese products coming into Sikkim would be distributed only there. "This does not happen. Chinese goods travel to Siliguri by road and are distributed to the rest of the country," says the source. It seems customs officials look for two things at the check posts — the bill of export and the bill of entry. "We cannot do anything if products are ultimately sold at prices way below what is declared in the papers," says the source.
Ginger and cardamom come into Darjeeling via Nepal. Locals from Nepal's Kakkarvita town swim and cross River Mechi with pokas, or bundles of smuggled garments, shoes, antiques, and dump them at the border. When around 50 pokas have accumulated on the Indian side, trucks transport them to Siliguri. Panitanki, you might recognise from news reports headlined "Alert high for smugglers" or "Customs haul lands priceless antiques" or "Border hashish haul". Through Moreh, Chinese cigarettes and electronic accessories slip in. You might have missed occasional news flashes about seized consignments of Chinese apples in Champaran or stashes of Chinese garlic recovered from the Raxaul railway station premises. Fake gold bars from China, which are basically gilded copper, come in through the Bangladesh border. And of course, until Covid-19 struck, there were thousands and thousands of human carriers landing at the Netaji Subhas Chandra Bose International Airport every day with fairy lights, sockets, torch batteries, remote controls and extension cords, once again all Made in China.
A large chunk of goods that enters Bengal land up in Siliguri in the foothills of the Himalayas. Siliguri has two markets exclusively for Chinese "maal" —  Hong Kong Market and Golden Plaza; the first is the black market. But Siliguri's importance in this trade trajectory has to do with its rail and road network. From here, Chinese goods travel to Guwahati, Shillong and other northeastern states mainly by road. From New Jalpaiguri, the railway junction near Siliguri, imports move to Malda, Murshidabad, and to Sealdah from where all of it is pumped into individual markets of Calcutta such as New Market, Fancy Market, and others in Chandni Chowk, Bowbazar, Burrabazar, Wellington Street and Moulali.
The Confederation of West Bengal Trade Association (CWBTA) represents over 10 lakh traders of West Bengal. Most of them deal in Chinese products. What is their reaction to the boycott call? Rajesh Bhatia, who is the general secretary of CWBTA, says, "We agree India should reduce its dependence on Chinese goods. The Centre has published a list of over 300 products which could be replaced with Indian substitutes and we are open to those options. But there are certain products for which there are no alternatives. Take the case of ball bearings needed to manufacture ceiling fans; 80 per cent of these come from China. If the ban is enforced, can you imagine the shortfall?"
The truth is that the "substitutes" Bhatia talks about are mostly unavailable.
The Telegraph spoke to a middle-aged businessman with an electronics shop in Kidderpore's Fancy Market and another in central Calcutta's Chandni. A decade ago, when smartphones were gaining popularity, he started buying Chinese phone covers sold locally at a wholesale rate. He would sell these at retail price and earn a slim margin. "Those days there were no Indian phone covers. Later, the ones that came into the market were priced thrice as much as the Chinese ones," he says.
Sometime in 2012, this businessman, who does not want to be identified, started visiting Shenzhen and Guangzhou provinces of China. Now he flies down twice or thrice a year, makes a deal, pays partially and returns. He says, "The flights are cheap. I take two helpers with me. Some of our products come via road from Siliguri. And I still make handsome profits." Traders claim it is cheaper and more profitable to buy finished products from China than pay import duty on raw materials and manufacture in India.
Local buzz has it that 30 to 35 per cent of the business raked in by Chandni Market and Fancy Market is from smuggled Chinese goods, which means no bills, no GST, no earnings for the government. Another trader from Burrabazar says, "If Chinese products are banned, it is the lower and middle income groups who will be the worst hit. Not everyone will be able to afford smartphones, air conditioners, televisions made in India."
CWBTA president Sushil Poddar talks about the 1990s and the turn of the millennium, when Bengal was manufacturing electricals, Ludhiana cycles, Mathura imitation jewellery, and Kanpur glass and mirror. "Gradually, the Chinese took over all of these," he says. Another trader from Burrabazar talks about the time when indigenous agriculture machinery parts were commonplace. But now, China-made goods work Indian fields.
In order to survive, retailers have had no choice but to switch loyalty. Says a retailer who has a shop on Canning Street, "Kerosene pumps used in the automobile and agriculture sectors and sold by China were lighter, half the price and more efficient. They came with no guarantee, true, but users were happy." This was in 2006.
So what was Make in India about? The one that was launched in 2014 with much roar and a clockwork lion to match by the Modi government? Ashwani Mahajan, who is the national co-convener of the Swadeshi Jagran Manch — the "nationalist" economic front of the RSS — agrees that an importing economy indicates lack of economic development. He says, "And this has been happening over the years in the name of globalisation and obsession with free trade. Whereas, actually, it was trade dictated by the Chinese."
Mahajan blames this squarely on the 10 years of UPA rule, but he also concedes that Make in India has not succeeded. He says, "The initiative had two sides to it. One was 'come and make in India' and the second was 'let us make in India'. The first fell through. From 2016-17 to 2017-18, our trade deficit with China increased by $12 billion. As for the second, when your dependence keeps on increasing for years, it doesn't change overnight. Our total imports from China decreased from $75 billion to $65 billion between 2018-19 and 2019-20. This was because a sensitised government imposed anti-dumping duties and raised tariffs."
Economist Santosh Mehrotra, chairperson of the Centre for Labour Studies at Jawaharlal Nehru University, straightaway calls Make in India a "failure". He draws attention to the stagnation in the manufacturing sector. "In 1991, the share of manufacturing in GDP was 17 per cent and 30 years on, it is still 17 per cent." He draws attention to the share of manufacturing in employment. "Till 2011-12, manufacturing jobs share in total employment increased to 12.8 per cent and between 2012 and 2018 the number fell to 11.5 per cent." He raises a question: "Where is the Make in India slogan when a country known for its production of drugs from scratch is now almost wholly dependent on China for imports of API (raw materials for pharmaceutical industries), including for paracetamol and ibuprufen?"
Mahajan continues, "Boycott Chinese goods because they have destroyed our manufacturing sector. They are the cause of unemployment. There are six to seven times more employment opportunities in the manufacturing sector, as compared to others." But his critique of Chinese imports gets muddled every time he has to return to his defence of the Modi government. And his attempts to wish away Chinese imports — "Everyone needs to understand that it is not important what is cheap" — are symptomatic of India's own reaction to the Chinese threat — a dogged refusal to assess her own needs and build capabilities accordingly.
Mehrotra says the scenario will change only if India has an industrial policy, "which we have not had for 30 years". In the meantime, China continues to embed itself deeper and deeper into Indian lives and living, stealthily, noiselessly.
Look again at the Tricolour you purchased at the traffic lights last Independence Day, the same you plan to bring out this August. Look carefully where it was made, look before you say the words — "Jai..."
Chini zyada Hindi kam
We consume much more Chinese than just food. A glossary:

Sindoor. Benarasi saris. Rangoli stickers. Rakhis. Rajma. Chamaras used in temples. Earbuds. Insect repellants. Tissue paper. Green tea. Pregnancy kits. Thermometers. Ice bags. Weighing scales. Wigs. Firecrackers. Men's underwear. Fake nails and lashes. Clocks. Cake moulds. Pillows. Mattresses. Clothes hangers. Power banks. Digital cameras. Exhaust fans. Electric kettles. Food blenders. Electrical switches. Circuit boards. Bathtubs. Mops. Laundry detergents. Diapers. Shoe strings. Footballs. Yoga mats. Paintbrushes. Crepe bandages. Printing inks. Bottle caps. Memory cards. Hammers. Kitchen knives. CCTV cameras. Traffic lights. Fire alarms. Medicines and raw chemicals for medicines. Synthetic kite strings or manja. Incense sticks. Tirangas.