Shah scared: Protesters
The state government had imposed Section 144 of the CrPC in Lucknow city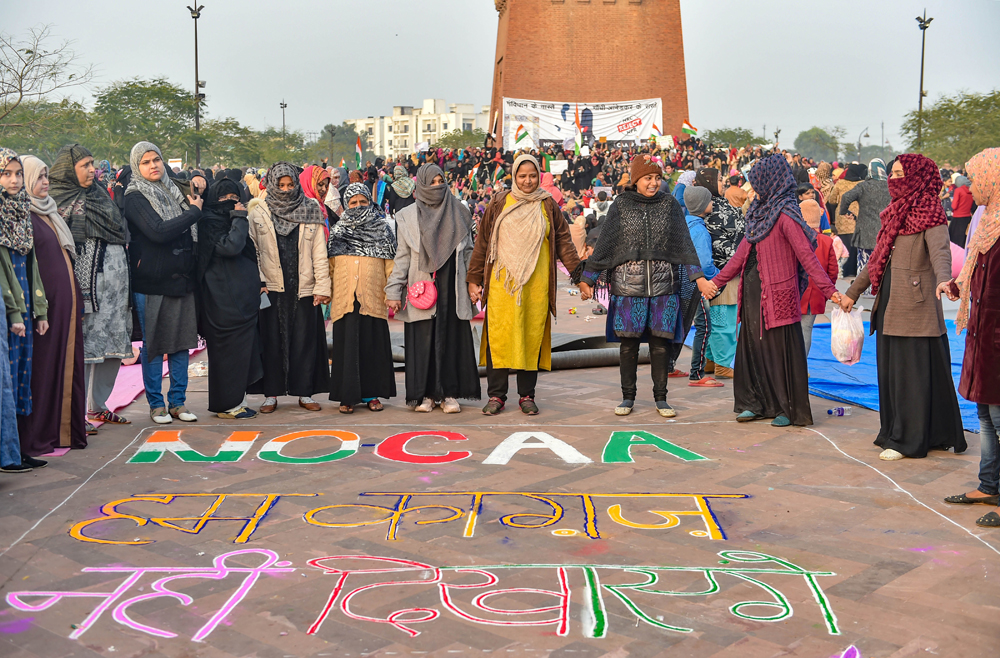 ---
|
Lucknow
|
Published 21.01.20, 09:08 PM
---
The anti-CAA protesters at Ghanta Ghar said on Tuesday that home minister Amit Shah was scared of them.
"Shahji was in Lucknow today to address a rally to clear people's doubts over the Citizenship (Amendment) Act but he left without replying to any of our questions. The home minister is also scared of us, so asked his police to book the housewives and children in false cases a day before his arrival. He wanted to terrorise us but failed," Shamaiya Rana, a protester, said.
Rana has been booked for rioting, unlawful assembly, disobedience to order duly promulgated by public servant, obstruction in public way and criminal force to deter a public servant from discharge of his duty. She and other women had resisted the police on Sunday night when they were snatching blankets from the women and children and allegedly stealing biscuits brought by the protesters or their family members.
The police have booked 125 women, including 18 who have been named in three FIRs.
The women had requested the local administration to suggest to Shah that he address them at Ghanta Ghar and clear their doubts "if he and Prime Minister Narendra Modi were honest with the countrymen".
When asked about their doubts, many protesting women and children echoed Rana: "We want to ask Modi and Shah whether they understand the spirit and language of the Preamble of the Constitution of India, which disallows any religion-based legislation. We also want to ask them whether they believe in democracy in which political parties contest and win elections but the Prime Minister or the home minister are for the entire country and every citizen. Then why have they excluded the Muslims from the CAA?"
"While we had started our dharna on Friday with these two doubts in mind but our doubts are growing with each passing day. We want to hear from Modi whether he still believes in Beti Bachao, Beti Padhao? If so, then why is his party's government in Uttar Pradesh preventing us from holding a peaceful protest?"
Rubina Bano, a middle-aged protester, said: "We are sitting here in extreme cold without any cover as the BJP government's police forcefully removed the shamianas that we had put up here and snatched from us our blankets. Does Modi want to kill the women, daughters and children?"
"The policemen wait for the media to leave at night and then they barge in and start using abusive words for us," Rubina said.
Vikas Chandra Tripathi, additional deputy commissioner of police, denied that policemen had used abusive language but accepted that they took away the women's blankets.
The protest by women in Gomti Nagar, which started on Monday, also continued. The police had removed a tent and snatched firewood the women had brought to keep themselves warm at night.