Amit Shah cuts short mask-less door-to-door campaign in Deoband
Union home minister has been accused of flouting the pandemic protocol while canvassing in poll-bound Uttar Pradesh and Uttarakhand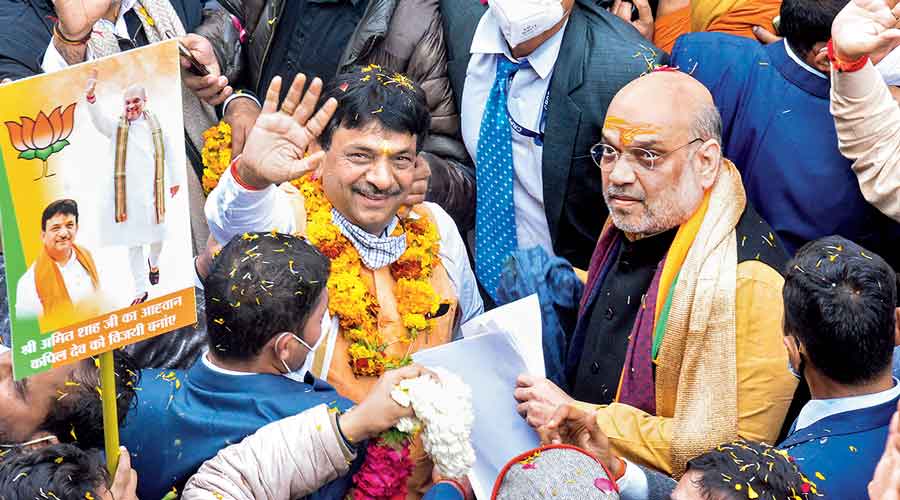 Amit Shah campaigns in Muzaffarnagar on Saturday.
PTI Photo
---
Lucknow
|
Published 30.01.22, 01:42 AM
|
---
Union home minister Amit Shah on Saturday cut short his mask-less door-to-door campaign in Deoband, not because of any intervention from the Election Commission but because the "crowd kept swelling" in the city of Darul Uloom.
Shah has been accused of flouting the pandemic protocol during his door-to-door campaigns in poll-bound Uttar Pradesh and Uttarakhand, but has faced no action from the Election Commission that has issued notices to Opposition campaigners for alleged Covid violations.
Earlier this week, the home minister was seen campaigning without a mask and distributing fliers after moistening his thumb with saliva to grip them.
"Today, he (Shah) began his door-to-door campaign near the MBD Crossing in Deoband but stopped after about 10 minutes because the crowd kept swelling. He decided not to continue as it was not advisable at the time of Covid," Deoband MLA Brijesh Singh of the BJP, who is seeking re-election, said. "He returned to his convoy and left the place."
Shah was at the MBD Crossing for a little over 15 minutes, arriving around 2.30pm.
Before arriving at Deoband, Saharanpur district, Shah had campaigned door to door for about half an hour in Muzaffarnagar on Saturday. At neither place was he seen wearing a mask.
A police officer in Deoband told reporters that Shah's security personnel were unable to handle the crowd in the narrow lane and his advisers suggested he abort the campaign.
Asked whether the neighbourhood's "being in Deoband" was a reason for the decision, the officer denied it.
Deoband is home to the 155-year-old Darul Uloom, the biggest Islamic seminary after Al-Azhar University, Cairo. Although the Darul Uloom has always stayed away from politics, the Sangh parivar tends to be wary of Deoband.
Eyewitnesses in the town said Shah was accompanied by "about 25 people", apart from his security. While the poll panel has got FIRs registered against Opposition politicians on the ground of their door-to-door campaign teams flouting the upper limit of 10 people — up from the initial five — it has not acted against Shah.
Aam Aadmi Party Rajya Sabha member Sanjay Singh had on Friday shared a video of Shah distributing fliers after moistening his thumb with saliva and written on the Koo micro-blogging site: "Home Minister spreading corona by applying saliva."
Some users wrote back that if a Muslim had done that, Shah's party supporters would have alleged a "corona jihad" and targeted the entire community.
Political parties are campaigning door to door because the Election Commission has banned rallies citing the pandemic.