Alliance not just against Modi, but against people, says PM
Voters, especially first-time ones, were watching how the Opposition leaders were scrambling for power, Modi says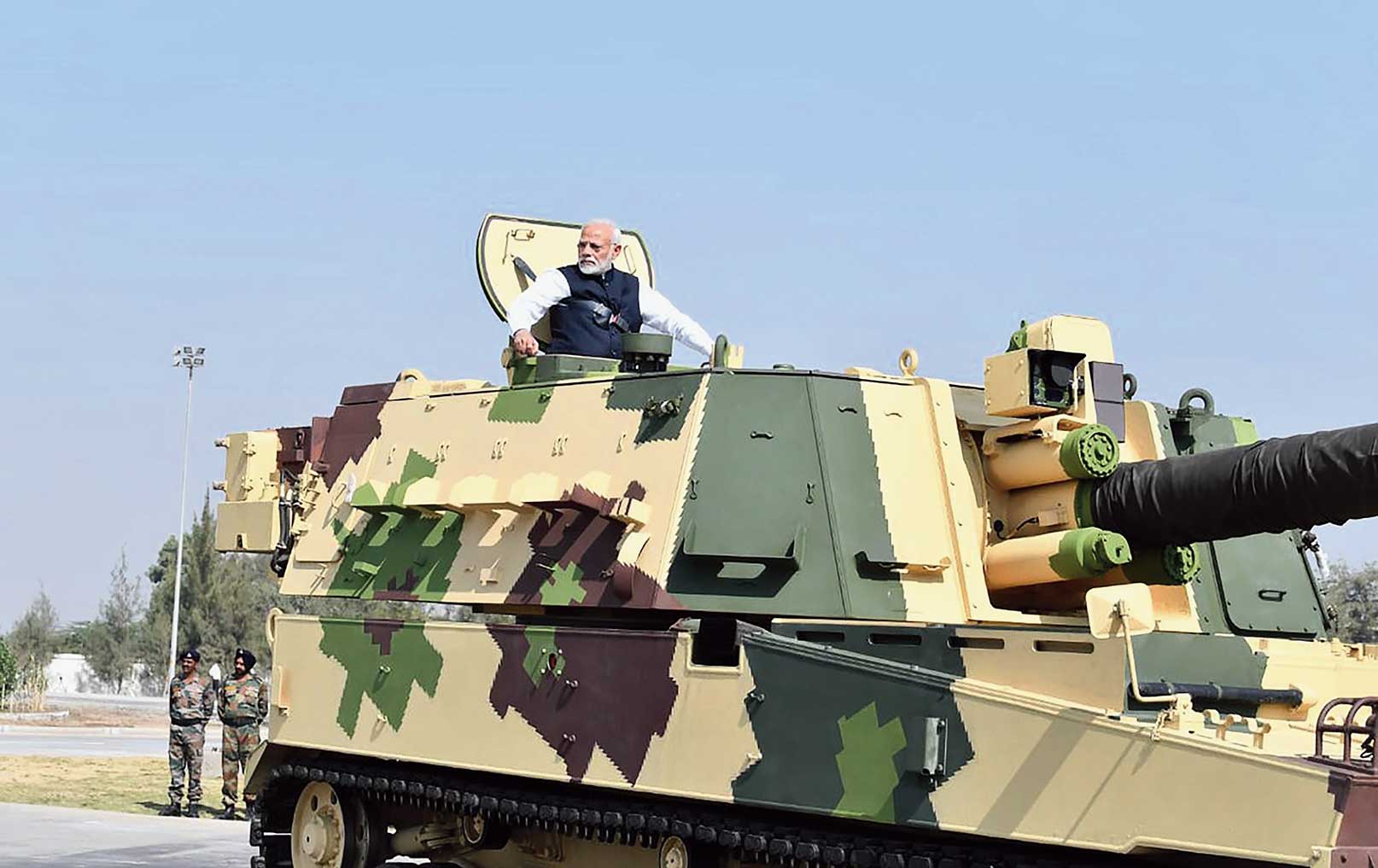 Military Modi: Modi rides a K-9 Vajra self propelled howitzer built by Larsen & Toubro in Hazira, Gujarat, on Saturday.
(PTI)
---
New Delhi
|
Published 19.01.19, 09:42 PM
|
---
Prime Minister Narendra Modi on Saturday sought to link the Opposition's mega rally in Calcutta with corruption, saying his government's crackdown on graft had pushed desperate "wrongdoers" into joining hands.
Modi called the Opposition's proposed "mahagathbandhan" (grand alliance) a combine of leaders he had prevented from "looting India" and claimed they were not only against him but also the people of the country.
"They (the Opposition leaders) are angry, why Modi is taking strong action against corruption…. Due to this anger, now these people are trying to form a grand alliance," Modi told a rally in Silvassa, the capital of the Union territory of Dadra and Nagar Haveli that borders Gujarat.
"This grand alliance is not only against Modi but also against the people of the country."
The Prime Minister's rally came on the same day leaders from over a dozen Opposition parties came together at the rally in Calcutta where they vowed to put up a united fight to oust Modi and the BJP from power in the upcoming Lok Sabha elections.
While Modi sought to project the planned mahagathbandhan as an alliance of corrupt and opportunistic leaders, BJP sources said aggressive Opposition attacks on the Prime Minister might end up helping the ruling party.
"We want the Opposition leaders to launch an aggressive attack against Modi. This will have a counter-effect and increase the Prime Minister's standing among voters, particularly youths and first-time voters," a BJP leader said.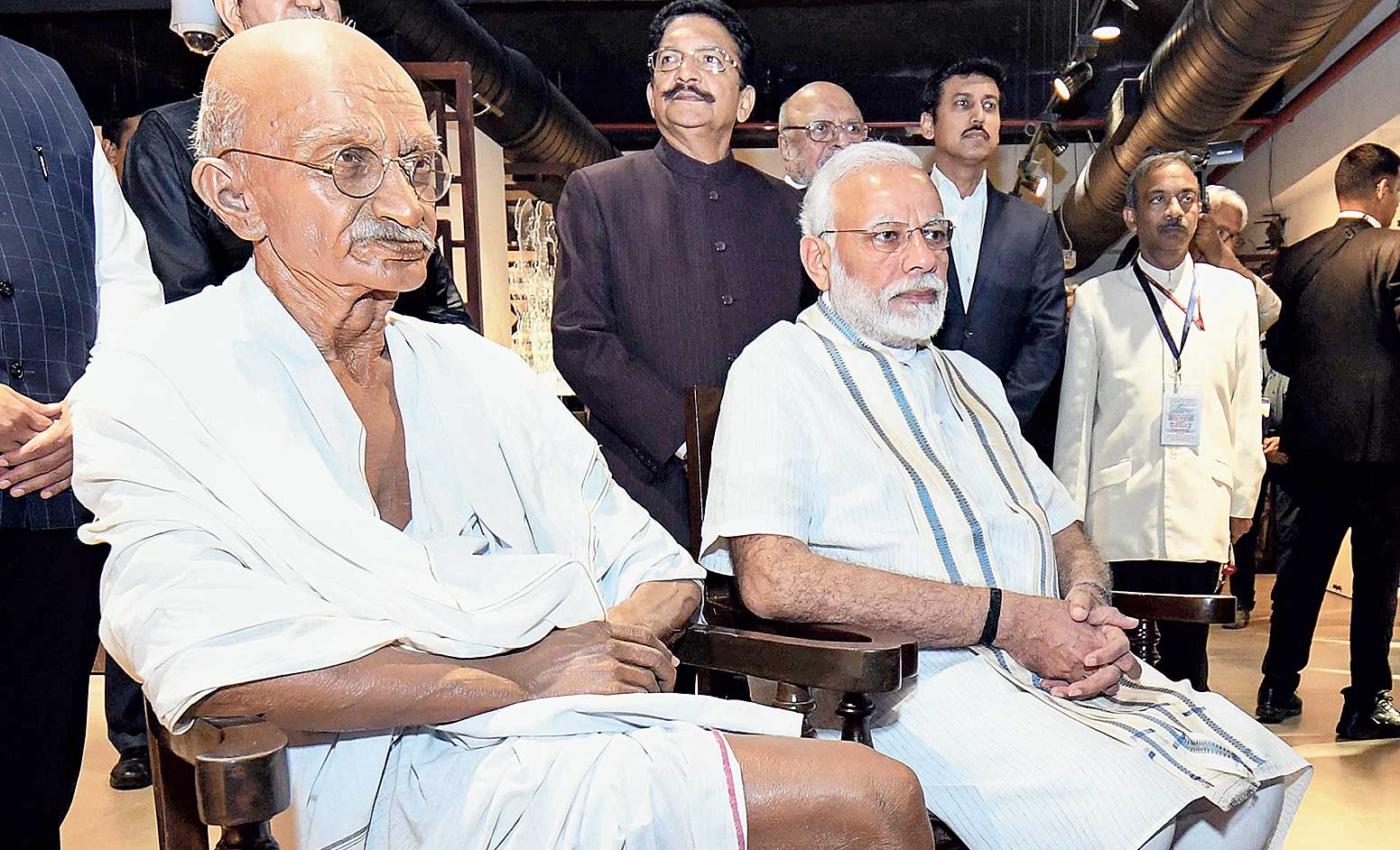 Modi's emphasis on corruption too might generate fear among voters and sympathy in the BJP's favour, the sources said, adding that it might help the party tide itself over the government's failures.
The Prime Minister sought to project himself as a crusader against corruption, saying leaders who had in the past been critics of the Congress had joined hands with it because his government had removed "middle-men".
"The fight is between positive thinking and negative attitude. The fight is between development and corruption," Modi told the Silvassa rally.
He said voters, especially first-time voters, were watching how the Opposition leaders were scrambling for power.
Former Union minister Rajiv Pratap Rudy called the Calcutta meet "a rally of conflict". The BJP national spokesperson, fielded in Delhi to counter the Opposition rally, wondered who would be the alliance's prime ministerial face. "There is no alternative to Modi," Rudy said.At Silvassa, Modi cited his party's poor presence in Bengal to taunt the Opposition. "The BJP has just one MLA (in Bengal) and he is giving them sleepless nights. With just one MLA, we have forced them to cry, 'save us, save us'," he said.
Modi targeted Mamata too but did not mention the Bengal leader by name. It is ironic that "those who crushed democracy in their own state are now preaching about saving democracy", he said.
The Prime Minister also alleged that BJP workers have been killed in Bengal. "Party workers are killed there during elections and they talk about saving democracy. When those involved in suffocating democracy talk of saving it, then people will say 'wah kya baat hai...'," he said.
Bengal BJP president Dilip Ghosh described the Brigade rally as a "circus". "Today's rally was a circus. We all enjoyed watching it on the TV screen. It was a major flop show with 2 to 2.5 lakh footfall," Ghosh told a news conference in Calcutta. "1.5 lakh of the 2.5 lakh people who had come for the brigade meeting had made a tour of Eco Park and Nicco Park in Newtown and Salt Lake," he added.
Ghosh advised Mamata to learn better Hindi and English if she aspires to be Prime Minister.
Additional reporting by Sandip Chowdhury