All dressed up, none to be taught at Jammu and Kashmir schools
As schools reopen in Srinagar, not even one pupil could be spotted in several institutes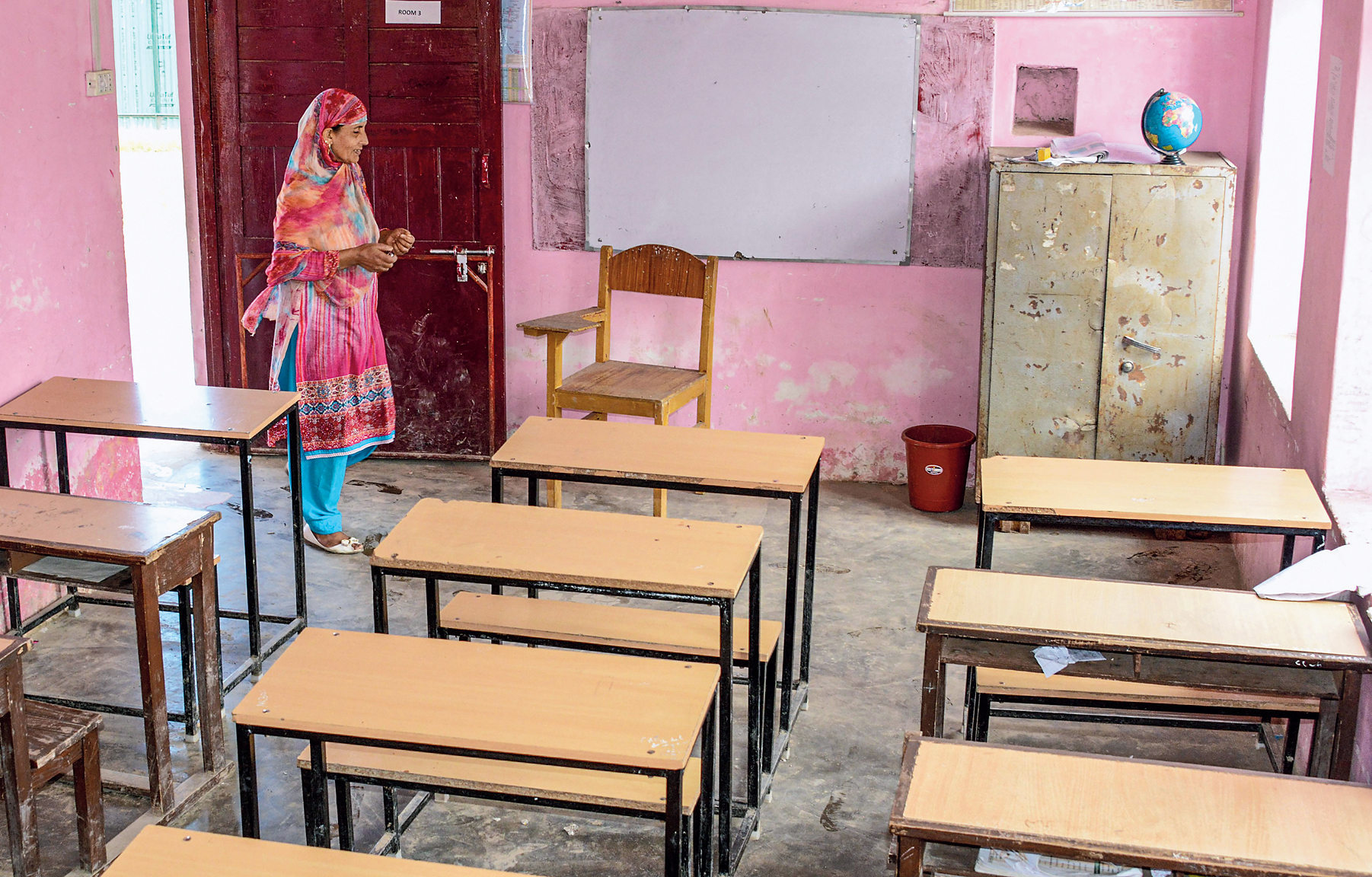 A classroom in a government primary school in Srinagar on Monday.
(PTI)
---
Srinagar
|
Published 19.08.19, 11:26 PM
|
---
The Jammu and Kashmir administration's initiative to get children back to their classes flopped on Monday with most pupils staying away.
The authorities, desperately projecting an "all is well" narrative since the August 5 lockdown, have now flunked their first major test: reopening primary schools after a fortnight.
The Telegraph visited over half-a-dozen schools in Srinagar's civil lines and old city localities, and found that not a single child had turned up. Not one was seen heading to school.
Some schools had not even opened; those that did mostly witnessed a handful of staff members turning up.
At Raj Bagh, photographers chased a man who seemed to be taking his son to school although the boy was not in uniform. The father clarified they were headed home, not to school, and pleaded that pictures not be snapped.
Only primary schools — those that teach children up to Class V — were to open on Monday as a first step towards reopening all educational institutions.
The idea was to portray normality while averting protests, as children so young could hardly be expected to launch into demonstrations. The administration had thrown all its resources into the effort and assured full security to the children and school staff.
But the director, information, Sehrish Iqbal acknowledged that attendance by pupils was thin while claiming that 30 to 50 per cent of the staff had turned up at many schools. She said the government would reopen schools up to Class VIII on Wednesday. Whether the schools outside Srinagar witnessed some attendance remains unclear because of the information blockade.
An official from Srinagar's premier Tyndale Biscoe School said around 30 per cent staff had come but not one child had.
"None of our buses could go out to bring the children, and nobody came of their own. Maybe they will start arriving in the coming days," he said.
The National School at Karan Nagar was open, with two employees and zero pupils. The Tiny Tots school at Fateh Kadal was shut. No children could be seen even at the Police Public School at Bemina, adding to the administration's embarrassment.
Some parents told Reuters their children would stay home until cellular networks were restored and they could be in contact with them.
While the authorities have partially restored landline connectivity, mobile phones and the Internet remain blocked.
"How can we risk the lives of our children?" Gulzar Ahmad, a father of two children, told Reuters. "Troops have arrested minor children in the last two weeks and several children were injured in clashes. Our children are safe inside their homes. If they go to school who can guarantee their safety?"
Only one student showed up at the Presentation Convent Higher Secondary School, which has an enrolment of 1,000 pupils, and then returned home, a school official told Reuters.
"How can students come to classes in such a volatile situation? The government is turning these little children into cannon fodder," said a teacher at Burn Hall school, which saw no pupils and only a handful of staff, the agency reported.
A long queue had formed outside the BSNL office at Rawalpora on Monday, with subscribers seeking restoration of their landline connections.
The travel restrictions too have been eased partially over the past few days in the areas of 50 police stations. While there is some traffic on the roads, shops and offices have largely remained closed.
After a lull, stone-throwing too has picked up pace over the past few days. At many places, it was the protesters' turn on Monday to block neighbourhood roads and disrupt whatever traffic was plying.