Alienation fear in Yasin Malik life term
The Valley reacted angrily to teh leader's sentence, with the Peoples Alliance for Gupkar Declaration calling it a setback to peace efforts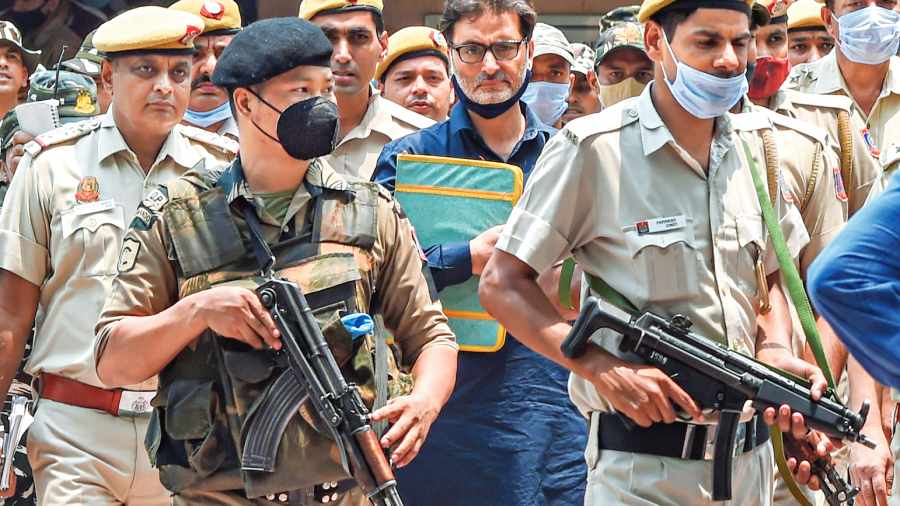 Yasin Malik being brought to Patiala House court in New Delhi on Wednesday.
PTI
---
Srinagar
|
Published 26.05.22, 01:54 AM
|
---
Yasin Malik's transition from a militant commander to a self-professed Gandhian witnessed a twist on Wednesday when a court in Delhi sentenced him to life imprisonment, which his former colleagues who left militancy after him in Kashmir said had dealt a blow to the voices of moderation.
Sentencing Malik in a terror-funding case lodged in the aftermath of agitations against the killing of Hizb commander Burhan Wani in 2016, Special Judge Praveen Singh said the crimes were intended to strike at the "heart of the idea of India" and were intended to forcibly secede Jammu and Kashmir from India. The judge rejected the National Investigation Agency's plea for capital punishment.
The Valley reacted angrily to Malik's sentence, with the Peoples Alliance for Gupkar Declaration calling it a setback to peace efforts. There was a spontaneous partial shutdown in Srinagar in anticipation of the verdict. Security forces resorted to tear gas shelling in the city's Maisuma locality, Malik's birthplace, after some youth threw stones at them.
"We are afraid that this will further compound the uncertainties in the region and will only fuel more alienation and separatist feelings," said Muhammad Yusuf Tarigami, spokesperson for the Gupkar Alliance of Valley parties.
JKLF chief Malik's former militant colleagues, who followed in his footsteps by renouncing violence, said the verdict was a reminder that Kashmiris with political ideologies different from that of the BJP's were unwelcome.
"The Indian civil society, the likes of Kuldeep Nayar, Tapan Bose and others, joined by reputed international voices, had invested massively in his transition from a diehard militant to a Gandhian, but to no avail," a former militant colleague of Malik told The Telegraph on the condition of anonymity.
"We all know there is no substance in the allegations against him (in the present case) but he still got a life sentence," he added.
Another former colleague said Malik's ceasefire announcement in 1995 had come as a big respite for Delhi, which at that time was battling both pro-azaadi and pro-Pakistan militant groups.
"He was arrested in 1990 and from 1992 civil society members started approaching him in jail to convince him to launch a peaceful struggle," the former colleague said.
"By 1994, he was a changed man and wanted to take Kashmir out of the quagmire through peaceful means. In 1995, he announced a ceasefire, earning him the wrath of the JKLF's Pakistan-based leadership."  
The former militant said some militants from the Hizb-ul-Mujahideen and pro-Pakistan groups, after being released from jail, emulated Malik to launch political groups and entered into a dialogue with Delhi.
"He played a big role in convincing a section of the population that they can achieve their goal through non-violent means. Many militants who might have rejoined militancy after being released found refuge in these groups, to the dislike of Pakistan." 
Malik fell afoul of the establishment when in 2016 he joined hands with pro-Pakistan hawk Syed Ali Shah Geelani and moderate Mirwaiz Umar Farooq to launch an agitation following Burhan's death. Around 100 youths lost their lives in alleged security forces firing.