Akhilesh KCR reply to Congress
The Akhilesh boost to KCR came courtesy the Congress decision to keep the Samajwadi Party out of the Madhya Pradesh government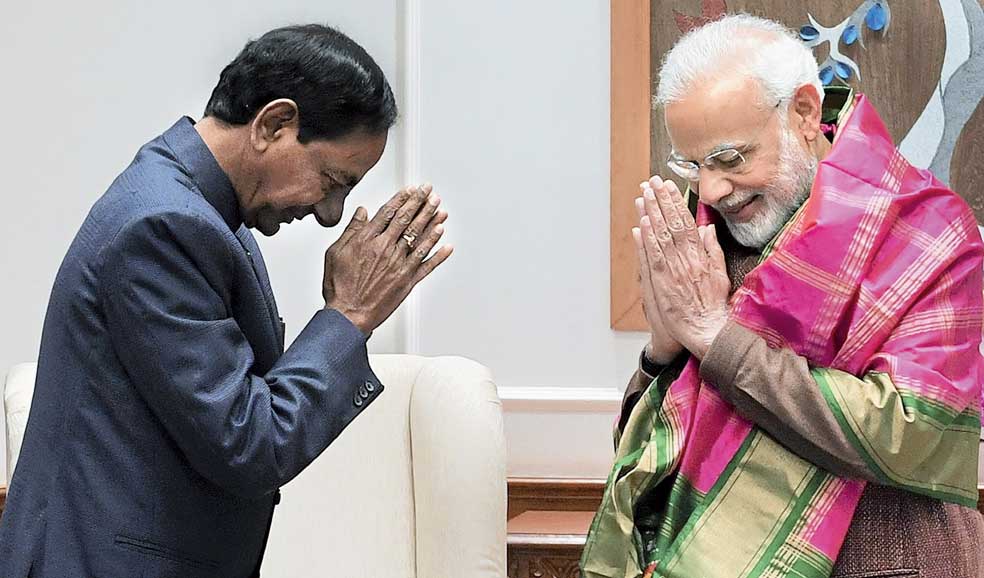 ---
New Delhi
|
Published 26.12.18, 09:29 PM
|
---
Telangana chief minister K. Chandrasekhar Rao's efforts at building a non-Congress, non-BJP coalition evoked positive vibes from Samajwadi Party president Akhilesh Yadav on Wednesday — after what appeared to be a tepid response in Bengal and Odisha — with the younger man offering to go to Hyderabad for discussions.
And, in the season of fluid political equations, KCR found no contradiction in calling on Prime Minister Narendra Modi during his stay in New Delhi though his first visit outside Telangana since being voted back to power a fortnight ago was essentially in pursuit of his aspirations for a greater role at the Centre with an avowed policy of equidistance from the BJP and the Congress.
The Akhilesh boost to KCR came courtesy the Congress decision on Tuesday to keep the Samajwadi Party out of the Madhya Pradesh government.
Oozing sarcasm, Akhilesh said in Lucknow: "Thank you for clearing the way for the Samajwadis''. Earlier, he had flagged the fact that his party had not got a berth in the Kamal Nath cabinet where it had promised support to the Congress.
This gave a fillip to KCR's efforts because for two days he had camped in the national capital in the hope of meeting Akhilesh and BSP leader Mayawati. Neither meeting could materialise, giving rise to speculation of the two parties giving him the cold shoulder.
About KCR, Akhilesh said: "I spoke to him and welcomed his efforts. We were to meet this week on the 25th or the 26th. I will talk to him again, seek time and go to Hyderabad. He wants to build a federal front of regional parties."
Before coming to Delhi to meet the two Uttar Pradesh parties, KCR had called on his Bengal and Odisha counterparts in their respective capitals but neither Mamata Banerjee nor Naveen Patnaik revealed their cards.