Akbar legal firm lists 97 lawyers, says it's routine
Other lawyers see muscle-flexing to 'scare off' future complainants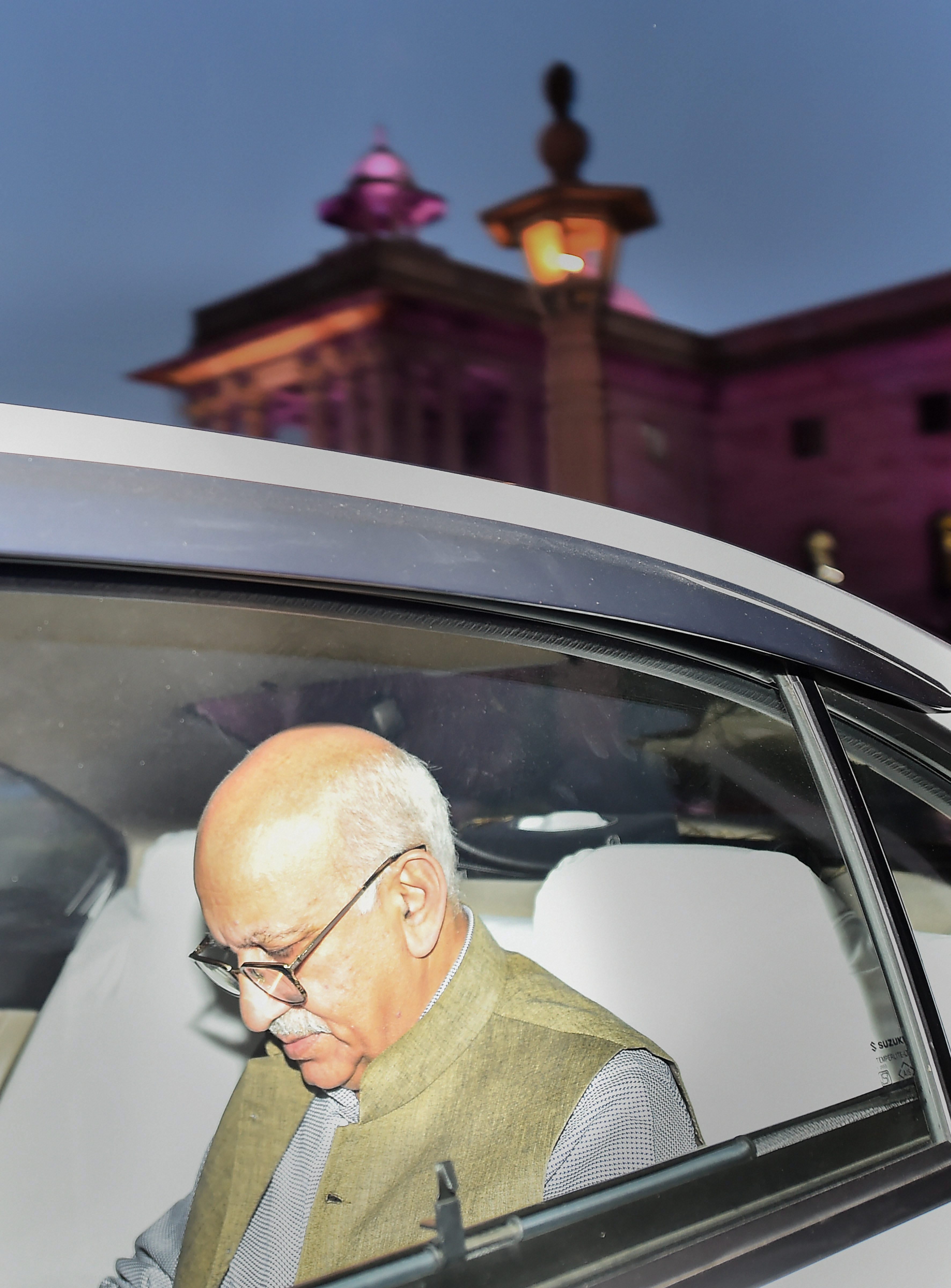 ---
---
When Union minister M.J. Akbar filed the criminal defamation case against journalist Priya Ramani on Monday, the detail that stood out was that the vakalatnama had the names of 97 advocates.
The list of 97 names set Twitter abuzz.
The legal firm M/S Karanjawala and Co, which is representing Akbar, said the list was a procedural matter so that anyone can appear in court on the case, but some lawyers saw in this a muscle-flexing tactic.

Akbar wheeled out the heavy artillery in other ways too. He specifically filed for criminal libel which carries a jail sentence and not civil libel which only leads to a claim for damages. This was ironic as journalists have for decades been demanding the removal of Section 500 of the Indian Penal Code which deals with criminal defamation.
Ramani and several women journalists have alleged on social media that Akbar, a former editor who headed several publications and was their superior at that time, had sexually intimidated and harassed them.

Delhi-based lawyer Sanjay Hegde said: 'Whether the case sticks is a question of willpower on both sides. The main point is can Priya Ramani afford to fight it? She just might, to make a point, and all the other women will join as witnesses.' The only value the case has "is to scare off others. The main thing is to deter others. This is what is called the chilling effect of defamation suits," Hegde added.
Lawyer Vrinda Grover remarked that Karanjawala & Co, before taking up Akbar's case, had represented former editor Tarun Tejpal and Justice Swatanter Kumar in their cases of sexual offences.
When this publication contacted M/S Karanjawala & Co, a representative said the vakalatnama with the 97 names is the staple one for all cases that the firm takes up. She said the associates who will deal with the case have been named on the website livelaw.in. Livelaw has listed senior partner Sandeep Kapur, principal associate Veer Sandhu, senior associates Niharika Karanjawala, Apoorva Pandey, Mayank Datta and associate Gudipati G. Kashyap as the lawyers through whom the petition was filed.
Sunil Fernandes, the advocate-on-record, Supreme Court, when asked if the listing of the 97 lawyers by Karanjawala & Co was a matter of routine, said 'the advocates who represent a client are generally mentioned'. 'The purpose of putting 97 names in the vakalatnama has been served because now everybody is asking about it,' he said. When asked a second time about the vakalatnama, he said: 'Would a news publication say that all its journalist and non-journalist staff edited a particular report?'
Ramani, so far, has not said anything publicly about who will represent her. Several supporters of #MeToo have listed lawyers who are supposedly ready to represent pro bono the women who have alleged sexual harassment in workplaces.

The complaint, made in the Patiala House district court, mentions only Ramani as the respondent, not any of the other women who have alleged sexual harassment by Akbar. Journalist Ghazala Wahab has written a detailed account of alleged repeated sexual attacks on her by Akbar.
The punishment for criminal defamation, if proved, under IPC Section 500 is simple imprisonment for a term which may extend to two years, or with fine, or both.
Akbar has listed 13 witnesses, among them Veenu Sandal, who "wrote features for the paper (The Asian Age)", according to the former editor's statement on Sunday. "Ms Sandal has described Ms Wahab's version as nonsense, in an interview to The Indian Express. Ms Sandal has also said that she has never heard, in 20 years, anybody accusing me of any such thing," he wrote.
Wahab had mentioned Sandal in her account. Sandal, the Asian Age tarot card columnist, "came to my desk and told me that Akbar was truly in love with me", her account read.
To prove defamation, Akbar's complaint mentioned Ramani's article that had appeared in Vogue in October 2017, where she had described her encounter with a senior editor, but refrained from taking names. In the column titled "defamatory imputations" in the complaint was Ramani's entire article.
The documents also mentioned a tweet by Ramani on October 8, 2018, in which she named him.
About Ramani, the minister's statement said "the conduct of the Accused person, of not taking any action before any authority… evidently goes on to prove that the said defamatory articles are only a figment of her imagination".
The junior external affairs minister mentioned Firstpost, Livemint and Washington Post as publications that carried reports about the allegations against him.
Ramani, in her fresh statement on Monday, spoke about the "stigma and the shame that sexual crimes inflict upon victims". "At this moment it is disingenuous to ask why they (the women journalists) have spoken now," she wrote.