Agnipath scheme: BJP duo chart Agniveer future
G. Kishan Reddy and Kailash Vijayvargiya have been accused of insulting recruits amid violent protests against the government's contentious move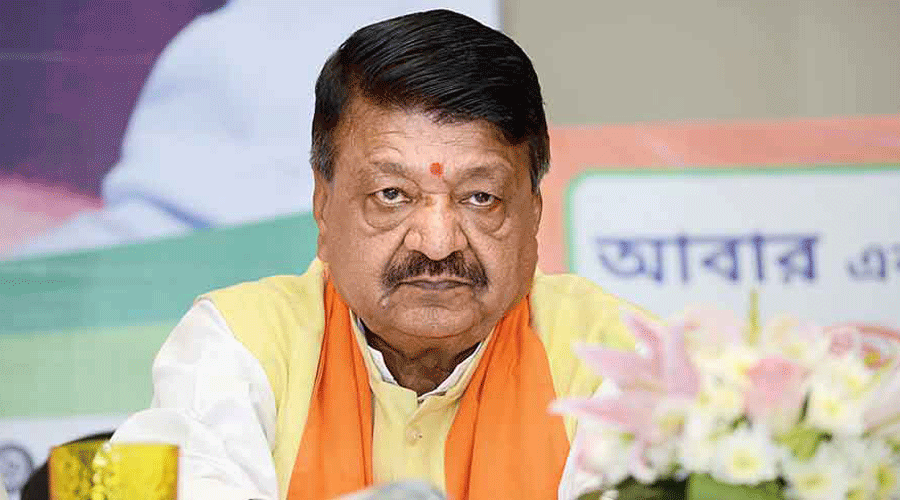 Kailash Vijayvargiya.
File photo
---
New Delhi
|
Published 20.06.22, 04:07 AM
|
---
A Union minister has said the short-term Agnipath recruits will be trained in the skills of "drivers, washermen" while a senior BJP leader has promised to give them preference while hiring "chowkidars" for the party office, their comments triggering outrage among netizens and the Opposition.
Culture and tourism minister G. Kishan Reddy and BJP general secretary Kailash Vijayvargiya have been accused of insulting Agniveers at a time violent protests have erupted against the Agnipath scheme, under which soldiers would be demobbed after four years without pension.
Vijayvargiya had said in Indore that he would give preference to demobbed Agniveers while recruiting security guards, seeking to challenge the protesters' complaint that the recruits would be jobless after four years.
अम्बानी अडानी का चौकीदार अब पूरे देश के युवाओं को चौकीदार बनाना चाहता है! pic.twitter.com/dphdYglowk

— Madhya Pradesh Congress Sevadal (@SevadalMP) June 19, 2022
Reddy told the media on Friday that Agnipath recruits would be trained in the skills of "drivers, electricians, washermen, barbers and other professionals". His comments, made in Telugu, drew national spotlight only on Sunday.
"After four years of training when they come out, they will have Rs 11 lakh (as a compensation package) in their hand and the badge of Agniveer on their chest," Vijayvargiya, former BJP minder for Bengal, told a news conference at the BJP office in Indore.
"Mujhe agar iss office me, BJP ke office me, security rakhna hai toh mai Agniveer ko prathamikta dunga. (If I have to recruit security guards for this BJP office, I shall give preference to Agniveers)."
Social media was horrified. "Chowkidar at BJP offices is what awaits an #Agniveer... Wah Modi ji wah," wrote a Twitter user, Sibajyoti.
Chowkidari at #BJP offices is what awaits an #Agniveer under #AgnipathRecruitmentScheme
Wah #Modiji Wah.https://t.co/FSomCNYGfK

— শিবজ্যোতি SIBAJYOTI (@SHIBU_DIBRUGARH) June 19, 2022
"Now you know why Agniveer is launched. Well done, thank you Vijayvargiya ji for telling the truth," tweeted Vishal Verma.
The Madhya Pradesh Congress tweeted: "BJP general secretary insulting soldiers. Agniveer will become a watchman outside the BJP office. Mr Modi, this was the mentality we were afraid of — shameless government."
Under the cosh from all sides, Vijayvargiya accused political rivals of "twisting" his words to "insult" the Agniveers.
Till late evening, Reddy had not issued any clarification. While the BJP did not comment officially, party sources said both leaders had been ticked off and everyone cautioned not to stoke the fire with unnecessary comments.
BJP spokesperson Sambit Patra addressed the media at the BJP headquarters to attack the Congress for protesting against the Agnipath scheme, but did not take questions.
Critics of Vijayvargiya's comment included BJP colleague and MP Varun Gandhi, who had earlier aired views at odds with the party's on various subjects including the Agnipath scheme.
Varun said that to offer the job of a "chowkidar" (watchman) to members of the armed forces was denigrating, and posted a purported video clip of Vijayvargiya's controversial remark.
जिस महान सेना की वीर गाथाएँ कह सकने में समूचा शब्दकोश असमर्थ हो, जिनके पराक्रम का डंका समस्त विश्व में गुंजायमान हो, उस भारतीय सैनिक को किसी राजनीतिक दफ़्तर की 'चौकीदारी' करने का न्यौता, उसे देने वाले को ही मुबारक।

भारतीय सेना माँ भारती की सेवा का माध्यम है, महज एक 'नौकरी' नहीं। pic.twitter.com/Ehq0rwx0zV

— Varun Gandhi (@varungandhi80) June 19, 2022
AIMIM leader Asaduddin Owaisi was more direct. "It's clear that the BJP sees Agniveers as nothing but chowkidars on hire," he tweeted.
BJP leaders say we will hire demobilised contract soldiers as chowkidars for their offices. Is this the dignity Modi's party assigns to soldiers and soldiering, which is a profession of honour? It is regrettable that we have a ruling party like this in the country.

— Asaduddin Owaisi (@asadowaisi) June 19, 2022
On Reddy's comment, he said: "Modi's minister says Agniveers will be trained as drivers, dhobis, etc. Serving the army is a prestigious profession with no parallel.... If they wanted to be drivers etc why would they spend four years in army?"
Delhi chief minister and AAP leader Arvind Kejriwal tweeted: "Don't insult the youth and army personnel of the country like this. The youth of our country work hard day and night to pass the physical exam, pass the test because they want to serve the country for their entire life by joining the army, not because they want to be a guard outside the BJP office."
देश के युवाओं और सेना के जवानों का इतना अपमान मत करो।

हमारे देश के युवा दिन-रात मेहनत करके फ़िज़िकल पास करते हैं, टेस्ट पास करते हैं, क्योंकि वो फ़ौज में जाकर पूरा जीवन देश की सेवा करना चाहते हैं, इसलिए नहीं कि वो BJP के दफ़्तर के बाहर गार्ड लगना चाहते हैं। https://t.co/PQ8B30FYHz

— Arvind Kejriwal (@ArvindKejriwal) June 19, 2022
Vijayvargiya's clarification said his intention was to emphasise only that the demobbed Agniveers would be able, because of their army training, to "opt for any field and their excellence would be used".
He accused the "toolkit gang" of twisting his remarks. The BJP had last year accused the Congress of preparing an online "Covid toolkit" to target the Narendra Modi government's handling of the pandemic.