After Sunday church service, YSR Congress candidate seeks vote
The action has apparently violated the Representation of the People Act, which criminalises what the model code calls the use places of worship for election propaganda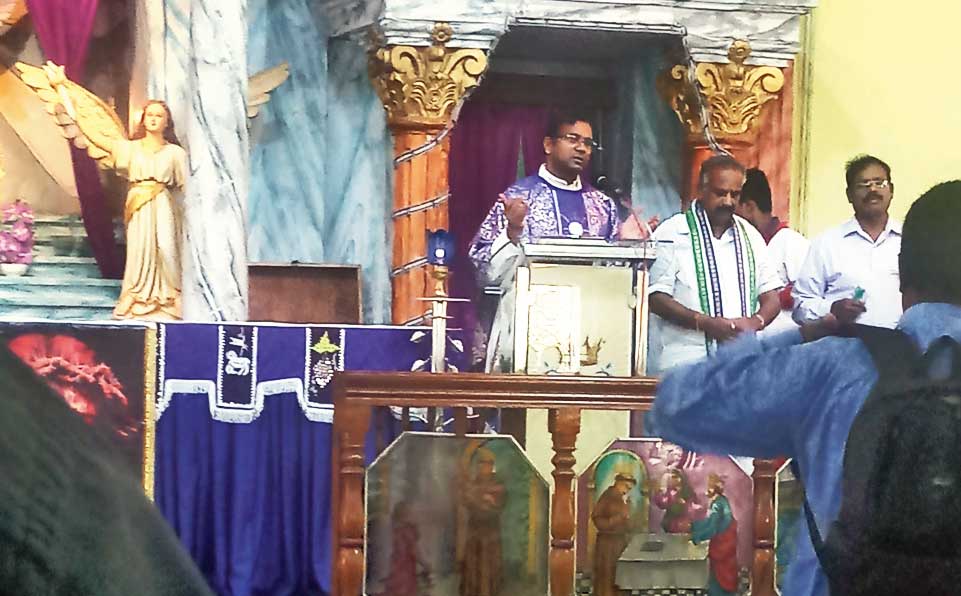 Dronamraju Srinivasa Rao standing by the lectern.
(Pheroze L Vincent)
---
Visakhapatnam
|
Published 08.04.19, 01:29 AM
|
---
Sunday church services usually end with announcements of weddings and Bible quiz results. On April 7, the English Mass at Visakhapatnam's St Anthony's Church was followed by a speech from the local candidate of the Yuvajana Sramika Rythu Congress Party from the lectern, with the priest standing by his side.
Dronamraju Srinivasa Rao, Assembly candidate from Visakhapatnam South, has apparently violated Sections 123(3) and 125 of the Representation of the People Act, which criminalise what the model code of conduct calls the use of "places of worship as forum for election propaganda".
If found guilty, Rao risks a possible three-year sentence and nine years' debarment from contesting.
Rao was clearly looking to woo an undeclared Christian vote bank, far more substantial than the 1.34 per cent of population that Census 2011 had recorded in undivided Andhra Pradesh.
Large sections of Dalit, OBC, tribal and fishing communities have converted to Christianity in the state but tend not to reveal it "so they can retain the right to reservation", Hyderabad-based Dalit scholar and political analyst Kancha Ilaiah said.
After Catholic priest U. Bala Showry, also the CEO of the evangelical TV channel Divyavani, ended the Mass, Rao had walked in with his party's white-with-green-and-blue-border angavastram draped across his shoulders.
"A political candidate is here to seek blessings. Let us pray for him," Showry announced over the loudspeaker.
Rao got on the platform where the altar stands — forgetting to remove his white sports shoes as local custom demands — and bowed to Showry, who blessed him by touching his forehead. The choir began singing the closing hymn, only to be told to stop by a man accompanying the candidate.
Rao, a former Congress MLA, delivered a speech in Telugu from the lectern, asking for votes as a tribute to the late chief minister, Y.S. Rajasekhara Reddy, after whom his party is named. He had brought a photographer along too.
When The Telegraph asked Showry whether candidates making election speeches in churches was common here, he replied: "Everyone comes to seek blessings. We can't deny anyone a blessing. The church is not political and does not support any party."
Rao answered a phone call from this newspaper but asked to be called later as he was in a meeting. An aide took the second call and said the candidate was busy. At 10 in the night, Rao was yet to respond to text messages.
Choir member Karuna gathered a huddle of women around her after the mass. She told this newspaper: "We should protest. This is shocking and has never happened before. This is not a political platform."
Many of the women were aggrieved that Rao had not removed his shoes before climbing onto the platform.
Calls and text messages to the state's chief electoral officer, G.K. Dwivedi, asking whether anyone had lodged a complaint against Rao for the election speech in the church went unanswered.
Political messaging through religious institutions is not uncommon in the country. Churches routinely release vaguely worded "pastoral letters" to followers before elections, often dropping hints about their party of choice.
States with large Christian populations such as Nagaland, Mizoram, Meghalaya, Goa, Kerala and Tamil Nadu have witnessed less subtle forms of electoral communication, such as prayer meetings and advisories by Christian associations.
But campaigning during a church service is unheard of, and disallowed by larger groups such as the Catholic Church, which St Anthony's is a part of.
Ilaiah said a possible reason for Rao's misguided zeal could be a realisation about the spread of Christianity among the Dalits in the state.
"The census won't show that (an estimated) 60 per cent of the Scheduled Castes in Andhra Pradesh have converted to Christianity. About three to four per cent of the (Hindu) OBCs, and four to five per cent of (tribal communities) too have converted," he said.
"In the coastal region, several settlements of fisher-folk and Yadavas are now known to be Christian. They don't reveal the change in their religion so they can retain the right to reservation."
Scheduled Castes made up 16.41 per cent of the undivided state's population in 2011. If Ilaiah's "conservative" estimates are correct, the Christians among them would account for nearly 10 per cent of the state's population.
The difference between the vote shares of the ruling Telugu Desam Party and the YSR Congress, the principal state Opposition, was less than five per cent in the 2014 Assembly polls.
Last week, chief minister Chandrababu Naidu promised to fund housing for pastors and reaffirmed support for a proposed constitutional amendment to provide reservation to the Dalits who have converted to Christianity or Islam.
"The YSR Congress is in a competition with the Bahujan Samaj Party, which is part of the Jana Sena Party-led alliance, for Dalit votes. That's why it is giving such importance to Dalit Christians," Ilaiah said.
The YSR Congress, led by Rajasekhara's son Y.S. Jaganmohan Reddy, faces the seemingly contradictory charges of being an evangelical front and having an undeclared understanding with the BJP, which wants to make religious conversions more difficult legally.
Jaganmohan Reddy is a practising Protestant Christian. St Anthony's faithful, unlike the political grapevine, has no doubt about his "secular" credentials.
During a discussion after Mass between three middle-aged men outside the church, two vouched for the YSR Congress and one for the Jana Sena. All of them agreed that Jaganmohan Reddy may be corrupt but will not help the BJP.
"We should give him a chance at least for the sake of (his father) YSR," one of them told this newspaper.
"Development of the state without any concern for the weaker sections is not healthy. Jagan is shrewd but won't cut a deal with the BJP and anger his supporters."
An irritant to the YSR Congress is a party led by the evangelist K.A. Paul.
His Praja Shanthi Party has the same blue-white-green colours of the YSR Congress and has fielded several candidates with names similar to its nominees. Paul has chosen the helicopter symbol, which resembles the fan symbol of Jaganmohan Reddy's party.
n Andhra Pradesh will vote in simultaneous Assembly and Lok Sabha polls on April 11.