After reluctance, Supreme Court notice on Kerala journalist
Siddique Kappan's arrest on Oct 5 had drawn attention recently when Republic TV's Arnab Goswami was granted interim bail by the top court in 8 days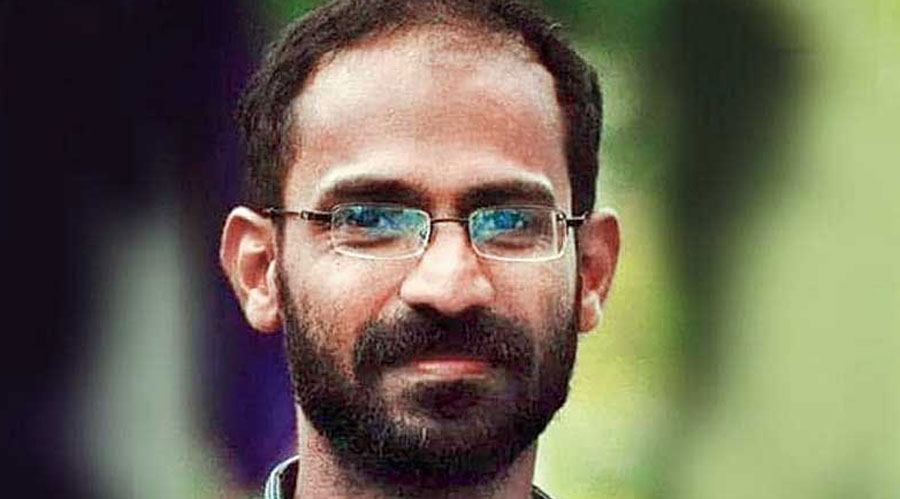 ---
---
The Supreme Court on Monday issued notice to the Uttar Pradesh government on a plea to grant immediate bail to Kerala journalist Siddique Kappan who has been in custody since October 5 after he was detained on his way to Hathras where a Dalit girl was brutalised and murdered.
A bench headed by Chief Justice S.A. Bobde has posted the matter for hearing on Friday, although the court was initially reluctant to entertain the plea on the ground that it wanted to discourage citizens from directly approaching the top court for relief.
The matter had drawn attention recently when Republic TV managing director Arnab Goswami was granted interim bail by the Supreme Court after he was in custody in Maharashtra for eight days. The high court had asked Goswami to approach the sessions court. Kappan has been incarcerated for over 40 days now.
Uttar Pradesh police have booked Kappan under the Unlawful Activities Prevention Act (UAPA) after accusing him of being associated with the Popular Front of India, which is considered an extremist organisation but which is not banned.
Senior advocate Kapil Sibal, appearing for the Kerala Union of Working Journalists (KUWJ) that had sought Kappan's release, said that there were a number of occasions on which the court had directly entertained petitioners for relief.
When the bench, which includes Justices A.S. Bopanna and V. Ramasubramanian, asked Sibal why the petitioner did not approach Allahabad High Court for bail, he said lawyers were not being allowed to meet Kappan, now lodged in a Mathura jail.
"I (Kappan) am inside the jail since October 6. The FIR does not mention me," Sibal told the bench. He said the local magistrate had refused to grant permission for lawyers and family members to meet him.
Justice Bobde asked Sibal: "Why did you not approach the high court? We are not on merits at all, but we are trying to discourage Article 32 petitions… there are a spate of Article 32 petitions every day."
Article 32 empowers any person to move the Supreme Court for enforcement of his or her fundamental rights.
Sibal said that unless lawyers were allowed to meet Kappan, they would not be able to understand the factual position.
"This is about a journalist who continues to be in jail. These are exceptional circumstances," Sibal said.
The KUWJ had filed a habeas corpus petition, which is invoked for producing any person whose whereabouts are not known. Since it is known that Kappan is now in judicial custody, the court wanted the petition before it to be amended.
"We issue notice. Let the matter be listed this Friday. You have not filed their amended petition," Justice Bobde said.
Sibal responded: "We could not meet the gentleman. How do we amend? We have filed an affidavit to this effect."