Accused walk free in case after case, Rahul keeps count
The CBI had accused these 22 of abducting Sohrabuddin and killing him in a fake encounter in November 2005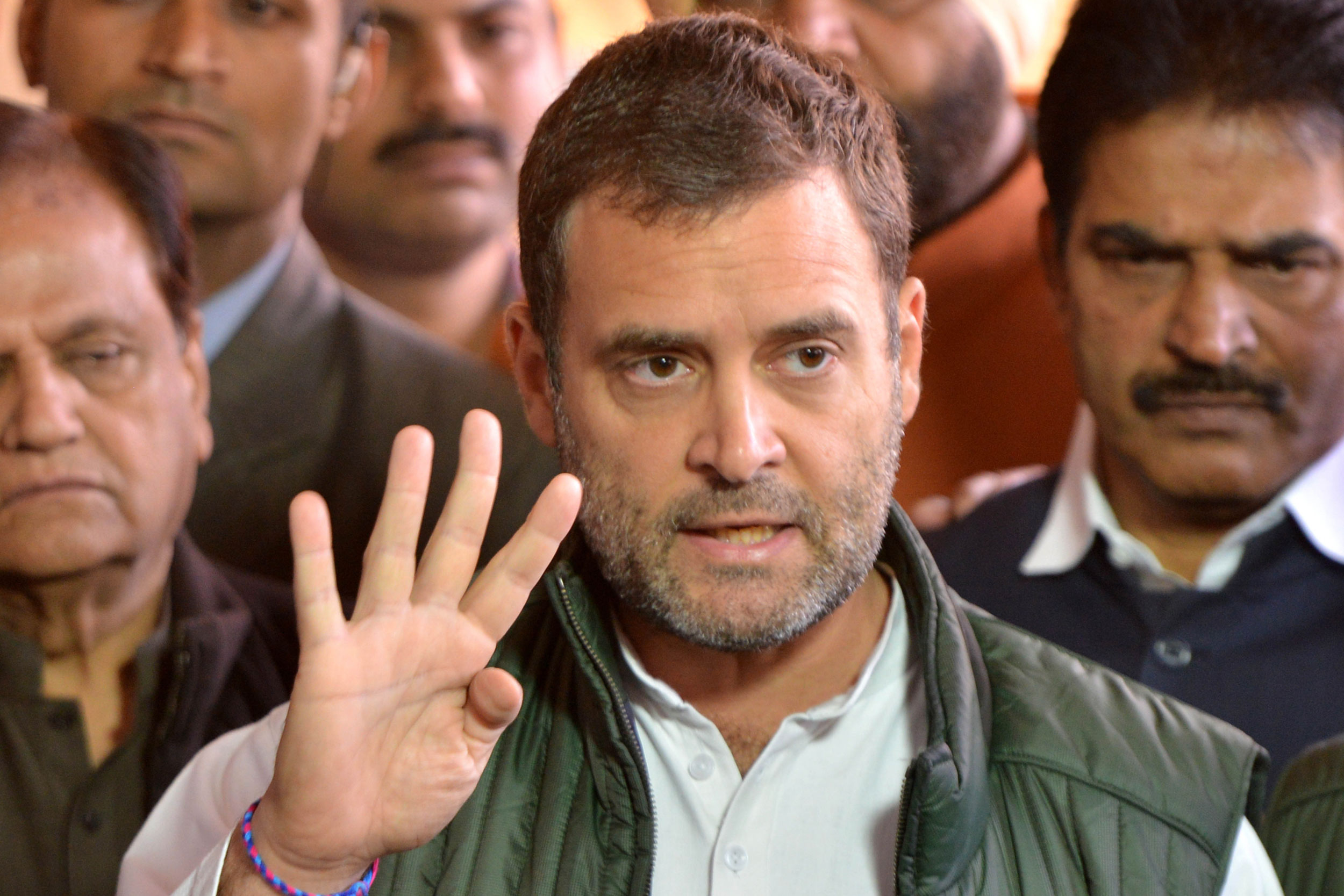 Rahul Gandhi
Telegraph file picture
---
New Delhi
|
Published 22.12.18, 09:12 PM
|
---
Congress president Rahul Gandhi on Saturday highlighted acquittals in politically sensitive cases, subtly hinting at miscarriage of justice without blaming anyone.
"NO ONE KILLED... Haren Pandya. Tulsiram Prajapati. Justice Loya. Prakash Thombre. Shrikant Khandalkar. Kauser Bi. Sohrabuddin Shiekh. THEY JUST DIED," Rahul said in a tweet.
On Friday, a special CBI court in Mumbai acquitted all the 22 accused in the fake encounter killings of alleged gangster Sohrabuddin Sheikh, his wife Kauser Bi and associate Tulsiram Prajapati. The court confirmed the three were murdered but rued that guilt could not be established after so many witnesses turned hostile.
The CBI had accused these 22 of abducting Sohrabuddin and killing him in a fake encounter in November 2005. The trial began in 2017. Of the 210 witnesses examined, over 90 turned hostile.
After the acquittals, Sohrabuddin's brother Rubabuddin, who was fighting the case, wryly said he would have to believe that his brother killed himself.
Congress spokesperson and lawyer Abhishek Singhvi tweeted: "Ambiance, independence of prosecutorial agency, fearlessness matters. Where 92 out of 200 witnesses turned hostile (and these 50% were the most important witnesses) what else could you expect in Sohrabuddin case?
No one killed Sohrabuddin? Not even one of 22 accused remotely involved?"
Another Congress leader and lawyer Kapil Sibal said: "Are we to salute the justice delivery system and thank CBI which openly helped the accused in the Sohrabuddin case? Families of victims told that there are no accused.
All 22 acquitted! The message: In some cases if you kill the law will protect you. Shame!"
The three victims were allegedly taken into custody by a police team on the night of November 22, 2005, when they were travelling to to Sangli in Maharashtra from Hyderabad in a bus.
The CBI said Sohrabuddin was killed on November 26, 2005, and Kauser Bi three days later. Prajapati was lodged in an Udaipur jail and killed on December 27, 2006, the CBI said.
Amit Shah, who is now BJP president, was briefly arrested in the case in 2010.
Justice B.H. Loya had been hearing the Sohrabuddin fake encounter case when he suddenly died on December 1, 2014. Days later, Shah was acquitted in the case.
The Congress has earlier alleged that the deaths of Prakash Thombre and Shrikant Khandalkar, confidants of Justice Loya, were linked to the judge's death.
In his tweet, Rahul also mentioned Former Gujarat Congress president Arjun Modhwadia tweeted: "Soharabudin-Tulsi fake encounters inquiry was ordered by the Supreme Court on the basis of Gujarat CID reports. 80% arrests of 38 accused have been made by Gujarat police under chief minister Narendra Modi, rest by SIT/CBI. But it is Congress conspiracy!!"
Modhwadia was responding to the claim made by Defence Minister Nirmala Sitharaman yesterday that "fake encounter cases" were a "Congress conspiracy" to defame the Gujarat government. The Supreme Court had also constituted a Special Task Force to investigate fake encounters in Gujarat between 2006 and 2012. Many arrests, including senior IPS officers were arrested in fake encounter cases.
Haren Pandya, a BJP leader whose family had suspected he was murdered as a result of political conspiracy. All the 12 accused were freed by Gujarat High Court in 2011.
Last judgment
Friday's verdict acquitting all the 22 accused in the three fake encounter cases was the last of special CBI judge S.J. Sharma's career. "This is my last judgement," the judge, who is to retire later this month, said in his ruling.
Saying he was sorry for the families of the victims, the judge said: "The prosecution has failed to put forth any documentary or substantive evidence to suggest or establish the conspiracy theory against the 22 accused. It has failed to establish all charges levelled against them."
The Telegraph gives a lowdown on the individuals named:

Haren Pandya: Former Gujarat home minister who was killed in 2003 when he was sitting in his car after a morning walk. Once said to be close to Narendra Modi, Pandya was shot dead in Ahmedabad allegedly by Sohrabuddin Sheikh, a suspected gangster who himself was killed in an alleged fake encounter on November 26, 2005
Tulsiram Prajapati: A Sohrabuddin aide who was killed allegedly in a police encounter on December 26, 2006. Prajapati was a key witness in the alleged fake encounter killing of Sohrabuddin Justice Loya: A judge who died under alleged mysterious circumstances in Nagpur on December 1, 2014. He had been hearing the Sohrabuddin case in which now BJP chief Amit Shah was also an accused. Shah was acquitted within days of Loya's death
Prakash Thombre: Retired district judge and one of Loya's confidants who died under alleged suspicious circumstances in Hyderabad while travelling in a train in 2016. It had been said that Thombre fell off the upper berth and broke his spine Shrikant Khandalkar:
Lawyer-activist and another of judge Loya's confidantes whose body was found on the Nagpur district court premises in 2015 with no clarity on how he died. Lawyer Satish Uke had claimed that Thombre and Khandalkar had told him that judge Loya was under tremendous pressure in the fake encounter case
Kauser Bi: Sohrabuddin's wife, who was killed in the alleged fake encounter in 2005 
Sohrabuddin: On Friday, all 22 accused of faking the encounter in which Sohrabuddin was killed were acquitted