Aam Aadmi Party seeks to take leaf out of Shiv Sena's book
Our little children, who should have pens and books in their hands, were given guns, kattas and swords by the BJP: Sanjay Singh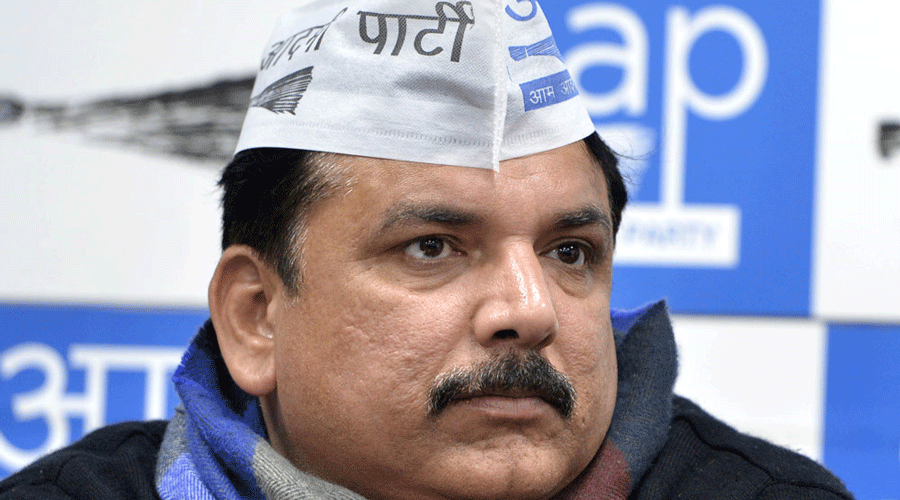 ---
New Delhi
|
Published 08.05.22, 01:37 AM
|
---
The Aam Aadmi Party is seeking to take a leaf out of the Shiv Sena's book in tackling the BJP's communal agenda by using executive powers at its disposal, an AAP source said while commenting on the arrest and eventual release of BJP spokesperson Tajinder Pal Singh Bagga.
"Bagga is just the beginning," the source said, referring to the leader who has a history of making incendiary remarks and is seen as an asset by pro-BJP trolls on social media.
The AAP source said: "They need to feel the heat. We cannot continue to be the nice guy when we are harassed with false cases by central agencies that fall apart in courts. Bagga and other provocateurs on Twitter need to be pushed back. They need to know that their wealth or connections won't protect them, and there are consequences for spreading hatred."
The AAP source added: "We wish to cooperate with Maharashtra and Chhattisgarh. In Mumbai, the cyber cell is effectively able to track provocateurs of communal violence or misogyny. They have set an example with a police commissioner who goes after dangerous characters in the communal hatred ecosystem with case after case. The Shiv Sena's policy is 'kachra kiya toh chhodenge nahi (If you indulge in filth, we won't spare you)'. We feel that in the current atmosphere, this is an effective way to counter the dirty tricks of the BJP and we are following the line Sena MP Sanjay Raut takes in these matters."
In 2020, the Brihanmumbai Municipal Corporation under the Shiv Sena had demolished an office of actress Kangana Ranaut at the peak of her tirade against Bollywood and non-BJP politicians.
Recently, the police arrested legislator couple Navneet and Ravi Rana for trying to chant the Hanuman Chalisa in front of chief minister Uddhav Thackeray's residence as part of a BJP push in several states, aided by the MNS in Maharashtra, against the use of loudspeakers for azaan.
 "We need to break their branding. Police action against Bagga or (BJP youth wing chief) Tejasvi Surya will push them to more violent acts. We won't take sides but will simply highlight that they are doing this to divert attention from economic failure. This will alienate them from their lower middle class cadre who are facing the brunt of job losses," an AAP strategist explained.
AAP parliamentarian Sanjay Singh said: "This only sets the record straight that the BJP is home to criminals, goons and thugs. Their modus operandi is to spread hate in the country and incite riots and violence. They don't want to run governments, they want bloodshed. Inflation is the biggest issue in the country today. To prevent this issue from being discussed, the BJP did its best to spoil the atmosphere in the whole country on Ram Navami and Hanuman Jayanti.
"Our little children, who should have pens and books in their hands, were given guns, kattas (country revolvers) and swords by the BJP. I believe the BJP wants to drag the country into hatred and violence because it is not capable of discussing and tackling basic problems such as inflation, unemployment, illiteracy, health care, electricity and water."
An AAP leader told this newspaper: "We are new to this game and are learning from mistakes. The Punjab police action was not well thought out. During the 49-day tenure of our government in 2014 when we tried to use the Anti-Corruption Branch, it was taken away from us by the Centre in 2015. The lessons learnt in both cases are that we need officers who are patient and thorough to plan these things well. We're not backing off from Bagga."
Bagga had been arrested by a Punjab police team on Friday over hate speeches but cops from Delhi and Haryana, who report to BJP governments, freed him.
There are multiple cases against Bagga in Punjab for delivering hate speeches, and a Mohali court issued a second warrant against him on Saturday.