Rural disquiet loud and clear in Madhya Pradesh
Aadhaar, economic issues anger voters in Shivraj Chouhan's state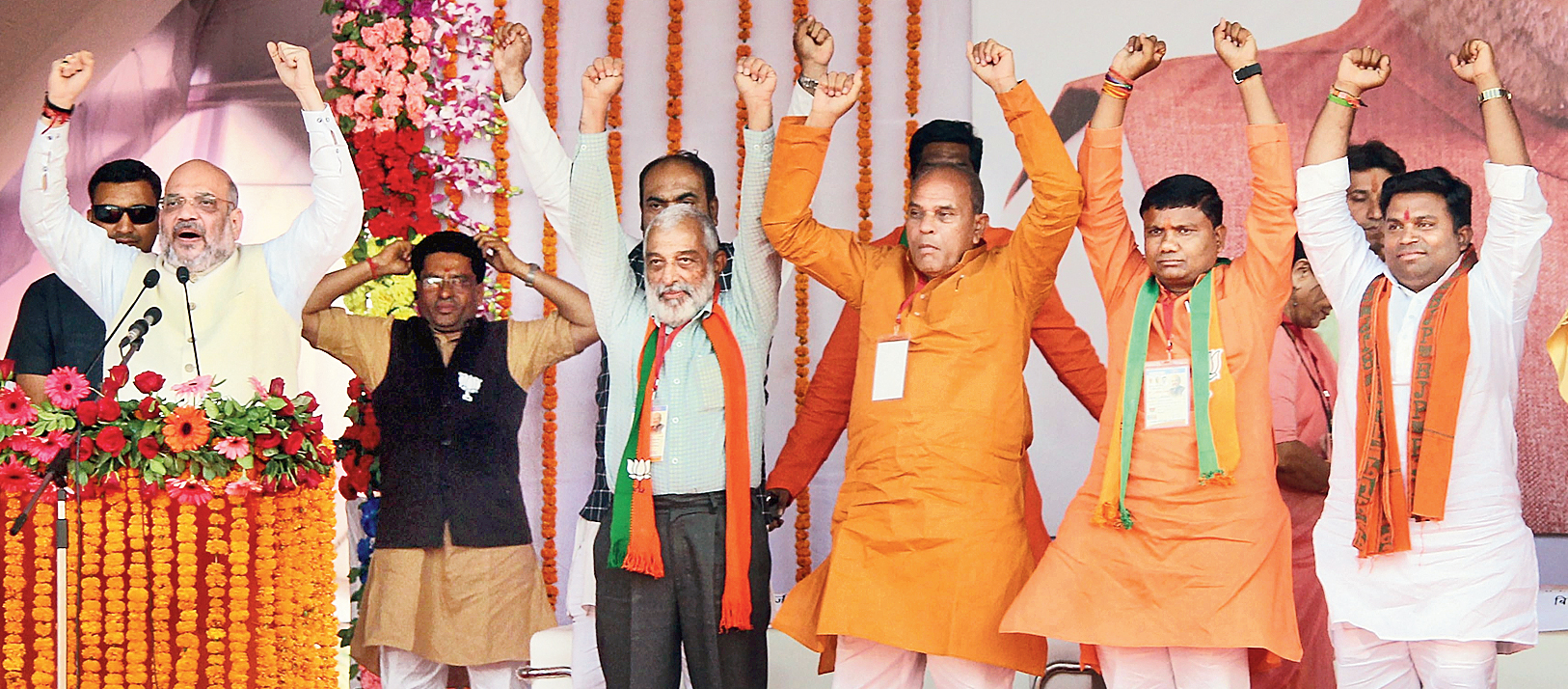 Amit Shah addresses an election rally in Balaghat on Friday ahead of the Madhya Pradesh Assembly elections.
(PTI)
---
Published 23.11.18, 09:12 PM
|
---
Rural disquiet appears far more pronounced than urban discontent in election-set Madhya Pradesh, driven not by so-called emotive matters but by bread-and-butter issues and an annoyance multiplier called Aadhaar.
"Prime Minister Narendra Modi may be a big leader but most of his decisions have been wrong," says a tribal youth in Badveli village in Dhar district.
With precision that belied his formal education that could not go beyond Class VIII but spoke volumes about rural India's insight, he reeled out what he felt were the wrong decisions of the Prime Minister who had promised achchhe din.
Notebandi, making Aadhaar mandatory for government benefits and services, weakening the rural job guarantee scheme, the betrayal of farmers….
"Ek crore bhi dega BJP vote ke liye to nahin doonga (Won't vote for the BJP even if they pay one crore)," he declared, predicting the certain ouster of Shivraj Singh Chouhan in the November 28 polls.
By now, many others had assembled and joined the conversation. One boy in torn clothes intervened with a lethal one-liner: "Jhooth bolta hai Modi (Modi lies)."
Asked to explain, he blushed and couldn't elaborate. But two other boys, Devi Singh Maurya and Ram Pasaya, recalled the "lies", which weren't about history or politics. They too talked about notebandi, minimum support price, jobs and housing.
Their ire is focused on Aadhaar, especially the decision to link the card to government schemes and facilities. "Most villagers spend several days taking care of the Aadhaar formalities. First they (officials) will say name is incorrect, surname not added, phone number not linked…. Once you get everything corrected after running around, the network link won't be there or the fingerprints won't match. Students could not get admission in school because of Aadhaar. This idea was designed to torture the most vulnerable," Pasya said.
The exodus of the young to Gujarat and Maharashtra in search of jobs is another concern.
Such signs of anger in the tribal terrain of Dhar, Khargone, Jhabua spell trouble for the BJP because they suggest a rural unease more intense than that in urban stretches.
Farmers recall how they rarely got the minimum support price for soyabean and chana (gram), and the crop insurance scheme was a fraud. The Congress's promises to waive loans within 10 days and Rs 5,1000 for wedding of girls appear to have struck a chord.
Places like the ancient pilgrimage centre of Ujjain still demonstrates support for the BJP but that may not be enough for the ruling party to protect its overwhelming dominance in the Malwa-Nimar region in southwestern Madhya Pradesh.
The BJP won 57 of the 66 Assembly constituencies in this region but even a conservative assessment suggests it may lose 25 to 30 seats this time. The Congress will need a substantial gain from this area to cover the huge gap between the two parties in the last elections.
The BJP had won 165 out of the 230 seats in the state with a vote-share of 45.19 per cent while the Congress won only 58 with 36.79 per cent votes. This already comfortable situation metamorphosed into a dream run in the 2014 parliamentary election when the BJP's vote percentage reached 54 and the Congress party's slumped to 35. The difference was so wide that the BJP won many Lok Sabha seats by over 3 lakh votes.
The BJP has managed to salvage some of its traditional support base by drastically whittling down electricity bills in urban areas and efficiently implementing a scheme that sold foodgrains at Re 1 a kilo in rural areas.
Chandan, a middle-aged employee of a hotel in Indore said: "I used to get electricity bills for Rs 1,400 to Rs 1,200 each month. I vowed not to vote the BJP. But now my bill is down to Rs 200. The entire colony where I live has returned to the BJP now."
But a section of the BJP's diehard supporters refuse to change their mind. A rich business family, which has two of its members in the BJP, took a collective oath two months ago to not vote for the party. The reasons, apart from notebandi and the GST, cited by one of them: "We realised Modi is all hollow words. Corruption has increased and doing business has become more difficult under his regime. My family usually switches off the TV when his speech comes. Most of us will vote for a new party for the first time."
In Dhar, one Congress leader said: "Ask a poor tribal woman in any village 'have you forgotten notebandi'? She will explode with abuses. Aadhaar is another menace that is hurting the BJP."
Toba Ram, a recipient of Rs 2.80 lakh under a housing scheme who praises the Chouhan government, said: "That does not mean I will vote for the BJP. The BJP leaders filled their homes and created too many problems for us."
Discontinuance of sugar and kerosene from public distribution system has also caused anger in villages.
Another reason for the BJP's weakening grip over the Malwa-Nimar region is caste emerging as a factor powerful enough to override the Hindutva consolidation.
The Congress has done better caste management and the anger of the upper castes against the Modi government for setting aside the Supreme Court order on SC-ST (Atrocities) Act is helping the party. Various upper caste bodies are mobilising people under Sapaks (Samanya Pichhra Alpsankhyak Kalyan Samaj) to teach the BJP a lesson.
In places like Indore, Ujjain and Dewas, many upper caste youths expresses conditional support to the BJP. "If they assure us a saner social policy and promise to scrap tge reservation system, they will get our support."
Told even the Congress supports caste-based reservation, a youth said: "They do. Both these parties want to crush the general category youths. But we expected different from the RSS-BJP. They need to be punished for the betrayal."