'43 clips' against rape-accused
Uttar Pradesh police have yet to register an FIR against the BJP leader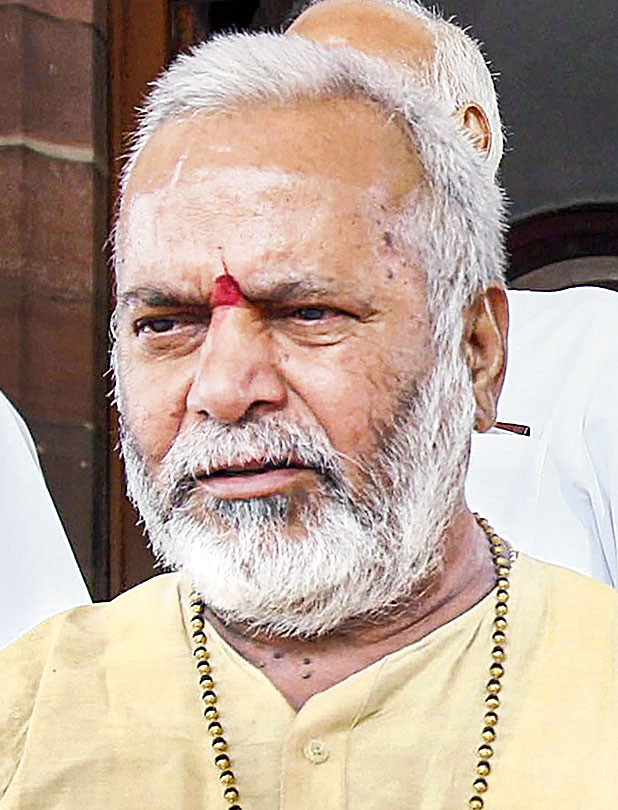 ---
|
Lucknow
|
Published 14.09.19, 08:38 PM
---
The law student who has accused BJP leader Chinmayanand of raping her for over a year said on Saturday she had submitted "43 authentic video clips" that would prove her allegations against the former Union minister of state for home affairs.
The woman, who had been doing her master's in law in an Uttar Pradesh college owned by Chinmayanand, said the former MP secretly filmed her while she was taking a bath in her hostel room and then blackmailed her by threatening that he would post the clip on social media sites.
"He used to sexually assault me by blackmailing me," she told reporters in Shahjahanpur on Saturday.
The Supreme Court has set up a special investigation team (SIT) to probe the allegations against Chinmayanand, a three-time former MP and minister in the Atal Bihari Vajpayee government.
Lawyers for the BJP leader, known to be close to chief minister Yogi Adityanath, have claimed it is a "conspiracy" to blackmail Chinmayanand.
The woman claimed she had collected more proof against Chinmayanand and kept it in her hostel room but the evidence had either been stolen or destroyed when she disappeared from Uttar Pradesh last month to protect herself. Police later traced her to Rajasthan.
The woman had posted an appeal on social media sites seeking protection from law enforcement agencies and also said she was on the run as Chinmayanand had threatened to kill her.
Responding to an appeal by some lawyers, the Supreme Court had later taken note of her plight and set up the SIT and directed it to submit its report to Allahabad High Court by September 23.
The SIT had grilled Chinmayanand at his Mumuksha Ashram in Shahjahanpur on Thursday night and later sealed his room. On Friday, the probe team took the woman to the ashram and her hostel room.
Her comments on Saturday came when some reporters asked her about Friday.
The woman, however, did not elaborate on the 43 clips she said she had submitted to the SIT.
Her father said the police should book Chinmayanand for destroying evidence.
"Besides the cases of rape and intimidation, a case for destroying evidence should also be registered against the accused. Being very close to the ruling dispensation, he is in a position to do anything if action was delayed against him."
Uttar Pradesh police have yet to register an FIR against the BJP leader.