Guards in riot gear, security tightened
10 detained after SFI plans screening of BBC documentary on Jamia campus
The university administration, however, said no permission has been sought for the screening of the documentary and 'we will not allow' it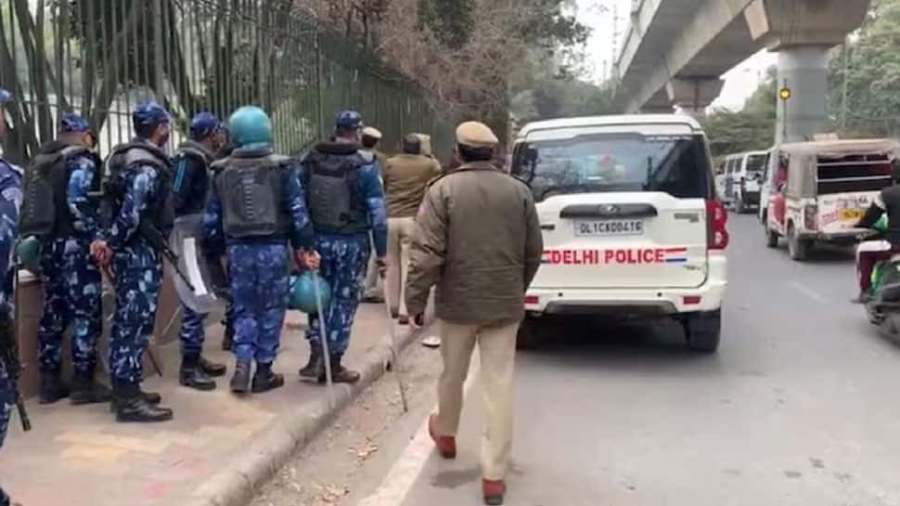 Security beefed up outside Jamia Milia campus amid ruckus over BBC documentary screening
Twitter/@sunder_barange
---
Published 25.01.23, 04:21 PM
|
---
Students clash with Delhi police at Jamia campus, more than 10 students detained, reports NDTV
Four students belonging to Left-affiliated Students' Federation of India (SFI) were detained on Wednesday over the student body's decision to arrange a screening of the controversial BBC documentary on Prime Minister Narendra Modi.
A Delhi Police official said four SFI members were detained, just hours before the screening was scheduled to start. The police arrived at the university grounds armed in riot gear and security was tightened, as reported by ndtv.com.
The SFI called for a protest at 4 pm against the detention. The SFI's Jamia unit had issued a poster informing the documentary will be screened at 6 pm at the MCRC lawn gate no 8. 
The SFI issued a statement, which said, "In an atrocious manner, Azeez, a student of Jamia Milia Islamia and SFI Jamia Unit Secretary; Nivedya, a Jamia Student and SFI South Delhi Area Vice President; Abhiram and Tejas, both Jamia students and SFI Unit members have been detained by the Delhi Police prior to the screening of the documentary."
"The SFI Jamia Unit had decided to screen the BBC documentary today on the campus," it added.
The university administration, however, said no permission has been sought for the screening of the documentary. It stated that, "It has come to the knowledge of the university administration that some students belonging to a political organisation have circulated a poster about screening of a controversial documentary film on the university campus today," as per PTI.
The documentary has kicked up a storm in the country with widespread censorship driven by the Centre. All social media platforms have been ordered to block access to the documentary although no official ban has been announced by the government.
The controversy over the screening plan at the Jamia campus comes a day after a screening was organised at the Jawaharlal Nehru University by the Jawaharlal Nehru University Students' Union (JNUSU) during which students claimed that power and internet were suspended.