Activist was on ventilator after suffering a cardiac arrest
Elgaar Parishad case: Swamy death news greets bail hearing in HC
The Jesuit priest was among 16 people arrested in an investigation into alleged Maoist links to an Ambedkarite event on December 31, 2017, followed by caste clashes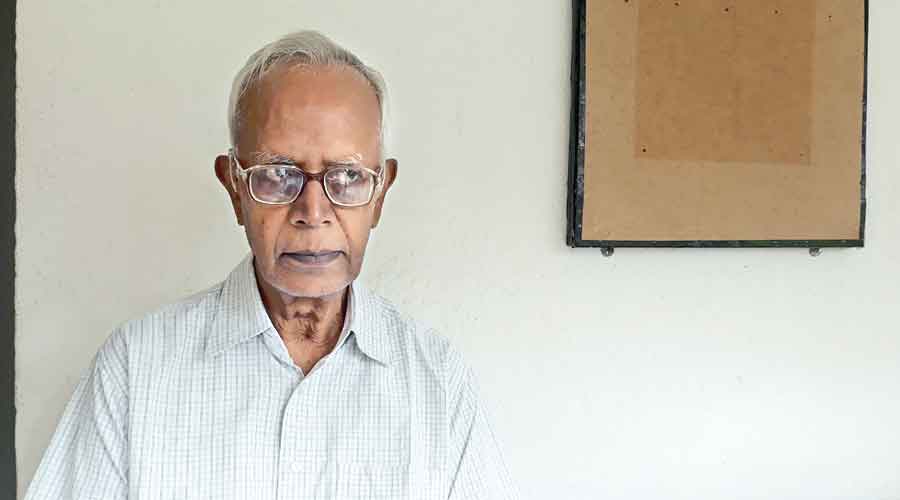 Father Stan Swamy at his home, called Bagaicha, in Namkum near Ranchi in April 2018 during a meeting with tribal rights activists
Manob Chowdhury
---
New Delhi
|
Published 06.07.21, 02:23 AM
|
---
Father Stan Swamy, severely ill and at 84 the eldest prisoner in a case accusing rights activists of Maoist links, passed away in a Mumbai hospital on Monday while waiting for bail.
The announcement of the Parkinson's patient's death came during his bail hearing in Bombay High Court.
The court was also due to hear the Ranchi-based Jesuit and tribal rights defender's plea challenging provisions of the anti-terror Unlawful Activities Prevention Act (UAPA), which many activists in India and abroad have termed a draconian law and under which bail is a rarity.
Stanislaus Lourduswamy was among 16 people arrested in the Elgaar Parishad case, an investigation into alleged Maoist links to an Ambedkarite event on December 31, 2017, that was followed by caste clashes the next day that claimed one life.
The case expanded intoa purge of "urban Naxals", a term used by the Hindutva Right to describe academics, writers, lawyers and activists like Fr Stan who are accused of clandestinely working for the banned CPI Maoist. The case was transferred from Maharashtra police to the National Investigation Agency (NIA) soon after the BJP lost power in the western state.
As the bail hearing began on Monday afternoon, Ian D'Souza — medical superintendent of the Holy Family Hospital, Bandra — told the division bench of Justices S.S. Shinde and N.J. Jamadar that Fr Stan had passed away at 1.24pm.
Fr Stan had been on a ventilator since Sunday after suffering a cardiac arrest. His lawyer Mihir Desai demanded a judicial inquiry into alleged negligence by the NIA and the prison authorities. For now, the body has been sent for post-mortem.
In May, Fr Stan had told the high court he would rather die in jail than go to the state government-run Sir Jamsetjee Jeejebhoy Hospital again.
"I would rather suffer, possibly die very shortly if this were to go on. I would prefer this than be admitted to the J.J. Hospital.... One thing that I would request the judiciary is to consider for interim bail…. Whatever happens to me, I would like to be with my own," he had said.
"When I came to Taloja (prison), whole systems of my body were very functional, but during these eight months there has been a steady but slow regression of whatever my body functions were. Eight months ago, I would eat by myself, do some writing, walk, but all these are disappearing one after another."
The Jesuit's health had continued to deteriorate in jail after his arrest in Ranchi in October last year. He lost his hearing, fell down several times in prison, and developed spinal problems and severe abdomen pain. However, he received little sympathy from the authorities.
Parkinson's Disease having left him unable to hold a glass of water, Swamy had had to move court last November for the use of a straw and sipper in Navi Mumbai's Taloja Central Prison.
After the court gave the NIA 20 days to reply, the agency formally denied having seized the drinking apparatus Swamy had brought with him from Ranchi, shifting the scrutiny to the state authorities. Following this, the state government-run prison, which is responsible for the upkeep of all its inmates, sold a baby sipper to Swamy.
This treatment prompted Congress leader P. Chidambaram — who had widened the scope of the UAPA as Union home minister — to castigate the coalition government in Maharashtra where his party is a partner.
Chidambaram had tweeted: "Are the administrators of the Jail department and especially the DG, Prisons so bereft of human compassion that they cannot provide straws to the old and ailing prisoner?"
It is sad that Fr Stan Swamy has to move the court for permission to use a straw to drink water or any liquid

— P. Chidambaram (@PChidambaram_IN) November 7, 2020
The state government has since ignored pleas from civil society to recommend interim bail and release for the Elgaar prisoners — most of them aged and ailing — to the high-powered committees mandated by the Supreme Court to decongest prisons during the pandemic.
Despite statements from internationally renowned activists and human rights advocates every few weeks in the last three years seeking better treatment of the accused, the NIA has consistently opposed bail pleas in the case.
Another co-accused and academic Hany Babu M.T. had to move court for his spectacles, and is now in hospital after an eye infection.
Prison superintendent Kaustubh Kurlekar, who had asked the Elgaar defendants to be shifted out of his jail as they were making "false complaints", was transferred out this weekend.
The Jesuits — shy of making political statements to the media — had found a novel way of championing Fr Stan's cause by leaking excerpts of his letters written to friends and fellow clergymen.
One of these had asked for prayers for Telugu litterateur Varavara Rao, now out on bail after his health and mental faculties deteriorated rapidly. Rao's family has blamed the poor sanitation in jail and alleged his urinary catheters had remained unchanged for months.
The suffering had failed to sap Fr Stan's courage or darken his mood.
"Despite all odds, humanity is bubbling in Taloja prison," he had written in a letter, saying he was being fed and bathed by co-accused Vernon Gonsalves, a former professor, and Arun Ferreira, a cartoonist and lawyer.
Fr Stan had been charged with handling funds for the Persecuted Prisoners Solidarity Committee, which the NIA has termed a front for the CPI Maoist. He was later also accused of Maoist activity through the Vistapan Virodhi Jan Vikas Andolan.
Fr Stan was publicly involved with both organisations, documenting the plight of tribal youth in Jharkhand who were jailed as Maoists for participating in protests against forcible land acquisition.
This alleged bagman of a terror group had only a table, three chairs, a cupboard and a bed to his name, which were attached by a court in 2019 when he failed to appear to answer a case against his support for a legal code for the Adivasis' Sarna faith.
Just before his arrest last year, Fr Stan had said in a video: "What is happening to me is not something unique happening to me alone. It is a broader process that is taking place all over the country.
"We are all aware how prominent intellectuals, lawyers, writers, poets, activists, students, leaders, they are all put into jail because they have expressed their dissent or raised questions about the ruling powers of India. We are part of the process. In a way I am happy to be part of this process. I am not a silent spectator, but part of the game, and ready to pay the price whatever be it."
Fr Stan had denied any knowledge of the purported pieces of communication with Maoists that the NIA had, during his interrogation, claimed were from his computer.
As his condition worsened in jail, he was moved to the Holy Family at his own expense on May 30. He tested positive there for Covid, days after he was given the vaccine in jail. The virus eventually left him, but other ailments were aggravated and eventually his heart failed. His last public act before dying was to challenge the UAPA, a plea that lapsed with his death before it could be argued.
His writ petition challenges Section 43D(5) as unconstitutional as it creates a de facto ban on the grant of bail. His plea also challenges the use of the term "front organisation" and argues that not only is this not backed by law but it violates fundamental rights.
Delhi-based activist Rona Wilson, another co-accused lodged in Taloja, had asked Bombay High Court in February to quash the case on the basis of a data forensics report by an American firm that said key elements of the purported evidence had been planted on his computer through Internet malware.