2 Supreme Court judges take oath
The working strength of the apex court is now 28, against the sanctioned strength of 31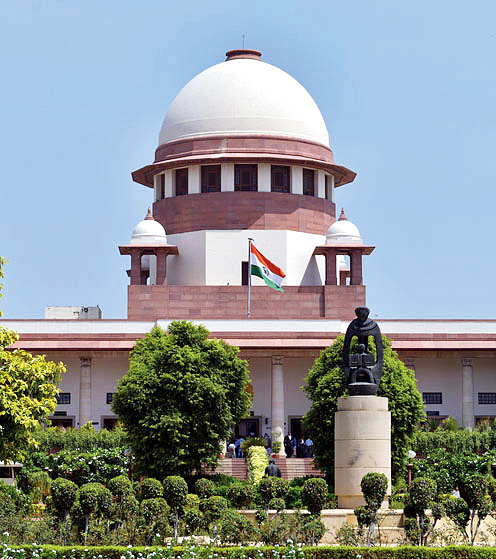 The Supreme Court of India
The Telegraph file picture
---
New Delhi
|
Published 18.01.19, 11:17 PM
|
---
Delhi High Court judge Sanjiv Khanna and Karnataka Chief Justice Dinesh Maheshwari were on Friday elevated to the Supreme Court.
Chief Justice of India Ranjan Gogoi administered the oath of office to them in the Supreme Court's Hall No. 1. The working strength of the Supreme Court has now increased to 28 against the sanctioned strength of 31 judges.
There had been allegations in legal circles that Delhi High Court Chief Justice Rajendra Menon and Rajasthan High Court Chief Justice Pradeep Nandarjog, who are senior to Justice Khanna, had been overlooked.
However, collegium sources had clarified that seniority is one of the criteria, not the only parameter for elevation, as other factors such as impeccable integrity, merit, competence and hard work, besides regional representation, are also considered for promotion to the Supreme Court.
Chief Justice Gogoi is said to have been "very upset" over the adverse reports appearing in the media about decisions taken by the collegium.
Justice Sanjiv Khanna is the nephew of Justice H.R. Khanna, a former Supreme Court judge who had locked horns with then Prime Minister Indira Gandhi during the Emergency and was not made Chief Justice subsequently.
Justice H.R. Khanna had during the Emergency ruled that fundamental rights could not be suspended even during such periods. Justice M.H. Beg, who was junior to him, had eventually been made the Chief Justice of India.
Taking into consideration the Supreme Court pecking order, Justice Sanjiv Khanna is scheduled to become the Chief Justice of India in 2024.
Justice Maheshwari was to be considered in 2018 by the apex court collegium for elevation but his selection had reportedly faced opposition from then collegium member Justice J. Chelameswar.
Last year Justice Chelameswar had written to then Chief Justice of India Dipak Misra objecting to the manner in which Justice Maheshwari, as the Chief Justice of Karnataka High Court, had directly interacted with the Union law ministry on a probe against a district judge in Karnataka.
Justice Misra had then halted a fresh high court inquiry against the senior district and sessions judge, P. Krishna Bhat, on a complaint forwarded by the Union law ministry.