The young student's mind
A survey reveals the agonies and anxieties of 13-year-olds and offers insights to parents, reports Brinda Sarkar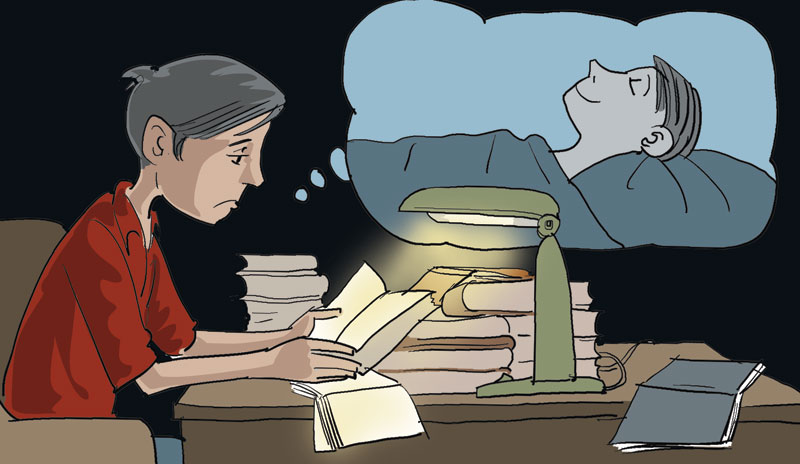 Parents argued that the kids were unable to finish their homework and projects by 10pm and so often studied till as late as 1am
Onkarnath Bhattacharya
---
Published 27.02.20, 08:30 PM
|
---
Seventy six per cent eighth graders at a mental health workshop said they do not get eight hours of sleep a day. When asked what they would like to do if set free, a common answer was that they would "sleep peacefully, sleep early and wake up late".
Township-based NGO Initiative for Scientific and Public Awareness Target (Ispat) held a workshop for eighth graders of Our Lady Queen of the Missions (QMS) and its results were discussed with their parents and teachers a few days later in the hope of improving the mental health of the students. The results hold special significance what with the exam season under way.
No time to sleep
Parents argued that the kids were unable to finish their homework and projects by 10pm and so often studied till as late as 1am.
"This is unhealthy," said Dr Adrija Rahman Mukherjee, consultant physician and specialist in family medicine, who conducted the sessions after joint analysis along with psychologists and educationists. "Healing happens during sleep. If the mind is tired how would the person concentrate? She'll sit before the book but understand nothing."
After listening to schedules of some students, she suggested some changes. "Don't let the child go to play or use mobiles when she is full of energy. Else she sits to study when she's worn out! Push leisure activities to the end of day. If she goes for swimming or art classes that qualifies for leisure activities. Don't allow her more time for recreation," she said.
Breaks should not be more than 10 minutes long and projects that do not require as much active thinking can be at the end of the day or weekends. "Follow a disciplined routine and the child will work efficiently and be able to turn in early."
Scores below par
All 77 students surveyed felt their parents would not be proud of them unless they fetched high marks at school. Some said that whenever their parents ran into them they would ask only about their studies. In another telling question — what would you do if set free — someone said she would set fire to the education system!
The parents felt sad at the answers but were helpless. "It's a rat race right from playschool! We know we are pressuring them but how else will they get into good colleges, let alone colleges abroad?" asked a hapless father.
With parents posting their children's achievements on social media these days, parents of back-benchers are under the scanner in their peer groups too.
Rahman Mukherjee pointed out that while marks were important, foreign colleges were also particular about extra-curricular activities. "Many parents say that their child fetched high marks till Class VI but that his performance had dipped thereafter. This is because in primary school parents sit to teach the kids themselves and end up spoon-feeding them. Constant tuitions suffer from the same problem. The child does not get a chance for self-study and develop an analytic brain. So left on his own, he's at sea!" she explained.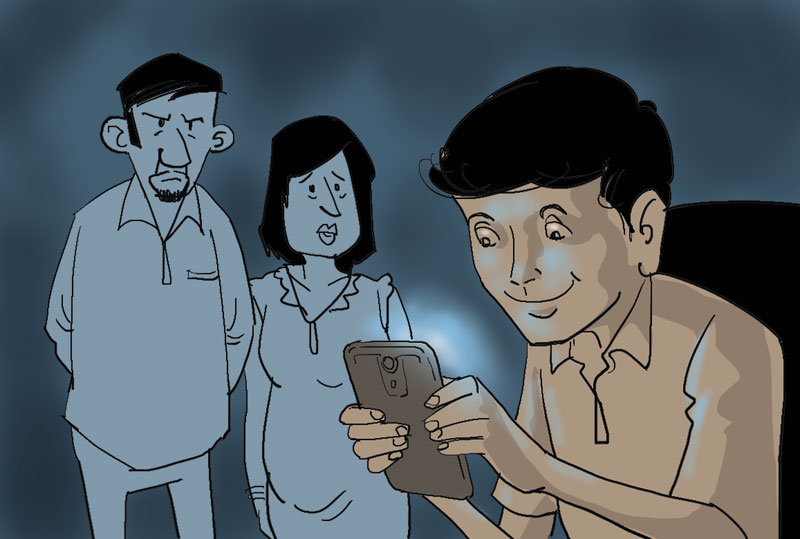 Gadget addiction
Some children said they play video games for seven hours on weekends! The parents shook their heads knowingly and sought help.
"Since my wife and I work, we hide the TV remote so our daughter does not indulge after returning from school. But on days we forget to hide it she watches it non-stop," said a father. Another lady said her daughter's friend was planning to steal her father's credit card to subscribe to Netflix, a film-watching app on the phone. "How does one de-addict our kids from mobiles?" she asked.
The doctor said that children don't accept "no" for an answer till you give them an explanation and an alternative. "If you simply hide the remote, it becomes the forbidden fruit they crave for ever more. When I asked the students why they use mobiles they said because their parents use it! So rather than preaching, lead by example. Be a role model to your children," she said.
One mother said her daughter does not tell her what she watches on YouTube despite repeated questioning. "She used to tell me what books she reads but will just not open up about videos," she complained.
The doctor explained that adolescence was the age for secrets. "They are growing up and feel they know more than you. They would rather share secrets with friends and cousins than parents. Or maybe she feels you would judge her and tell her to stop watching it," said Rahman Mukherjee. "Like how one girl, who said she wasn't allowed to wear sleeveless tops by her parents, said she hides them in her bag to change into later."
Depression
"When you were in Class VIII had you heard of depression or stress?" asked Rahman Mukherjee but not a single parent's hand went up. She then read out answers to a questionnaire designed to assess signs of depression in the students. Thirty one per cent had said they often feel lonely, 18 per cent said they often feel hopeless, 16 per cent said they often feel worthless and some kids ticked all of the above. "One has to be very careful with such kids," she warned.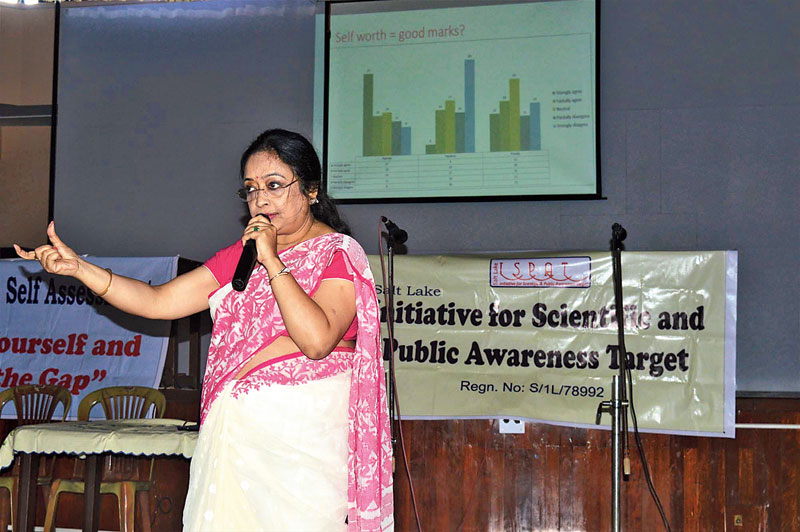 Students were free to write their names on the surveys or remain anonymous. "Many remained anonymous but emphatically asked me to convey their answers to their parents. When asked what they would like to do if set free, would you believe some have written 'cry' and 'shout out loud'! That means they do not even feel free enough to cry in their daily environment," the doctor assessed.
"In our time there were very few respectable professions but these children have many more options. So don't tell them what you want them to become; listen to what they want first," said Rahman Mukherjee, adding the children's top answer to 'What will make you happy?' was "I will be happy if I can keep my family and friends happy."
A music and recitation group — Udrran Meyeder Kobita Band — performed a poignant piece about a boy whose parents wanted to see his picture published in the newspaper for topping his studies. Unable to bear the pressure, the boy contemplates suicide, in the hope that at least this will get his picture published.
Secretary of Ispat, Ritesh Basak, cited the case of Kritika Pal, the Class X student of a reputed school who had committed suicide in 2019 due to pressure. "We want to hold such sessions across schools so no other child is driven to such extreme measures again," he said.
Principal of QMS Sheryl Sebastian said students needed such guidance to bridge the generation gap between them and their parents. "More than being toppers, we want our students to be good human beings," she said.
What do you want to tell you parents/ your school-going child? Write to The Telegraph Salt Lake, 6 Prafulla Sarkar Street, Calcutta 700001 or email to saltlake@abpmail.com