How music heals
Music therapy is effective for patients suffering from paralyses and other disorders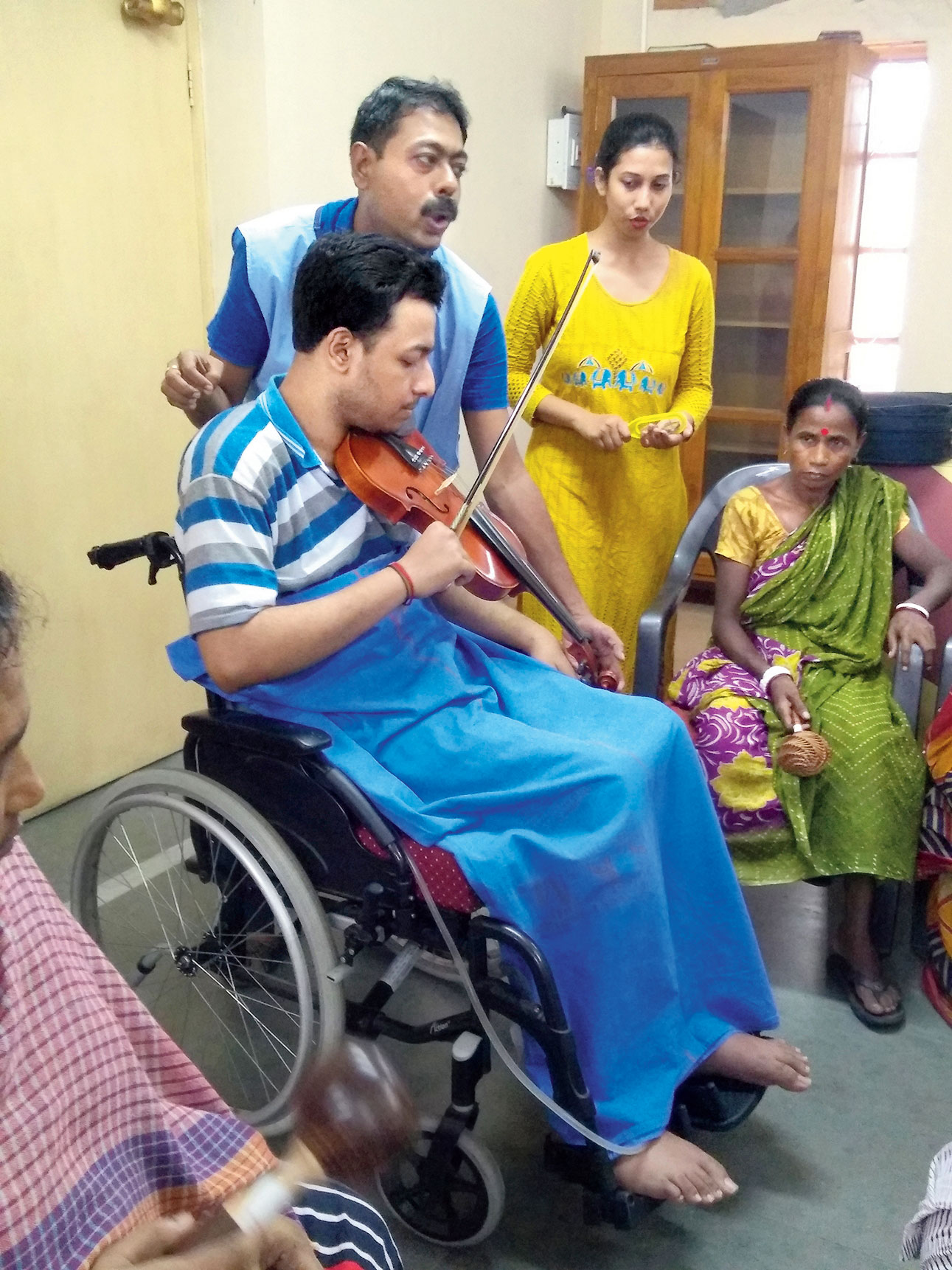 ---
---
As I enter the premises of the SSKM Hospital in south Calcutta, then turn right, I find some people on the road ahead looking up. Not heavenwards in prayer, as one might assume in the sombre settings of a hospital, but sideways, at the building to my left. Wafting down from one of the floors above is a folk song accompanied by music. And somewhere in that room, propped up by those notes, a 27-year-old is trying to gain a toehold into normalcy.
Abhishek Chatterjee was involved in an accident two years ago. One day he went swimming, performed a dive. It was the shallow end of the pool and he injured his neck. The incident left the microbiologist paralysed in the hands and legs. For the last almost two years his home has been this hospital, and his mother has been his constant companion. He is yet to feel the ground under his feet.
Prithwiraj Sen Chattopadhyay, 42, is Abhishek's assigned caregiver at the hospital. That is how the Rabindrasangeet and drama graduate from Visva-Bharati University has come to be linked with the youth. That day when I see them at a music therapy session at the SSKM Hospital's department of Physical Medicine and Rehabilitation, Prithwiraj is singing "Alo amar alo ogo". Abhishek is holding a violin, and with some help he moves the bow as the others in the room join in the singing. Eleven-year-old Rishi, a spastic child, takes the hand of a therapist and breaks into a dance.
Abhishek's expression, however, is unchanging in its indifference. As if reading my mind, Dr Rajesh Pramanik, who specialises in physical medicine, tells me that he has come directly from a strenuous intravenous process. And that's when I notice the channel on the inside of his left elbow. Dr Pramanik happens to be the brain behind this active music therapy session.
"Passive therapy can be practised anytime by anybody. It is when you play music for a patient. But active therapy, as is happening here, involves a participatory approach — the patient himself or herself plays some instrument or sings," explains music therapist Prakriti Dutta, who is herself a qualified Dhrupad singer.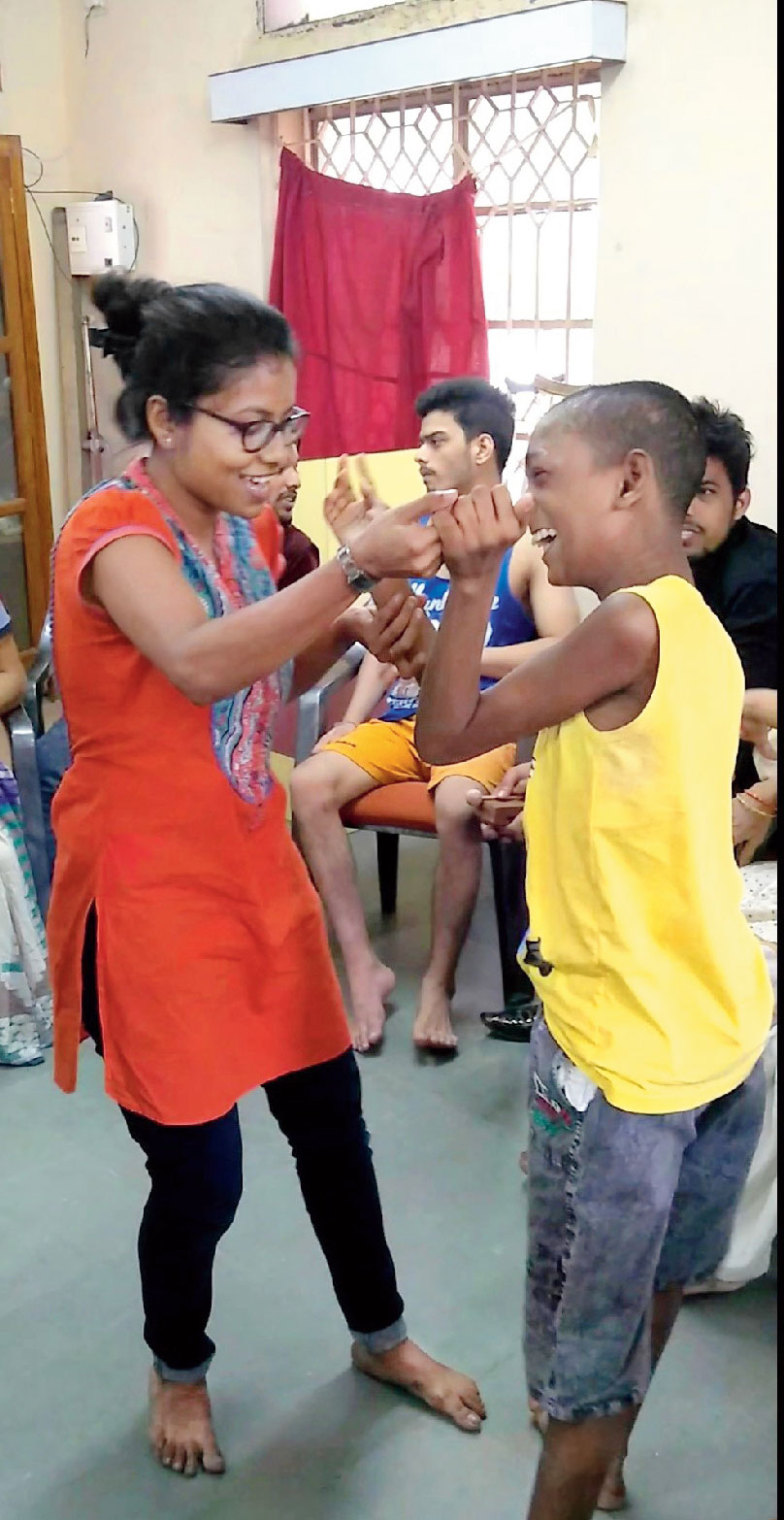 Also present that day is Soumendu Rudra. The 26-year-old student of dental medicine had blanked out in the bathroom and ended up with his left side paralysed. That day he plays the tambourine, the xylophone, the drum, basically anything he can lay his hands on. Every week he travels from Burdwan to the SSKM Hospital with his mother to attend this therapy session. "All his friends have such active lives, enjoying their freedom and mobility. This is the least I can do for him," smiles the frail figure.
Unlike Soumendu, who had no musical dreams before the accident, Abhishek used to be an aspiring violinist. When the doctors at SSKM told his mother about the therapy sessions, she fetched his violin from their Bhowanipore residence. Thereafter, Prithwiraj became the hyphen re-connecting Abhishek with his violin. He says, "Soon after Abhishek picked up the instrument, his finger movements began showing remarkable improvement. He can now hold the bow, though it will be a while before he can place the fingers on the strings as he used to, deftly. So I try to sing songs to which he can play on only two chords."
Prakriti, who has trained in music therapy from the University of Edinburgh in Scotland, points out: "He sings the notations too for Abhishek to pick up. It is truly a blessing that the caregiver is a trained singer."
Incremental the progress might seem, but to a wheelchair bound young man every movement is a step towards life as it used to be. Abhishek says, "My stiff shoulders are loosening. I just wish my legs would also respond." Says Prakriti, who has also worked on a research project on the therapeutic effectiveness of music on children with special needs, "Musical memory is much stronger than memory of the mundane life. Even people with Alzheimer's or dementia have shown encouraging results. New research shows that the brain perceives the sound of speech and that of music differently."
As if on cue, Arman, a lanky youth afflicted with spasticity demands that some sing for him Honey Singh's Chaar bottle vodka. Prakriti looks flustered. As she asks the younger members of her team, "What is Honey Singh," I quietly slip out of the room.