Calcium alert on heart attack
The findings suggest coronary artery calcification could be used as predictive markers for heart disease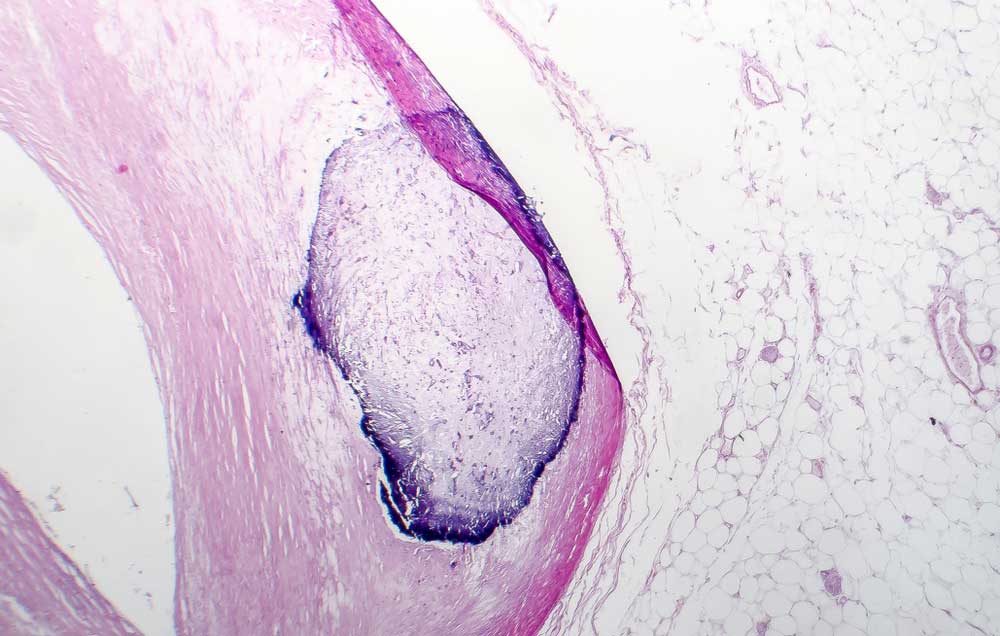 Artery calcificatio, seen through a microscope.
(Shutterstock)
---
New Delhi
|
Published 13.01.19, 10:04 PM
|
---
Specks of calcium on coronary arteries might be early warning signs for impending heart disease in South Asian men and could help guide prevention and treatment strategies, medical researchers said in a study released on Friday.
The study has found that coronary artery calcification (CAC) rates in South Asian men are similar to those of Caucasians with the highest rates of cardiovascular disease, but 122 per cent higher than those of African Americans and 54 per cent higher than those of Chinese Americans.
The findings, published in the Journal of the American Heart Association, suggest that CAC, which can be detected and measured through computerised tomography (CT) scans, could be used as predictive markers for heart disease.
"The presence and change of coronary artery calcium may be useful for risk prediction in this ethnic population and may guide judicious use of statins and other preventive therapies," Alka Kanaya, professor of medicine at the University of California, San Francisco, said in a media release.
The study by Kanaya and her colleagues, called MASALA (Mediators of Atherosclerosis in South Asians Living in America), is the first to show changes in CAC in a group of South Asians over time.
The researchers say the next phase of the study will seek to determine if the CAC burden or its progression can actually predict those at highest risk of having a heart attack.
Since the study began in 2010, it has enrolled more than 1,100 South Asian immigrants from India, Pakistan, Bangladesh, Sri Lanka, Nepal and Bhutan living in and around San Francisco and Chicago.
"MASALA is filling knowledge gaps about cardiovascular disease in South Asians," Namratha Kandula, a co-investigator and associate professor of medicine and preventive medicine at Northwestern University in the US, told The Telegraph via email.
"Importantly, MASALA is representative of South Asians in the US, which means it (is looking at) mostly Asian Indians and they are of higher socio-economic status," she said.
Cardiologists in India also said the findings were significant. "The calcium score is one of the most important predictors of future cardiac events such as a heart attack," said Manish Bansal, a senior cardiologist at the Medanta hospital in Gurgaon and associate editor of the Indian Heart Journal.
"Almost all data on this has until now come from western populations — a study on South Asians would provide the evidence needed to justify our continued use of calcium scores," Bansal told this correspondent.
The MASALA researchers have found that South Asian men have a higher rate of new calcification than South Asian women — 8.6 per cent in men and 3.6 per cent in women. The study did not find significant differences in the amount of CAC changes among women from different population groups.
Kandula pointed out that most research on cardiovascular diseases, including heart disease and stroke, have been based on populations of European ancestry. "Those findings may not tell us the whole story of why South Asians are at higher risk or how to tailor prevention and treatment for them," Kandula said.