'Zindagi Na Milegi Dobara' clocks a decade
The Telegraph spotlights what makes this Zoya Akhtar directorial about letting go and living free a film for the ages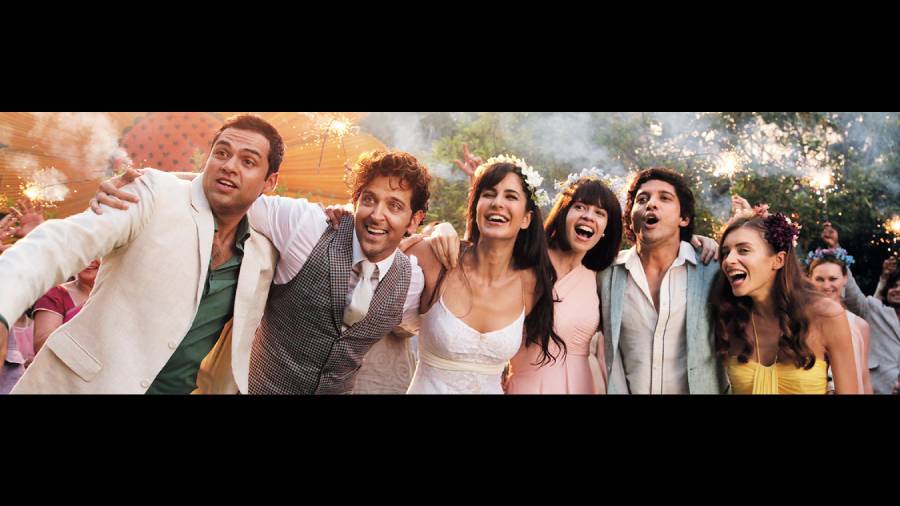 ---
Published 14.07.21, 10:57 PM
|
---
Ten years ago, there came a film that wasn't just a film. As cliched as it may sound and as loosely as it may now be used to describe almost every other popular film, Zindagi Na Milegi Dobara was an emotion. And continues to be so. Director Zoya Akhtar — in what was her second film after Luck By Chance, both a love letter to Bollywood and an insightful look at its underbelly — crafted a film that surprisingly, and very successfully, melded a host of diverse threads, each of which stood out then and has since stood the test of time.
Zindagi Na Milegi Dobara — or ZNMD as it has been abbreviated to — is a tale of friendship and filial ties. A coming-of-age journey and a (re)discovery of oneself. A film that tells us to live in the moment and let go. One that made most of us want to pack our bags and simply go where the road of life took us. Here's what makes the film still tick...
Premise
Who doesn't want to live in the moment without encumbrances? How many of us — burdened by this thing called life — actually manage to do so? ZNMD, with its core idea of 'carpe diem' and making each moment in the present count, hit home.
How many of us have made umpteen plans of a reunion trip with our childhood/ college friends and never seen it through? Sitting in that dark theatre and watching the film unfold, we all wanted to be Arjun (Hrithik Roshan), Imran (Farhan Akhtar) and Kabir (Abhay Deol), road-tripping through the length and breadth of Spain (or Goa, depending on the thickness of our wallets), without a care in the world. A few more films may have tried to capture that spirit in subsequent films, but every mood and moment in ZNMD struck a chord in almost everyone.
And that's perhaps because the film had so much to say, without being preachy and almost always tempering its core ideas with some winning humour. Zoya and co-writer Reema Kagti packed in an adventure sports angle that challenged the three boys — and all of us in the audience — to look past our fears, both physical and metaphorical.
We all lived vicariously through the journey of the three buddies, rediscovering ourselves in the bargain, even as we laughed out loud through some moments, nodded our heads in empathy through some others and occasionally found our throats welling up and eyes getting blurry.
Players
Can you imagine anyone else playing the principal characters in ZNMD? We can't! Zoya and Reema nailed the character traits of all the three boys. So we had the uptight Mr Moneybags Arjun gradually loosening up in the course of the film and discovering that life isn't all about receiving that fat pay cheque. Imran channelled his daddy issues into his humour (Farhan, who wrote the film's dialogues, had the best lines) and into his poetry (more on that later). Kabir, the most balanced of the trio, was caught in the crossfire of the unresolved angst between Arjun and Imran, but had his own personal demons to battle.
The fresh-faced Laila (played by Katrina Kaif) was the one who fully embodied the film's core messaging of living life to the fullest, with Laila's life philosophy not only completely changing Arjun's world view, but also bringing about a shift in the perspectives of the other players. Natasha (Kalki Koechlin) may have often made us roll our eyes in exasperation, but Kalki ensured that the character was never unlikeable. And then, of course, was that superb cameo from Naseeruddin Shah, as Imran's biological father, who nailed it in just one scene. We also loved the fresh presence of Ariadna Cabrol as Nuria.
Moods, moments, motifs….
Listing every mood, moment and motif in ZNMD is almost impossible, given how memorable almost everything about the film is. The film, in itself, is a mood. Whether it's the interactions between the friends — ranging from playful to serious to soul-searching — to the moments in the car where they are either cracking jokes or driving around in shared silence. Arjun going "Moshi moshi" to a Japanese client in the middle of nowhere to Imran throwing his phone out of the car window (and Kabir giving us the iconic "BPL" aka"Bum pe laat" line at the end of the showdown between Arjun and Imran). Laila and Arjun lying on the grass beneath the stars and talking about their contrasting views of life.
The scenes in the bar, from the three singing the Doordarshan theme song that immediately took us back to our childhood to Arjun being gifted a hot pink phone by Imran. Kabir's many a 'paintra'— from putting on a straight face and pushing people to spill their secrets to the childhood game of the three screaming their hearts out in front of an unsuspecting target and forcing him to run for cover. Laila motoring down on a mean Bullet, striding up to Arjun and kissing him with, "Mujhe afsos karna nahin aata". Imran flirting with Laila on the beach and bringing the house down with, "Dost mujhe Majnu bulate hain". Arjun and Kabir singing Diamond biscuit, Diamond biscuit, a jingle penned by Imran, to embarrass him in front of Laila.... And much, much more.
Watching the boys drive through the beautiful Spanish terrain was in itself an experience, with ZNMD almost singlehandedly putting the country on the travel bucket list of almost every Indian, a lot of which has been converted into actual trips and ZNMD-inspired Instagram reels and posts in the last 10 years.
The three dares — handpicked by the three friends as part of a college pact — also contributed immensely to the film's memorable moments. Whether it was Arjun tearing up after diving underwater (with Laila beside him) and overcoming his fear of water, Imran throwing himself off a plane and screaming out loud at the end of it as his friends ran to hug him, Kabir racing with the bulls and promising to himself (and his friends) that he would call off his marriage to Natasha if he came out alive. And that final triumphant run of the trio, leaving the bulls (and their fears) behind them, which, in a way, encapsulates the idea of the film.
And well, the motifs. Does it get any more memorable than Bagwati? The iconic Hermes Kelly handbag, worth €12,000, is almost a character in the film, courtesy Imran and his antics. So also was the sky blue 1948 Buick Super Convertible, a beauty in itself, that took the boys around Spain.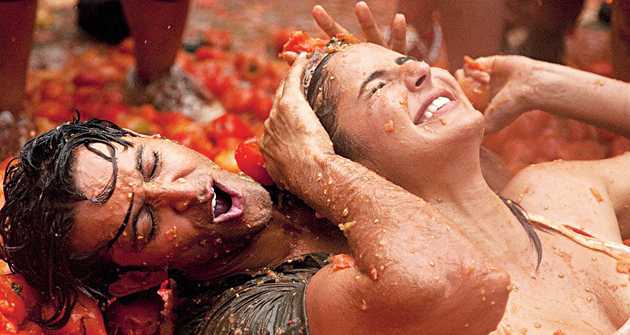 Location
Speaking of Spain, ZNMD was a feast for the eyes, with cinematographer Carlos Catalan beautifully capturing the diverse landscape of the country. Whether it was the vibrant reds of the La Tomatina Festival the friends found themselves letting their hair down at or the eye-pleasing greens of the Spanish countryside with the horses running along, as the soul-soothing Khwabon ke parindey plays out. Every frame in ZNMD spoke a story and we listened (and watched) with rapt attention.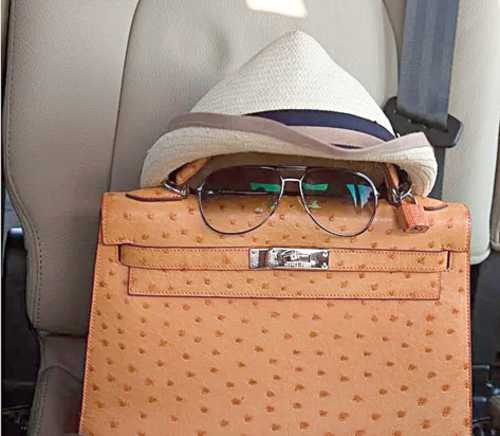 Lines
Do we even need to explain the film's lines, most of which have become iconic. So just simply putting it out there...
Insaan ko dibbe mein sirf tab hona chahiye jab woh mar chuka ho.
Kabhi pay cheque milte waqt tumhare aankhon mein aansoon aaye hain?
Apne kaam ko apni life ke saath confuse mat karo. Tumhara kaam tumhari life nahin, sirf uska ek hissa hain.
Seize the day, my friend. Pehle iss din ko poori tarah jiyo, phir chaalis ke baare mein sochna.
Aur kitni baar 'sorry' bolna padega? Jab tak yahan (dil) se na nikle na, tab tak.
Kya tum mantally challenged ho my bwoy?
(Footnote: Dubeyji, who this line is attributed to in the film, was inspired by Zoya and Farhan's teacher in Maneckji Cooper school in Mumbai)
Insaan ka kartavya hota hain koshish karna... kaamyabi nakaamyabi sab uske haath mein hain.
Apne andar chhupe darr ko mitaana chahte ho na? Toh yeh raha hum sabka sabse bada darr... maut. Let's face it!
Music
Shankar-Ehsaan-Loy aced it, churning out one memorable track after another. We loved the pulsating beats of Dil dhadakne do as the three friends pack and arrive for their trip and we eventually get our first sight of Spain, starting with the iconic The Basilica de la Sagrada Familia. Ik junoon (paint it red) perfectly captured the energy of La Tomatina. Khwabon ke parindey and Der lagi lekin still figure on our late-night (insomnia-ridden) playlists and nothing can really match the fun and freshness of Sooraj ke baahon mein, starting with the Hitch-inspired couple dance down the aisle.
What's noteworthy is that none of these are lip-sync songs, a rarity in mainstream Bollywood. And when she did decide to have one, Zoya made Hrithik, Farhan and Abhay sing Senorita themselves. With superb results!
Poetry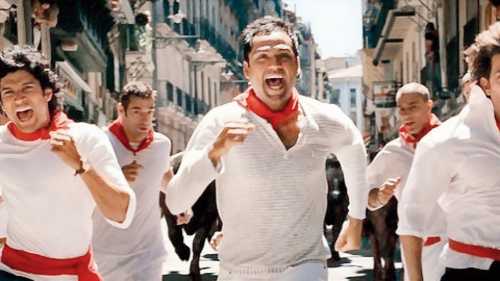 Imran's humorous exterior hid a soul struggling to find himself and his roots, with his poetry — that he penned in secret in a diary and was written by Javed Akhtar — resonating with us, then and now. Beautiful, beautiful lines. Like...
Dilon mein tum apni betaabiyan leke chal rahein ho toh zinda ho tum.
Nazar mein khwabon ki bijliyan leke chal rahein ho toh zinda ho tum.
Hawa ke jhokon ke jaise aazaad rehna seekho.
Tum ek dariya ke jaise lehron mein behna seekho.
Har ek lamhe se tum milo kholke apni baahein.
Har ek pal ek naya samaa dekhe yeh nigaahen.
Jo apni aankhon mein hairaaniyan leke chal rahe ho toh zinda ho tum.
Dilon mein tum apni betaabiyan leke chal rahe ho toh zinda ho tum.
Jab jab dard ka baadal chaaya
Jab gham ka saaya lehraya
Jab aansoon palkon tak aaya
Jab yeh tanha dil ghabraaya,
Humne dil ko yeh samjhaaya
Dil aakhir tu kyun rota hai?
Duniya mein yunhi hota hain
Yeh joh gehre sannatey hain
Waqt ne sabko hi baante hain
Thoda gham hai sabka qissa
Thodi dhoop hai sabka hissa.
Aankh teri bekaar hi namm hain
Har pal ek naya mausam hain
Kyun tu aise pal khota hain
Dil aakhir tu kyun rota hain....